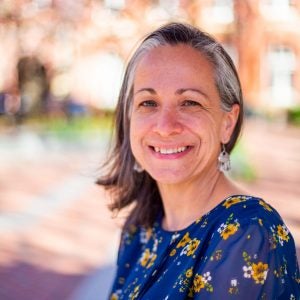 "We study a large continent that is often under-appreciated by the west for its innovation and creativity," says Dr. Lahra Smith of the community of scholars and students she leads as the director of The African Studies Program (AfSP) at the Walsh School of Foreign Service (SFS). Nonetheless, she continues, "Our students are full of ideas about how to build pan-African connections, and I will work with them to continue this tradition."
That tradition — of studying African affairs at Georgetown — is a long one. AfSP was founded more than 40 years ago in 1980. Initially conceived as a program to train U.S. diplomats and businesspeople to engage with the region, AfSP has since flourished into an interdisciplinary program studying a wide range of issues relating to the continent with an emphasis on promoting African perspectives and experiences.
Early Beginnings
The program's creation responded, in part, to a broader push during the 1960s to establish Black studies programs in higher education, many of which later became departments of African American studies. At SFS, a school focused on international affairs, faculty and administrators responded to this wider movement by creating new curricula that incorporated the histories, politics and cultural experiences of Black communities outside the United States, namely in the African continent and its global diaspora.
However, despite the school's international approach, it was primarily domestic events that motivated AfSP's founder, Dr. James Moone, to set up the program. A pastor and longtime member of the NAACP who marched alongside the Rev. Martin Luther King Jr. in the 1960s, Moone was a prominent figure in the Civil Rights Movement and a strong proponent of strengthening bonds of solidarity between Black communities experiencing racism in the United States and their counterparts in apartheid South Africa.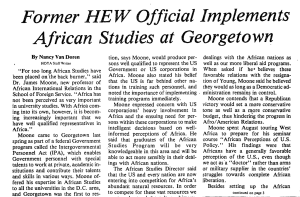 Moone was also a public servant who dedicated 25 years of his career to the Department of Health, Education and Welfare. His arrival at Georgetown in 1979 was made possible by the Intergovernmental Personnel Act, which helped government employees with "special talents" to contribute their knowledge at private academic institutions. On campus, Moone taught classes focused on African international relations. 
Disturbed by corporate funding of apartheid regimes, he believed that educating future business leaders about African politics would encourage corporations to develop ethical practices in the region. More broadly, observing the rising role of Africa in global politics, Moone felt that it was necessary to develop a program at SFS that would produce well-informed graduates prepared to diplomatically represent the United States on Africa-related issues. 
A September 1979 issue of The Hoya covered AfSP's conception and highlighted Moone's involvement. "For too long African Studies have been placed on the back burner," said Moone. "With Africa coming into its own, however, it is becoming increasingly important that we have well-qualified representatives in Africa."
Defining African Studies at SFS
Just what does African Studies look like at SFS? AfSP prioritizes taking an interdisciplinary approach to the region, examining issues relating politics and economic development, governance and conflict management and resolution within the historical and cultural contexts of the African continent. At the program, Africa is recognized as a dynamic region of social and political change, encompassing some of the world's fastest-growing economies and populations. 
At AfSP's conception, Moone was primarily concerned with U.S. government and diplomatic institutions' lack of attention to the African continent, especially given the potential benefits of fostering relations with a region of increasing corporate interest and geopolitical influence. Today, however, the program values studying the region from African perspectives, rather than primarily through its relations with the United States.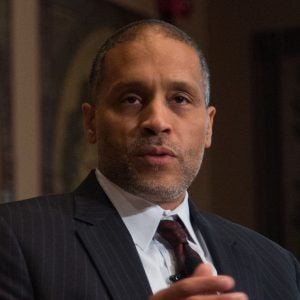 This requires deconstructing Western mischaracterizations of the continent. Former AfSP director Scott Taylor stresses the need to move away from "crisis narratives," which often construct Africa as a monolithic entity perpetually contending with conflict, poverty and corruption. It's important, says Taylor, to explore "a much more diverse set of issues and challenges but also opportunities."
This focus on African agency undergirds AfSP's most recent initiative. At the end of 2021, the Henry Luce Foundation awarded AfSP and the Asian Studies Program a grant to pursue joint research on Africa-China relations. Dr. Yoon Jung Park, who will direct the initiative, says the funding presents an important opportunity to counter simplistic misconceptions about Africa and Africa-China studies. 
"Given the ongoing circulation of misinformation (e.g. 'debt trap diplomacy') and heavily politicized narratives that demonize China and dismiss African agency, we feel it is imperative to educate our audiences with the complicated and nuanced realities of Africa-China engagements," she explains.
A Holistic Approach
To better understand these complex regional realities, AfSP students are given a grounding in Africa's cultures and languages. Students are required to meet foreign language proficiency and AfSP offers numerous courses on Indigenous African languages. This spring, AfSP is also offering 15 courses through which they can study a diverse array of topics such as Afrofuturism, Swahili and art and power in Africa.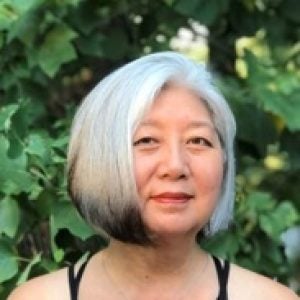 A hallmark of the program includes opportunities to study abroad. One summer program supports travel to Tanzania, pairing a short-term internship at a local organization with seminar-based learning and Kiswahili language training. AfSP also leads a week-long alternative spring break trip to Kenya that offers lessons in international development and historical analysis through visits with governments, firms and development organizations.
One SFS student, Allie Cho (SFS'22), describes how her freshman proseminar class, Africa in the American Imagination, cultivated her interest in African studies and led her to pursue in-depth research on public health in various African countries, including through the Kenya trip. "Following the class, I focused my studies on global health in East Africa, engaged in public health research about a low-income community in South Africa and even traveled to Kenya during spring break to learn about development and global health," Cho says.
Proximity to global institutions in Washington, DC, further enriches AfSP's opportunities. Now in its seventh year, Georgetown's Africa Business Conference brings business and policy leaders together to discuss how agriculture, entrepreneurship and technology can create sustainable growth in Africa. The conference is the culmination of a student-led collaboration between the McDonough School of Business and AfSP, and this year features keynote speakers such as Strive Masiyiwa, founder and executive chair of Econet and Eloho Omame, general partner and co-founder of FirstCheck Africa.
Looking to the Future
Now heading into its 42nd year, AfSP leaders are looking to expand the program's academic offerings and continue to provide more opportunities for students to study and work in the African continent. Professor Lahra Smith, named director of AfSP in the fall of 2020, has expressed a commitment to grow the selection of topics taught with regard to arts, music and environmental issues. "With a growing, youthful and diverse population, the 55 countries of Africa provide so many educational and career opportunities for Georgetown students," she remarks.
Smith also underlines the importance of recommitting to the mission that first animated Moone more than four decades ago: global anti-racism. "Across Africa, there is more talk about global solidarity around policing reforms, and the activism of Black and African-diaspora students in the work of anti-racism in the United States inspires campaigns on both sides of the Atlantic," she explains.
Advancing this vision will require the efforts of the entire AfSP community, its faculty, staff, students and alumni. But, Smith knows that the individuals brought together by AfSP will sustain the program well into the future. She stresses, "We have always said that what makes our program unique is the community — we have a shared mission and we care a great deal about each other."