As a future physician, Kenton Kaplan (SFS'23) has spent the last four years on the Hilltop exploring global issues, technology, and the natural sciences. He navigated these topics with the help of his major in Science, Technology, and International Affairs (STIA) as well as his concentrations in biotechnology and global health and minor in biology. 
"I'm a bit unusual among SFS students in that I hope to become a doctor. I think the SFS and STIA in particular gave me an amazing and unique perspective on global health issues, emphasizing transnational, human-centered approaches to health, which I believe will serve me well in my career as a physician," Kaplan says.
Kaplan aimed to cultivate a holistic approach to his passions, beyond the offerings of his original major of biology. "I wanted a greater focus on social determinants of health from a global perspective, something I felt only the SFS and STIA could offer."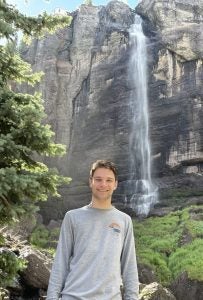 Kaplan's move to the SFS and STIA impacted more than just his academic courses. He explains, "The STIA department has been something of a second home for me, and I've always felt so supported in my work in the honors program. I've really valued the combination of research excellence and care for student well-being and health. It's a really important balance and I credit much of my success in STIA to the faculty's emphasis on student health and wellness."
Freedom in the Classroom
Having the flexibility to explore has been characteristic of Kaplan's academic career. "I've really loved the academic freedom of the SFS and Georgetown. There are so few places where a person can just decide to take a crazy elective on some niche esoteric topic on a whim and be taught by world-class professors."
Within his major, Kaplan was an honors student and completed a thesis, an autoethnography of his time as a Long Covid patient. He cites SFS professor Dr. Emily Mendenhall as having been a significant part of this journey saying, "She's been incredibly influential during my time at Georgetown and was instrumental in my decision to apply to medical school." Kaplan and Mendenhall recently published an article for Scientific American: "The 'Brain Fog' of Long COVID Is a Serious Medical Issue That Needs More Attention." 
In exploring the vast offerings of SFS courses, Kaplan was able to do a deep dive into the overlap between all of his interests. One class that left a lasting impact was Global Health Security and Diplomacy taught by Professor Rebecca Katz. "It was so incredible to learn from a scholar with such amazing real-world expertise and experience in global health security issues. I felt like I was learning things very few universities have the faculty to even teach."
Following His Passion
Kaplan has deepened his knowledge of medicine outside of the classroom. He works in a student position at MedStar Georgetown Hospital's Lombardi Cancer Center where he studies colorectal cancer signaling pathways at the Robbin's Lab. He also works at Children's National Hospital as a medical scribe in the pediatric emergency department. 
One of Kaplan's favorite Georgetown memories was getting to hear Dr. Anthony Fauci at the Maloy Distinguished Lecture in Global Health. "It was such an incredible opportunity to learn from a generational leader in global health and I felt that it was Georgetown at its finest."
Coming from Colorado, Kaplan's pre-existing impression of Georgetown was more limited than his experience. He found a community on the Hilltop through the relationships he built with people from all over the world. "Once I got to Georgetown, I realized that the student community – especially in the SFS – is so much more diverse and accepting than I'd imagined." 
He also broadened his Georgetown experience by finding a hideout in the heart of DC. "Ever since freshman year, I've loved studying at the National Portrait Gallery. It can be tempting to avoid touristy spots, but it's such a beautiful place and it helps me focus and get a break from worn-out Georgetown spots."
After Georgetown
After graduation, Kaplan will begin applying to medical schools. In reflecting on his undergraduate experience he says, "I think I'll look back on my time at Georgetown fondly, as a stage of my life where I grew into an independent adult. What I value most about my time here isn't specific knowledge I gained but the way I grew and matured as a person, something I credit Georgetown with above all." 
"It sounds cliche, but genuine learning – not academic credentials – is something I think a lot of people at Georgetown could benefit from focusing on more. Always put forward your best effort but never avoid a potentially rewarding academic experience out of fear of failure."