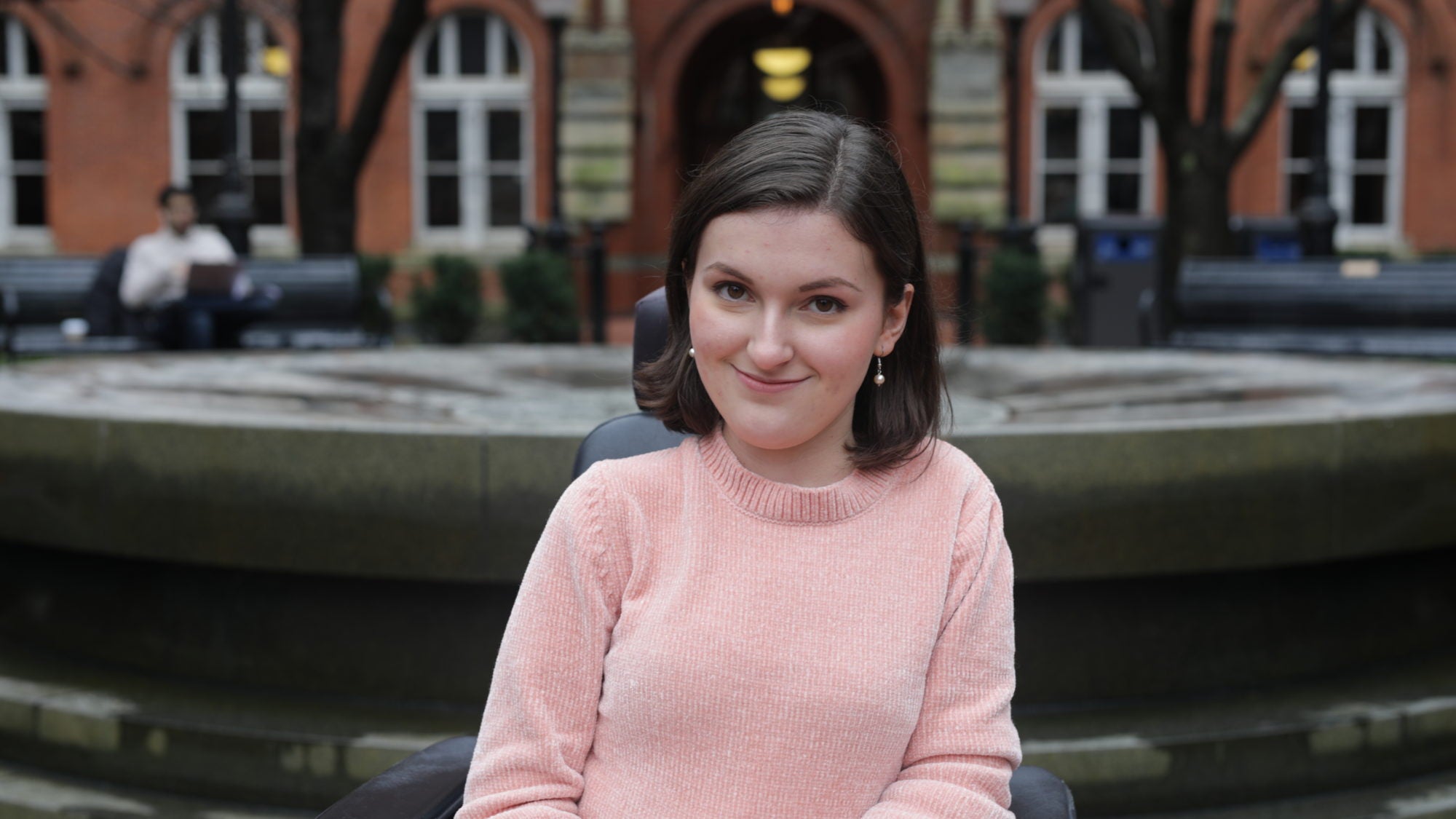 Category:

Featured News, News, Students
Title:

Anna Landre (SFS'21) Recognized for Disability Rights Advocacy with Truman Scholarship
Date Published:
April 28, 2020
Throughout her time at Georgetown, Anna Landre (SFS'21) has been a champion of disability rights, both on and off campus. Now, as one of just 62 recipients of the prestigious Truman Scholarship, she plans to attend graduate school to help to build a career advocating for people with disabilities around the world.
Awarded to outstanding college juniors across the United States who are committed to a career in public service, the Truman Scholarship provides funding for graduate study and access to a network of other scholars.
Anna hopes to use the scholarship to study at Georgetown's Master of Science in Foreign Service (MSFS) program, where she can explore policies that fill in gaps that limit opportunities for people with disabilities in employment, education and public spaces.
Landre credits the support and guidance of Georgetown faculty members—such as Libbie Rifkin, Sylvia Onder and Lydia Brown from the Disability Studies Program, as well as Matthew Carnes, S.J. and Diana Kapiszewsk—with her efforts to fight for disability rights on campus and beyond and with helping her pursue research within the field of disability studies.
Continuing Her Studies at Georgetown
For Landre, the MSFS program is the obvious choice for her career aims. She would like to create a self-designed concentration that takes an international approach to disability policy studies.
"I think the MSFS's strong development curriculum and focus on marginalized populations will help me pursue this important and understudied area," says the junior majoring in regional and comparative studies with a focus on development in Latin America and Africa.
At both the undergraduate and graduate level, Landre thinks Georgetown is well-suited for conducting this kind of research. She highlights "Georgetown's growing expertise in disability studies, our established position in the world of foreign service and our Jesuit values" as factors that make the university a strong research hub for disability issues.
An International Perspective on Disability Rights
Landre plans to join the U.S. Foreign Service after earning her master's to "continue the significant work that they have done in the last decade to broaden our government's promotion of global disability rights."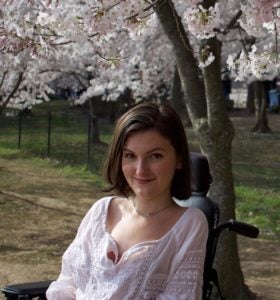 She says that she is particularly drawn to the International Disability Rights team within the Bureau of Democracy, Human Rights, and Labor, where she hopes to make promoting the human rights of people with disabilities across the world "an integral facet of U.S. diplomacy." 
Landre emphasizes the importance of incorporating international perspectives in U.S. work on disability rights. Other countries can learn from U.S. policy, she explains, but the U.S. can also learn about best practice from governments and organizations internationally.
"After all, the United Nations has declared people with disabilities the largest minority in the world, and there's so much potential to study and support such a group," she adds.
In the long term, Landre wants to establish an alliance or non-profit organization to coordinate the actions of disability rights advocates from across the globe.
"I hope that establishing these connections will help disability activists learn from one another, build community across borders and pursue a more inclusive and just world," she says.
Disability Studies Research in Latin America
Landre has explored the world through both her classes and extracurricular experiences. She traveled to Florianópolis, Brazil through the State Department's Critical Language Scholarship Program last summer.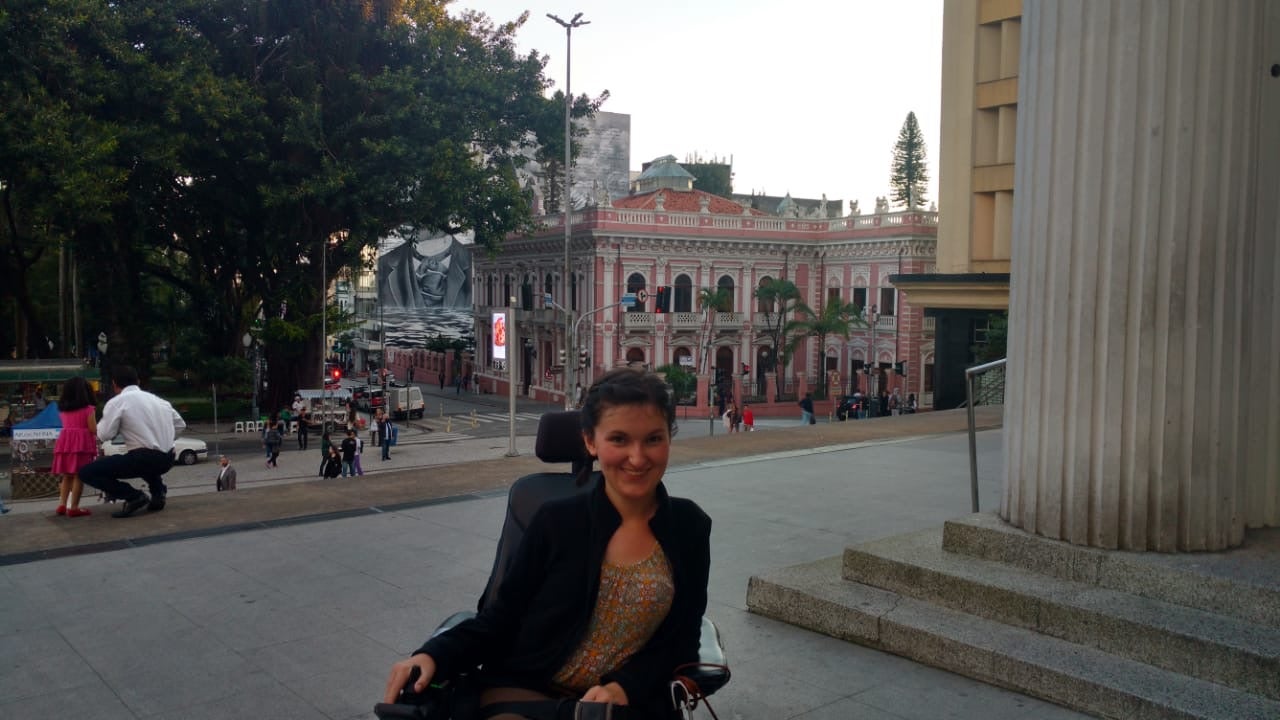 In Brazil, she enrolled in intensive Portuguese language classes and learned about the country's culture and politics.
As a disabled woman and wheelchair user, Landre says the experience was hard but rewarding. "It was one of the most difficult experiences I've pushed myself to have, due to the challenges of being a wheelchair user in an inaccessible environment," she says.
Despite these difficulties, Landre was able to make many positive connections in her host community. She had the opportunity to meet with members of the Florianópolis Association of Physically Disabled People, a local nongovernmental organization that seeks to empower and provide services for people with disabilities.
"I was able to have some fantastic conversations with them where we learned about the state of disability rights in each others' countries," she says. "This experience is part of what continues to inspire me to pursue disability advocacy across national borders." 
Landre drew on her experience in Florianópolis to investigate the state of disability rights policies in Latin America, a research project she has conducted with Carnes, director of the Center for Latin American Studies. 
Their research, which they presented at the 2019 American Society for Public Administration (ASPA) Conference, explores the emergence of disability policies in the region and the obstacles to enacting them in practice.
Advocacy On and Off Campus
Landre has served as a commissioner for the Advisory Neighborhood Commission, a local government entity that advocates for the needs of constituents to the D.C. government since February 2019.
While at the ANC, Landre focused her efforts on "advocating for university infrastructure maintenance and planning that supports student interests and drawing attention to equity issues for people with disabilities throughout the District."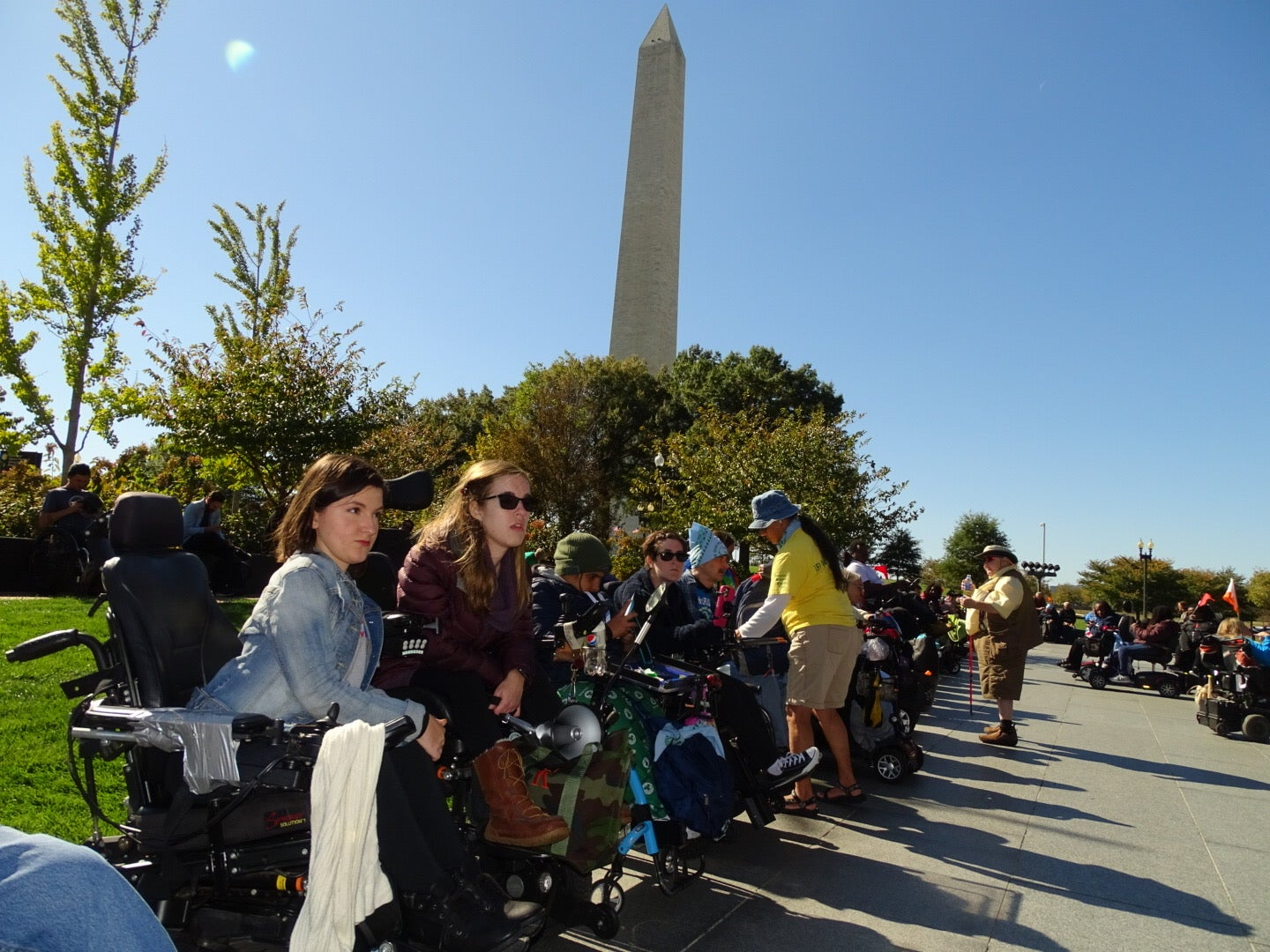 During her sophomore year, she served as chair of GUSA's Accessibility Policy Team, where she advocated for the rights of students with disabilities on campus.
Landre also the co-founded the Georgetown Disability Alliance, an on-campus organization whose mission is to promote community-building, education and advocacy on disability issues.
In the wake of the COVID-19 pandemic's disruption to campus life, Landre says the Alliance has focused on working closely with Georgetown administrators to ensure that the university's COVID-19 response keeps the access needs of students with disabilities and other marginalized groups in focus.
A Personal Fight for Justice
Landre's advocacy work became particularly personal last year, when her summer internship caused her income to rise above the poverty line. This meant that she was ineligible for funding from New Jersey's Medicaid program, which pays for a Personal Care Aide.
Without support to help her dress, cook or perform everyday maintenance, Landre knew she might not be able to continue her studies at Georgetown.
She called local and state representatives and shared her story with local media outlets. Her aim was simple, yet powerful—to change outdated insurance rules to ensure that people, like herself, would not have their lives upended by sudden changes in coverage.
The efforts resulted in an outpour of support that she said was "overwhelming, especially from other disabled people facing the same barriers."
The fight is still ongoing. "They haven't yet made this determination for others in my situation, and the discriminatory rules still stand," she says.
Meanwhile, the Georgetown student is working to eliminate other discriminatory policies within the NJ Medicaid system. Working alongside her state senator and assembly members, she has successfully brought five bills to the state legislature that address issues such as transparency in service determinations, care assistance for students trying to access higher education, and ensuring increased policy input from the disability community.
Landre is hopeful that they will be passed soon. 
Landre will continue the work that has defined much of her undergraduate academic and extracurricular experience and she feels that there is no better place to do that than at Georgetown.
"I'm drawn to the amazing faculty, students, and work that I've seen here throughout my undergraduate career," she says, "and I look forward to continuing being a part of this environment."