Core Curriculum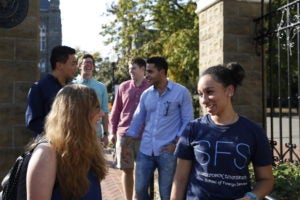 The School of Foreign Service educates the next generation of world leaders. As an SFS student, you will study international affairs grounded in the liberal arts, examining a range of problems in the world today from many perspectives. Academics within the SFS start with a multidisciplinary, introductory core curriculum including courses in international affairs, government, economics, history, theology, philosophy, and geography.
As a first-year student, you'll take unique SFS courses like Map of the Modern World, and a small Proseminar designed to introduce students to Georgetown academic life, where you can develop a close working relationship with your professor and new peers.
The SFS curriculum teaches students to appreciate the influence of culture on international affairs. Required language proficiency enables cultural literacy and communication, helping students identify opportunities and anticipate problems in other countries and among other people. Georgetown offers a wide range of languages that are available for you to study, including Arabic, Chinese, French, German, Modern Greek, Hebrew, Hindi, Italian, Japanese, Korean, Persian, Polish, Portuguese, Russian, Spanish, Swahili, Turkish and Ukrainian. Students benefit from a deep course selection within these languages that allows even the most proficient of students to continue to develop their language skills.
Students develop critical reasoning skills and express that reasoning in their writing and oral presentations. You will also acquire quantitative skills and learn how to reason scientifically through the SFS science requirement where classes aim to explore the intersection between science and international affairs. Recent SFS science courses include The Science of Extinction and De-Extinction and Examining Crises Through the Lens of Science.
Finally, you will be taught to conduct independent research. This knowledge and these skills are vital for international service and are part of Georgetown's commitment to educating the whole person.
Consistent with Georgetown's Jesuit identity, SFS students approach international affairs with a concern for ethics and morality. You are encouraged to become engaged citizens, and upon graduation, you will have the knowledge and ingenuity necessary to serve your community and the world.
Bachelor of Science in Business and Global Affairs (BSBGA)
The McDonough School of Business and the Walsh School of Foreign Service now offer an interdisciplinary Bachelor of Science in Business and Global Affairs (BSBGA) open by application in Spring 2020 to first-year students enrolled in the McDonough School of Business and the School of Foreign Service. The BSBGA features innovative signature courses taught by teams of McDonough School of Business and School of Foreign Service faculty and experiential learning in DC and around the world. Learn more about the new degree.