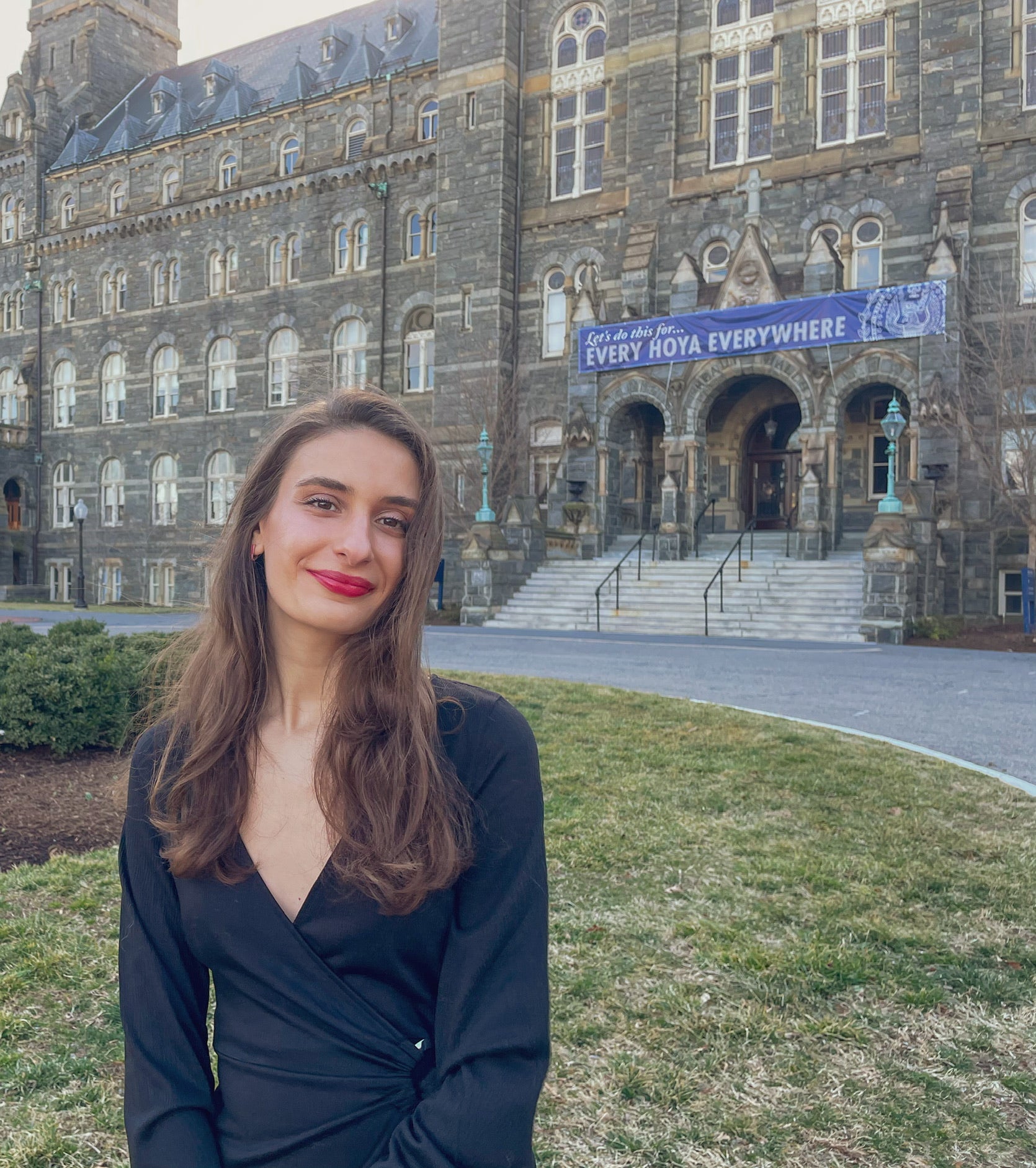 When Tina Dolbaia (MAERES'22) crosses the stage at this year's Commencement ceremony, it will mark the fulfillment of a dream she has had since high school.
The Master of Arts in Eurasian, Russian and East European Studies (MAERES) student first visited Georgetown University in 2011, when she was a high school exchange student studying in Columbia, Maryland. "This was when I fell in love with the city and the university," she recalls, "and it feels amazing to be living, studying and working in the area again!"
Dolbaia's graduate studies have coincided with a tumultuous period in international affairs. She began her program in August 2020, during the height of the COVID-19 pandemic, and is finishing her degree at a time when Russia's invasion of Ukraine has thrown the region she specializes in into turmoil.
Yet, despite these global challenges, Dolbaia is more convinced than ever that she wants to devote her career to international affairs. "SFS has shown me both the power and obstacles that come with foreign service and diplomacy," she says. "In the future, I do see myself working in this field, and I am thankful to SFS for helping me learn the strengths, as well as limitations, of this profession."
Long Distance Learning
Prior to her arrival on the Hilltop, Dolbaia was working as a monitoring and evaluation specialist for Chemonics International and met a number of Georgetown alumni at the company.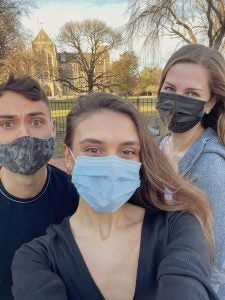 "They spoke greatly of the university, highlighting the academic strengths and depths of their respective programs, as well as the exciting student life at Georgetown," she recalls. "Their feedback had a significant impact on my decision to join the new generation of Hoyas."
Dolbaia's experience at Georgetown, however, has been rather different to that of her former colleagues. She matriculated when the university was operating in an exclusively virtual environment to ensure the safety of its campus community during the pandemic. Unable to leave her hometown of Tbilisi, Georgia, due to COVID-19 travel restrictions, Dolbaia took her first semester of classes on Zoom and in a drastically different timezone from her Washington-based professors.
"As Tbilisi is 8 hours ahead of DC, most of my classes would start at 2 am," she explains. "Nonetheless, that was a good learning experience for me, as I discovered that I could still be alert and productive past midnight when there's coffee and sugar involved!"
Exploring New Fields
This dedication is typical of Dolbaia's approach to her studies. As a native Georgian speaker, she had the option to test out of the MAERES program's requirement to acquire proficiency in a regional language before graduation. Yet, Dolbaia still decided to take advantage of Georgetown's top-rated language programs to hone her skills in Russian, and even set up an informal Russian speaking club for MAERES students, where she and her classmates would debate key Eurasian affairs issues in the language.
"Electing to improve my Russian was one of the best decisions I have made while at Georgetown," stresses Dolbaia, who said classes with Russian Professor Jill Neuendorf were among the most engaging she took on the Hilltop.
Dolbaia also looked for opportunities to develop her experience outside of the classroom. From her first semester, she served as a graduate fellow at the Center for Eurasian, Russian and East European Studies (CERES), where — among other responsibilities — she assisted CERES faculty with their research and worked on the center's social media and alumni outreach.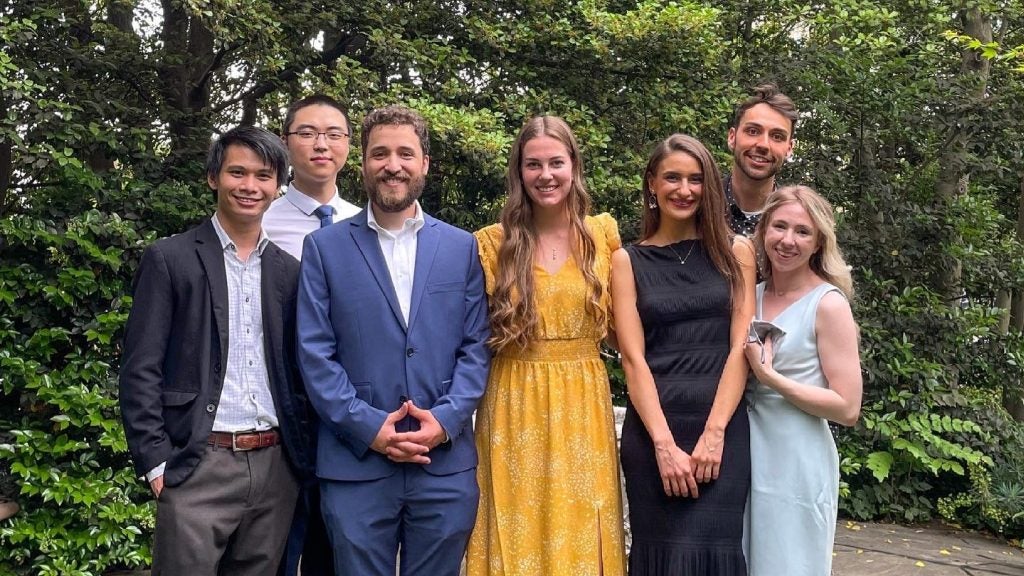 Dolbaia also acquired new academic interests through an internship as an external affairs assistant at SFS's Center for Security and Emerging Technology, where she researched how issues relating to artificial intelligence and cyber security are perceived and debated in Congress.
All these experiences enabled Dolbaia to discover new passions and expertise she hadn't considered before beginning her program. "My academic interests have expanded significantly at Georgetown," she affirms. "Initially, my research interests revolved around social movements in the former Soviet space. Now they include great power competition, cyberwarfare and Eurasian military and security architecture."
She continues, "I am writing my capstone on the geoeconomic dimension of Russian private military companies, which is a topic I would have never attempted to tackle if not for Georgetown."
"The Right Side of History"
Dolbaia's exploration of these themes became even more meaningful in February of this year, when Russian President Vladimir Putin drew outrage from the international community by ordering his troops to attack Ukraine.
The invasion caused alarm among community members across SFS, who quickly gathered to demonstrate their solidarity with the Ukrainian people. However, for Dolbaia, the news had a deeply personal impact.
"My identity as a Georgian has been shaped by the ongoing Russian occupation of my country, and the atrocities the Putin regime has committed towards my nation," she says. "That is why I can sympathize and empathize with the brave Ukrainian people fighting for their freedom, as well as for Western freedom and democracy."
"I am thankful to SFS and CERES for condemning Russia's invasion of Ukraine and for hosting a number of awareness-raising events revolving around the current war, response from the West and Russia's place in the world following the war," she continues. "As always, SFS has proven that it stands on the right side of history, which makes me even more proud to be called a Hoya."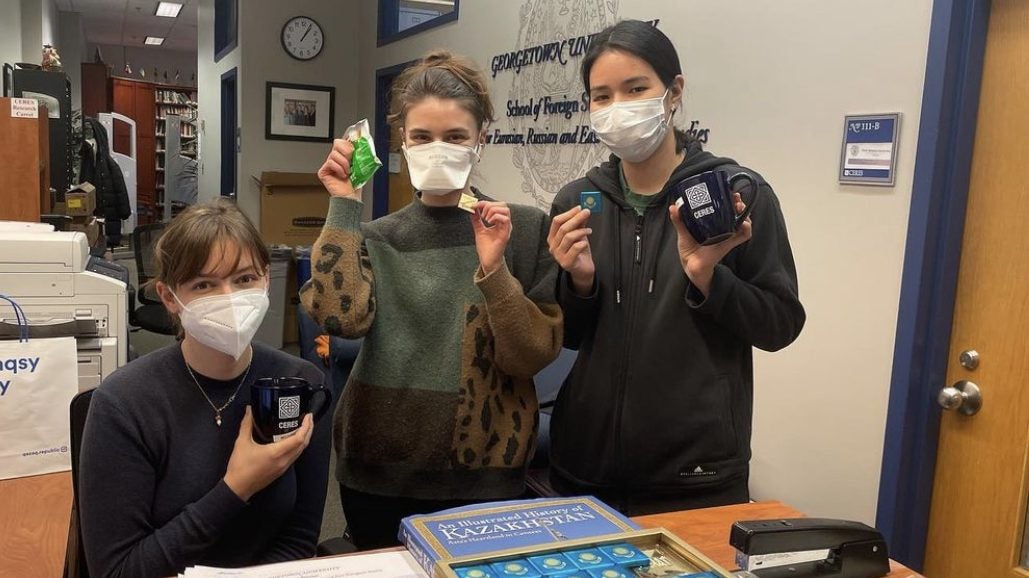 While Dolbaia has grappled with the tumult of both the pandemic and the Russia-Ukraine War, her SFS community has been a constant source of kindness and encouragement.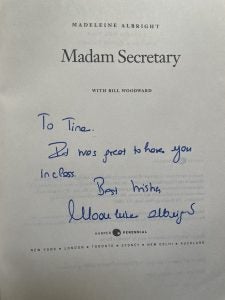 "MAERES has a great community," she says, singling out CERES staff members Dr. Jennifer Long, temporary director of academic programs, and Jessica Miller, center administrator, as two people who have been particularly nurturing. She also credits Dr. Angela Stent, senior adviser to CERES, and Dr. Michael David-Fox, CERES director, for providing valuable academic guidance and support. "Not only are the people of MAERES extraordinarily intelligent, but they are also very friendly, kind and supportive individuals," Dolbaia adds.
Personal connections are at the heart of Dolbaia's most cherished Georgetown memories. Her favorite class at SFS was America's National Security Toolbox, taught by the late Madeleine Albright. Learning directly from Albright, a towering figure in U.S. diplomacy who blazed a trail as the first woman to serve as secretary of state, was a profound experience for Dolbaia.
"It was a great honor for me to have a face-to-face interaction with Professor Albright, to learn about her remarkable career and professional experiences and to receive her encouraging feedback on my papers," Dolbaia says. "It was even more emotional for me, an international student and a woman, to hear stories from Professor Albright, who herself was an immigrant and a woman in a male-dominated world of politics and foreign affairs."
New Ambitions
Encounters with leaders who directly shaped the events Dolbaia studied in class stand out among her Georgetown memories. Once Georgetown returned to in-person classes and gatherings in the fall of 2021, Dolbaia attended as many campus events as she could.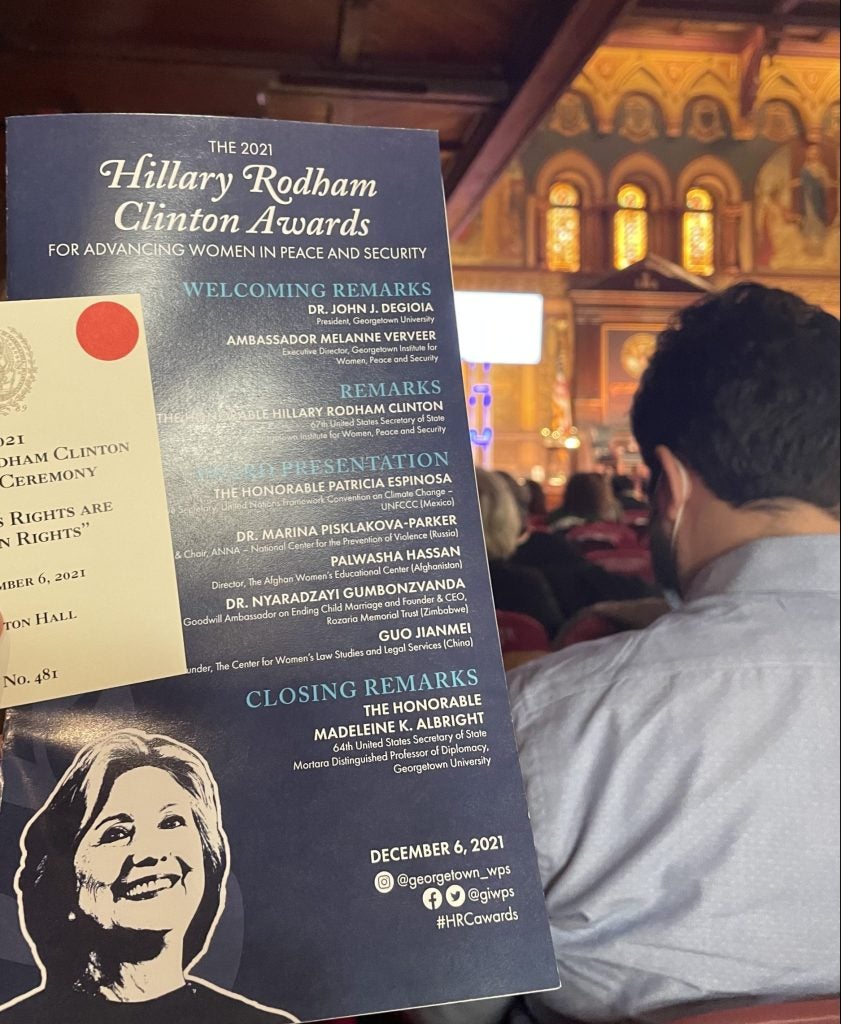 One of her favorites was a Gaston Hall event featuring Hillary Clinton and other luminaries in which the former presidential candidate presented the annual Hillary Rodham Clinton Awards in December 2021. Dolbaia also posed a question to Khalid Payenda, Afghanistan's former minister of finance, when he visited campus just days after Kabul fell to the Taliban.
"Being able to have a face-to-face interactions with high-ranking and inspiring U.S. officials has been the highlight of my experience at Georgetown," Dolbaia says.
As graduation approaches, Dolbaia is looking to her own future. She has been working as a digital economy intern at the Center for International Private Enterprise (CIPE) since January, and will continue in her role supporting the South Caucasus team to implement democratic and economic engagement projects until the end of the summer. After that, Dolbaia hopes to work for a DC-based think tank where she can gain research experience in Eurasian affairs before pursuing her ultimate goal of gaining a PhD in government.
Wherever life takes her after graduation, Dolbaia knows that her SFS degree has set her up for a rewarding career following in the footsteps of the inspirational leaders she encountered on the Hilltop. "I am convinced that I will look back on my time at Georgetown with great pride," she says. "And, who knows? I might even be invited back to my program as a guest speaker myself!"