Christina Huntzinger (LAS'20)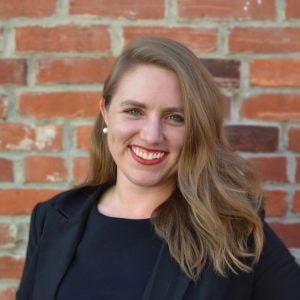 Hailing from San Carlos, California, Christina Huntzinger's upbringing in Silicon Valley helped shape her interest in the intersection of technology and international affairs.
Huntzinger studied Spanish at St. Olaf College, with minors in linguistics and film studies. She chose Georgetown for graduate school for the access to incredible scholars, diplomats, and experts in foreign policy it provides. "I also really appreciate Georgetown's proximity to D.C.'s international policy community," she says.
The Latin American Studies program in particular interested her for its multidisciplinary nature, allowing her to gain an in-depth understanding of Latin American history, politics, and current affairs. "Understanding one region in depth allows me to better understand the world as a whole," she says. Aside from spending time with her "CLASmates," Huntzinger also appreciates forming connections with peers across the SFS graduate programs.
After Georgetown, Huntzinger hopes to work in government relations and public policy, specifically for companies with operations in Latin America. Having worked in Costa Rica amidst the rise of social media and mobile technology, Huntzinger began to recognize internet and data policy as significant issues of international affairs and human rights. She has since sought to explore the disparate effect that tech giants have on the Global North versus the Global South and the role that governments play in shaping digital societies.
Huntzinger was drawn to the Wallenberg Fellows program for its mentorship opportunities, along with the opportunity to intern with a multinational company. She looks forward to learning more about the digital landscape of Sweden and drawing connections to Latin America. On a personal level, she is also excited about the cohort experience in Stockholm and D.C. with her new peers from SFS and SSE. "It's quite unique to be part of an exchange program as a graduate student," she says.