Matriculating during the height of the COVID-19 pandemic did not make for the easiest start to her graduate studies, but Temidire Alesh (GHD'22) credits the two years she spent on the Hilltop with galvanizing her career prospects.
The Global Human Development (GHD) master's student came to Georgetown to hone her experience at the intersection of gender rights and development finance, as well as to build an expansive professional network. The graduate merit scholar more than fulfilled this ambition, completing a number of prestigious internships, including at the World Bank, and gaining practical training from the program's top faculty experts during her time at GHD.
However, Alesh says that the most rewarding part of her SFS experience has been the opportunity it has afforded her to connect with peers whose diverse backgrounds helped her to explore her own intersectional identities.
"I love the diversity in lived experiences and perspectives that my peers bring with them," says Alesh. "I've loved learning about the experiences of my Afghan, Pakistani, Brazilian friends, and managing to find the commonality in our differences!"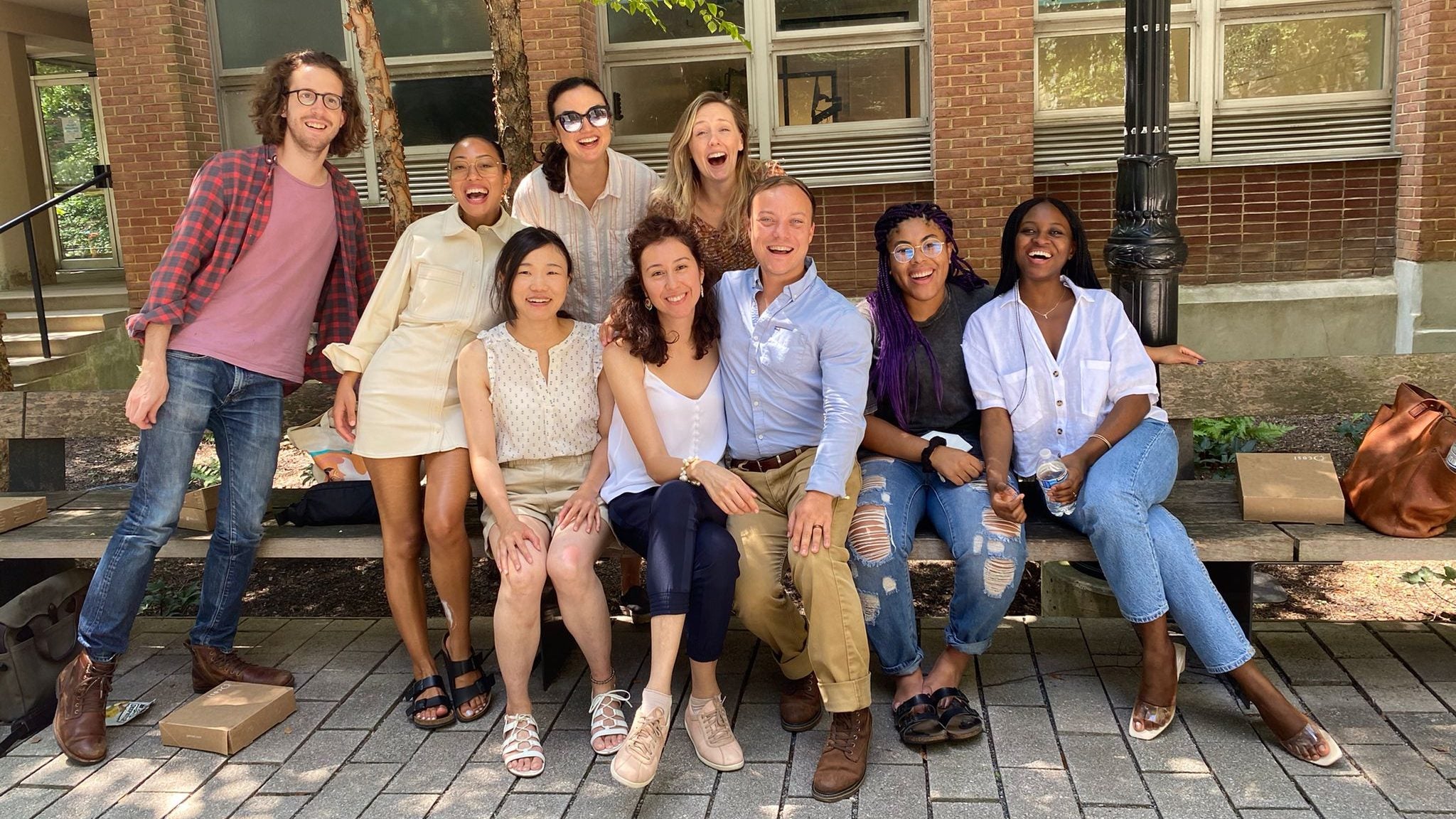 Real Change Through Policy
Alesh's own personal history is what first brought her to GHD. The first generation college student was born in the United States, but grew up in Benin with her Nigerian family. Alesh's background reflects the realities of poverty reduction that GHD students study in class. "My mom was the first in her family to escape poverty in rural Nigeria," Alesh explains. "Because of my mom's upgraded socioeconomic status, I've enjoyed many privileges like studying in private boarding schools and universities abroad."
Prior to attending Georgetown, Alesh served as a Community Health Educator with the Peace Corps in Togo and also worked in public health policy for international health non-profits and state governments in Nigeria. In Nigeria, she says, she faced workplace sexual harassment, an experience that galvanized her to study gendered experiences of development. "This is unfortunately too common an experience for many women, due to deeply entrenched gender inequalities," says Alesh.
"I decided to enroll in a policy-oriented program like GHD because I recognized that the scale required to effectively dismantle systems of gender oppression in African labor markets can only be achieved at the policy level," Alesh continues. "I also realized that these structural changes must be driven by a change in social norms, which have historically been achieved by social movements."
Alesh explains that gender-based social movements and development programs are chronically underfunded. "I therefore wanted to contribute to solutions towards increasing financing for gender-based movements," she adds.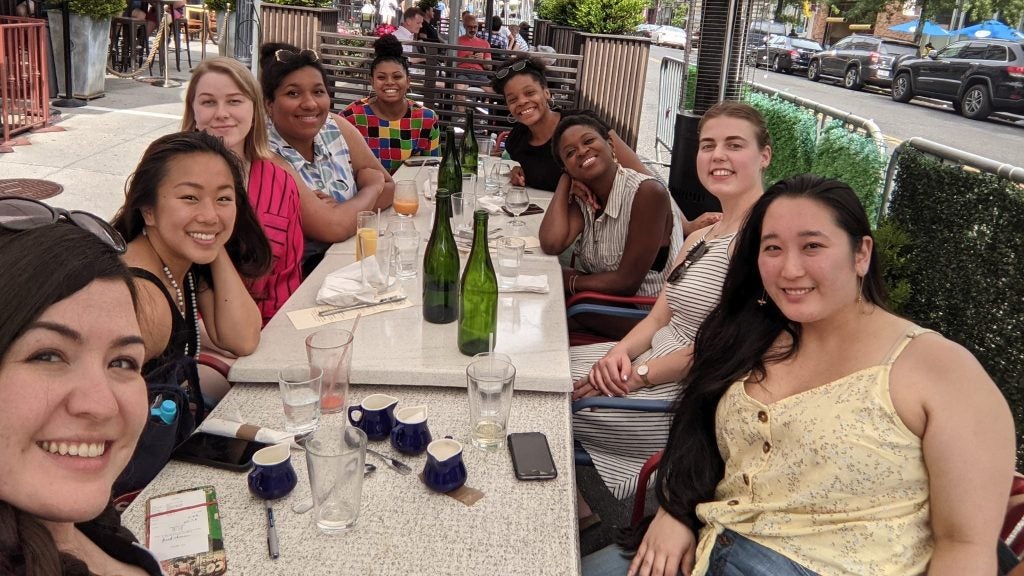 Through her work at GHD, Alesh has gained valuable experience that she hopes she will leverage in a future career dedicated to financing women's rights and gender equity projects. For example, Alesh was interested in the work of the Global Fund for Women and what she calls its "feminist grant making style." The professor for her Gender Dynamic in Asia class, Eileen Pennington, connected Alesh with the former vice president for programs at the organization, who shared her insights into the organization's approach to funding.
"Experiences like these have provided very practical insights into the field I'm interested in, and will no doubt prepare me for success in future roles requiring similar expertise," Alesh says.
Connecting With Top Practitioners
For Alesh, however, the most rewarding SFS academic experience was her capstone project. At GHD, capstones take up the bulk of students' second year in the program and are designed to apply learned skills to a real-world challenge. Similar to a professional consulting assignment, students are tasked with identifying and working closely with a client to prepare comprehensive analysis of a topic, which culminates in a formal presentation and report.
Alongside her capstone partner, Margi Goelz (GHD'22), Alesh worked with the Global Environment and Technology Foundation to design an impact investing strategy for three African markets.
"This experience was so satisfying given how meaningful and tangible our outputs were to the organization," she reflects. "It highlighted my love for innovative finance, solving complex problems and defining strategy!"
Working closely with practitioners in the development field was a hallmark of Alesh's GHD experience. She recalls another assignment for a class exploring private capital in African markets. She analyzed the work of investment firm Finca Ventures, which has made investments into water and sanitation social enterprises in Kenya.
Alesh was telling a classmate about the assignment and mentioned that she was planning to cold message staff at Finca Ventures via LinkedIn to find out more about their Kenyan investments. "My friend then proceeded to tell me that that won't be necessary because a current professor of hers at Georgetown, Andrée Simon, was the CEO of Finca's Microfinance holding company!" Alesh recalls. Her friend introduced her to Simon, who was immediately able to connect her with colleagues who had worked directly on the investment deal Alesh was interested in.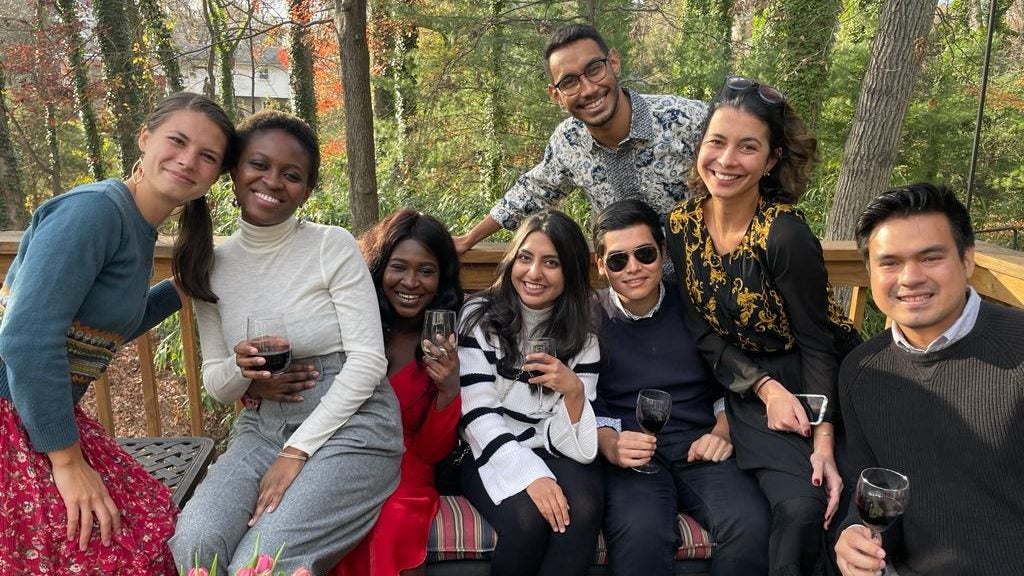 "I've been truly surprised by the vastness of Georgetown's networks and the access we have to them as students," says Alesh. "While I always knew how prestigious Georgetown alums and professors are, I am still humbled each time I am able to so easily connect with yet another remarkably impressive person."
Profound Personal Connections
Alesh forged important connections outside of the development field, too. Alesh made some of her closest friends through extracurricular activities; she served as vice president of the student group Diversity and Inclusion at Georgetown (DiG) and was a member of Georgetown Women in International Affairs (GWIA), the Black Graduate Student Alliance (BGSA) and the Afrika Policy Group.
In her second year, Alesh brought some of these groups together to co-host an event with the SFS Diversity, Equity and Inclusion Office titled "Nuanced Experiences of Black Womanhood." Aiming to upend monolithic and U.S.-centrics narratives surrounding Black women's experiences, Alesh moderated a discussion with Chloe Dulve Louvouezo, a Congolese-American writer and the executive producer and host of the podcast "Life, I Swear."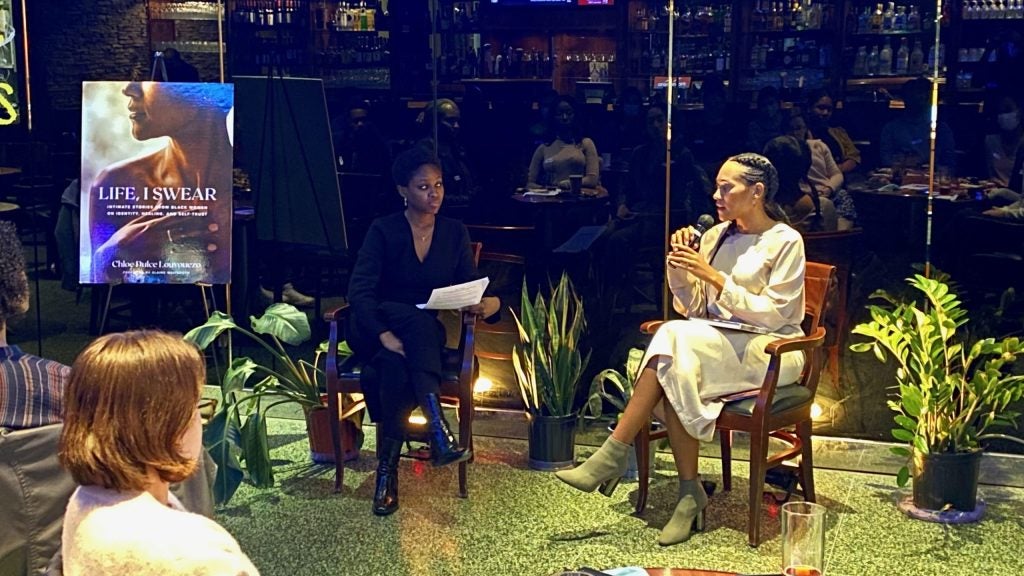 "It was rewarding to hear from the Black women who attended, who expressed that the event made them feel truly seen," Alesh says. In the conversation with Louvouezo, Alesh explored the intersectional experiences of Black women across diverse cultural and class contexts. The two also touched on the differentiated realities of being an African-American woman and belonging to specific African diaspora communities within the United States.
As an American-born Nigerian woman who has resided in Benin, Togo, Spain and Brazil, Alesh says the conversation helped her to think through the complex realities of her own identity. "Hosting this event was also particularly important to me in mentally reconciling the tensions in the multiple identities I hold," she shares.
Next Steps
Studying development alone was not an inevitable outcome of Alesh's career path thus far — she initially thought she would also pursue a master's degree in business administration. But GHD's vast array of course offerings enabled Alesh to enroll in a number of business-related courses, which has only reinforced her conviction that she chose the right program to further her career ambitions.
"My objective for coming to Georgetown was to crystallize and fully understand what a career at the nexus of gender equality and social finance might look like, so I can make an informed decision on the best career option for me," Alesh affirms. "I feel like I've been able to get a true understanding of this landscape and feel more than equipped to immediately embark on my future career."
While Alesh is excited to move forward with her ultimate career plan, she says she is looking forward to some relaxation after a "long and rigorous" graduate program. "A music festival in Portugal awaits me this summer, as well as travels through France and Switzerland," she says, after which she will begin her job search in earnest.
A few months of downtime will also offer an opportunity to reflect on her fond memories of Georgetown. "I'll miss my dear friends and brilliant professors," she shares. "I'll miss meditations at the Dharmic Meditation Center and studying at Riggs Library. I'll miss sunny afternoons with friends at one of the many little cafés around campus and plays at the Gonda Theater."
Ultimately, Alesh says she will look back on her SFS experience as "a true career launch-pad" propelling her into the next venture: "The way GHD exposed me to the entire international development landscape gave me a sense of all that is possible and has certainly inspired all the audacious dreams that I am sure to pursue."