Cover image: GU Pride.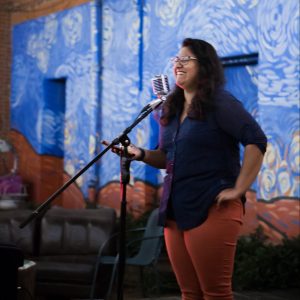 When graduate student Ishanee Chanda (MSFS'21) first arrived on Georgetown's campus, she felt an ease she had not experienced before. 
"I come from a very conservative state and went to a very conservative undergraduate institution where LGBTQ+ folks had legitimate reasons to feel scared or nervous on campus," Chanda — who identifies as queer — explains. "Georgetown never felt that way."
"I don't have to worry here about how I'm dressed when I come to school or how students around me might react if they saw me kissing another woman on campus," she adds. "There are pride flags in dorm windows and the place feels a little bit safer for me, a South Asian woman."
Matt Failor (SFS'23), an undergraduate and president of student group GU Pride, had a similar experience, finding community in a welcoming network of peers at Georgetown.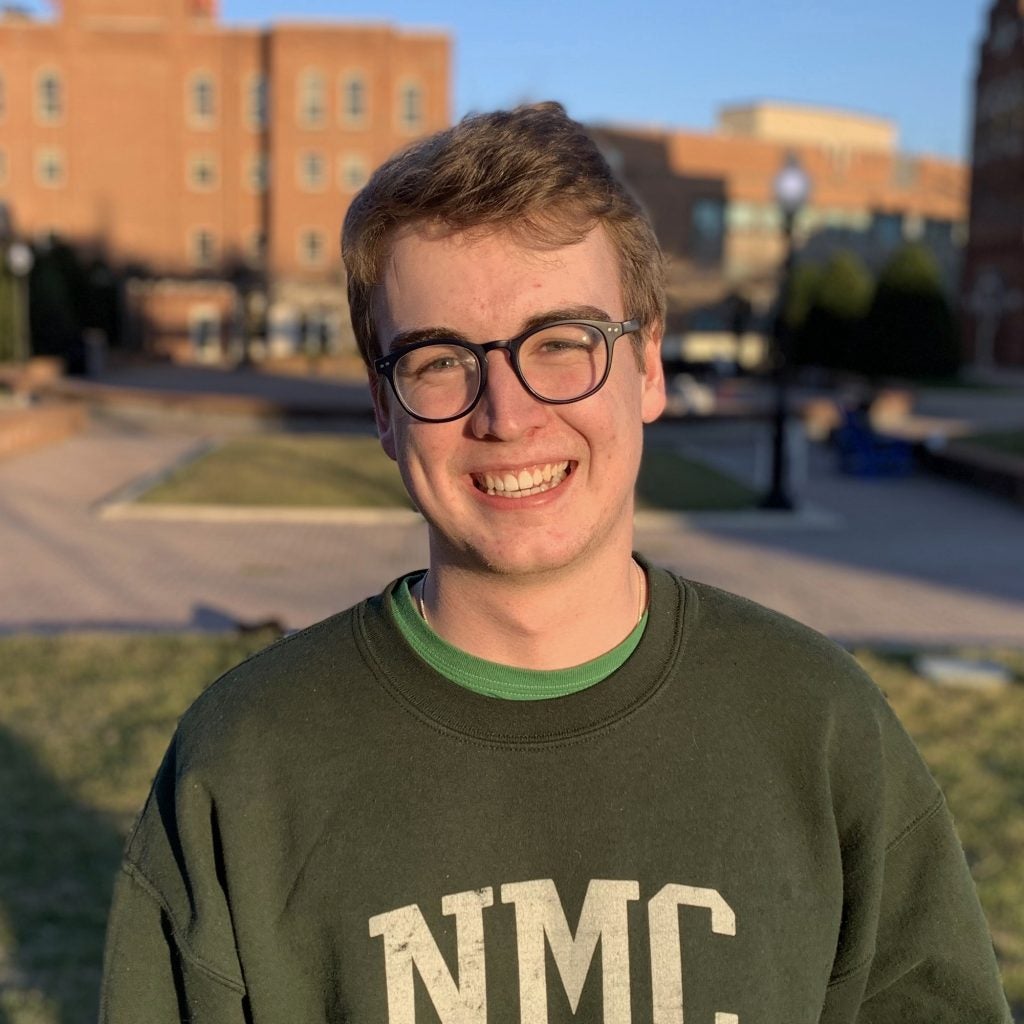 "Coming from a small, rural town, I rarely got to interact with any LGBTQ+ people," Failor says. "Coming to Georgetown and DC and seeing that there are so many more people like me was a truly validating and heart-warming experience."
Both Chanda and Failor attribute their feelings of solidarity and support to one thing in particular: the work of LGBTQ+ students, and their allies, who have made Georgetown a more inclusive campus. 
"Every inch of progress for the Georgetown LGBTQ+ community has been fought for," Failor stresses. 
A Legacy of Queer Student Activism
The gains made in LGBTQ+ rights at Georgetown are a testament to a long history of student activism.
For instance, the university's LGBTQ Resource Center was created in 2008 after Georgetown students organized in response to an anti-gay hate crime on campus, while GU Pride — which advocates for the LGBTQ+ campus community — gained university recognition in 1987 after students fought a lengthy legal battle that almost made it to the Supreme Court.
Now, new generations of Georgetown students — including many from within SFS — are taking up this legacy, organizing for the LGBTQ+ community and finding support among each other.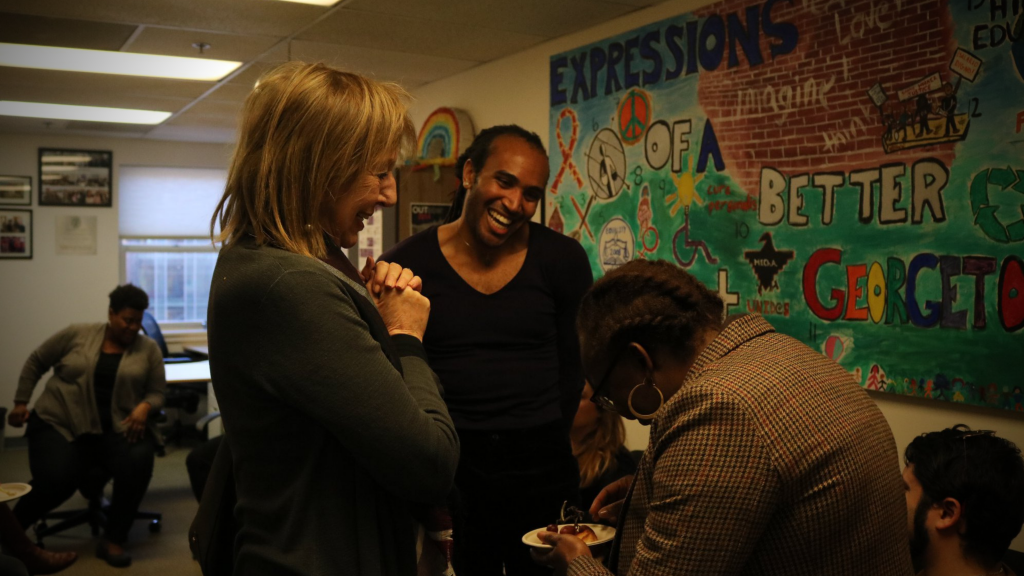 Teak Hodge (SFS'21), who worked as a student intern at the LGBTQ Resource Center until their graduation in May, helped run social events at the Center, including coffee hours and cooking nights for queer students. They also organized and moderated a discussion with Georgetown alumni Dr. Theo Greene (COL'02) and Austin Seaborn (MSFS '15) on how queer people create communities within urban areas.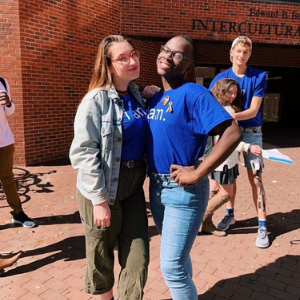 "I found it immediately critical that we had spaces to talk amongst ourselves, to organize together and to simply enjoy each other's company," they explain.
Rose Dallimore (SFS'22), a rising SFS senior who is active in both GU Pride and Georgetown LGBTQ+ Mentors and Resources (GLMR), says these bonds of community are vital for LGBTQ+ students, many of whom have experienced exclusion throughout their lives.
"Nothing is more important than creating a baseline sense of inclusion and empowerment," she stresses. "Especially for those of us coming from less supportive spaces and with valid concerns and questions about how the world will receive us due to our identities."
Catalyzing Change
The current group of LGBTQ+ student advocates at Georgetown are keenly aware of the change they can effect on a campus that is more inclusive than the Hilltop of the 1980s, but where concrete action can be slow to achieve.
Failor believes that students play a unique role in pushing new agendas that can complement the work of university resources such as the LGBTQ Resource Center. 
"[GU Pride] uses our distance from the administration to push for our needs in a more direct, blunt way," he explains.
Student groups also serve as examples of how to best engage with Georgetown's LGBTQ+ student population. Hodge describes how they collaborated with student organizations to offer more inclusive, impactful and intersectional programming in their work at the Center.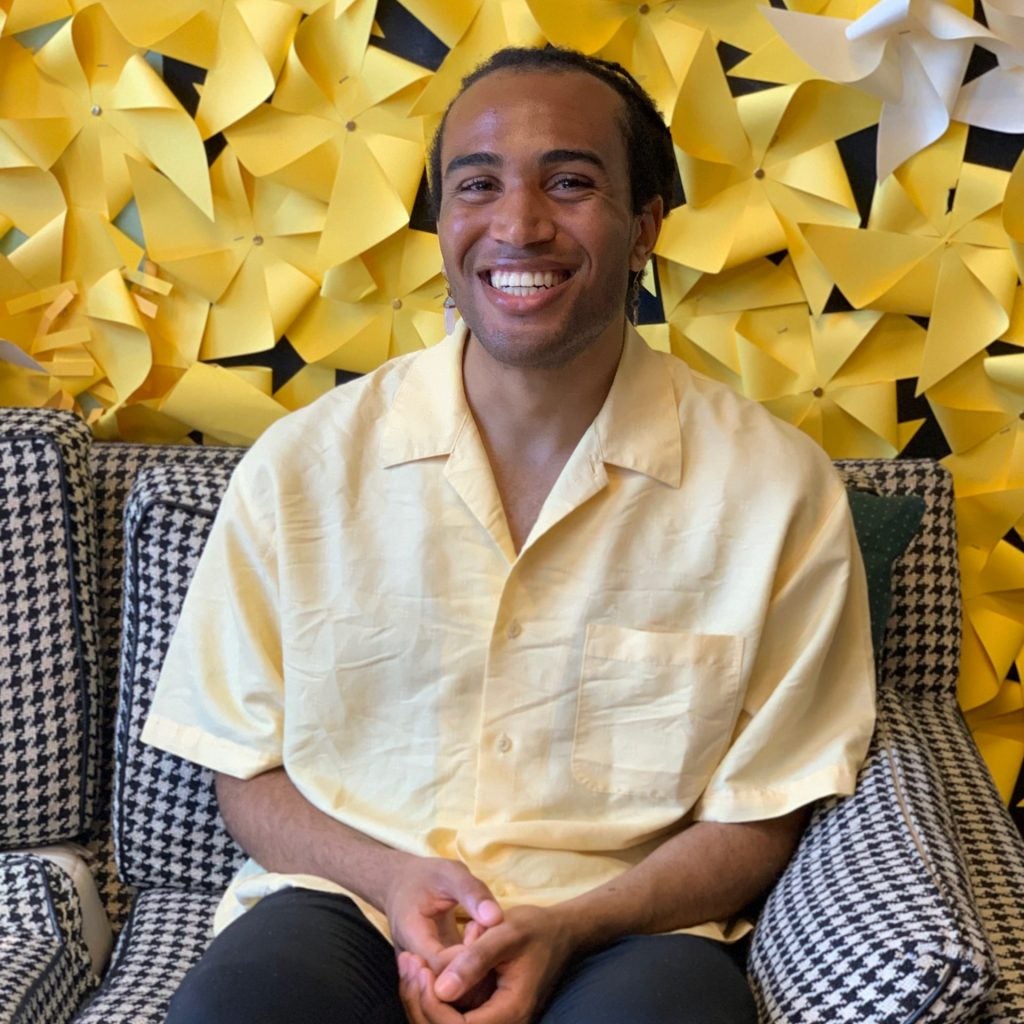 "Students have a much more expansive understanding of intersectionality than that which is often taught within the classroom," they say. "Student organizations have sought to clearly define which groups, people and communities they want to hold space for at any given event…which ultimately makes them more intimate and impactful."
Hodge sees the fruits of this approach in the Center's collaborations with student groups GU Queer People of Color, the Asian-Pacific Islander Leadership Forum and Hoyas for Immigrant Rights, and campus offices including the Disability Studies Program, Campus Ministry and the Office of Residential Living. 
"What I appreciate most about the work of the LGBTQ Resource Center and student organizations is their consistent engagement with the volatility of our identities," they say. "I'll always appreciate the spaces created which allow for this type of radical vulnerability, reflection and community building, and I hope they continue."
Pushing for Progress
Understanding how a variety of overlapping identities impact queer students' experiences is vital to creating spaces that are welcoming for everyone, echoes Dallimore. "My experience of being queer at Georgetown is entirely different than many of my friends who experience racism, ableism and classism," she says. 
While Pride month offers an opportunity to celebrate Georgetown's queer community and reflect on advances made in LGBTQ+ rights on campus, students warn that the shortcomings of present systems and practices must not be overlooked. 
In their four years at Georgetown, Hodge saw many tangible improvements in queer life on campus, including the creation of gender-neutral bathrooms, the establishment of a Living Learning Community focused on gender and sexuality and the launch of the peer mentorship program Passages. However, Hodge would like to see those outside the LGBTQ+ community develop a greater awareness of the true urgency of advocates' demands. 
"I hope the university and SFS are coming to understand that many of the services students ask for aren't choices but matters of comfortable survival," they stress. "If you've not experienced violence and discomfort simply walking around campus or going to the restroom, then I can't explain to you what these changes mean."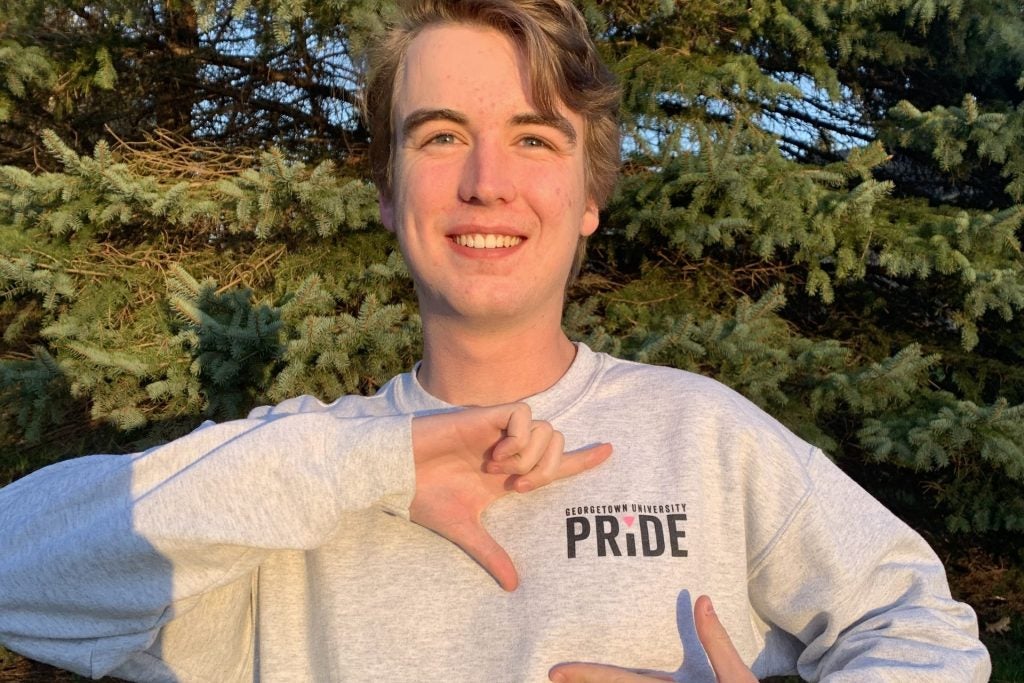 Each of the students interviewed identified areas where they would like to see improvements, including hiring more diverse campus clinicians; educating faculty, staff and students on how to correctly use and respect pronouns; adapting the campus living experience to better suit non-binary students; creating more spaces where LGBTQ+ students can safely voice their concerns to university leaders and supporting queer students of international affairs who may not be able to safely travel overseas.
Importantly, the students stress that efforts to engage with and support the LGBTQ+ community must extend beyond Pride month. 
"Every member of the Georgetown community needs to show up for the LGBTQ+ members of this community throughout the whole year," Failor says.
Beyond Campus
Sustained and meaningful action on LGBTQ+ issues is important beyond Georgetown's gates, too, the students say.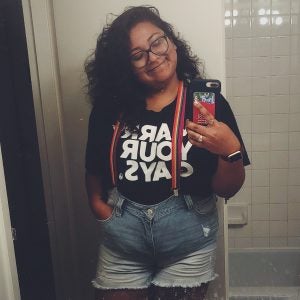 Chanda — who was recently included in Out in National Security's New Voices List — emphasizes that LGBTQ+ experiences are as fundamental to international affairs as any other issues that directly impact millions, if not billions, of people around the world.
"Queer people are everywhere," she says. "They live in every country and deal with the same general issues and problems that we contend with everyday. LGBTQ+ rights are part of our basic human rights."
Hodge believes that the field of international relations must take a more nuanced approach to how it engages with LGBTQ+ communities around the world. In their junior year, they conducted research relating to the queer community in Cape Town, South Africa, exploring how LGBTQ+ people in the city defined themselves outside of frameworks often reflexively used by U.S. scholars to describe queer life in other parts of the world. 
"Queer South Africans were making sense of themselves, building relationships to their communities and articulating forms of resistance to Western discourses of queerness which dominate global LGBTQ+ advocacy," Hodge explains.
Improvements to LGBTQ+ representation in the field also mean knowing how to avoid pigeonholing queer scholars into studying only queer themes in their work. 
"I personally don't explore these issues in my research, nor should I be expected to," Failor says.
Dallimore similarly stresses that it is important to see queer faculty members and scholars working on a variety of issues and topics. "I want to know who the leaders in my community are, not just on queer issues and activism, but in other spaces and fields I'm interested in," she explains.
Looking to the Future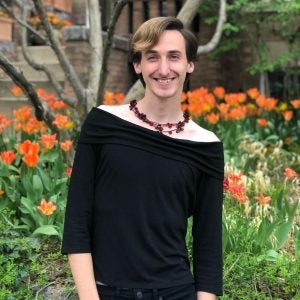 The trail blazed by generations of queer SFS and Georgetown students has helped to create an environment where more LGBTQ+ individuals can find a home on the Hilltop. 
Incoming student in the Master of German and European Studies (MAGES) program Jo Desmone (MAGES'23) says that they selected the program to gain the diplomacy skills they would need to enter public service, but also because of the support they received from the LGBTQ+ community at SFS as a transfemme, non-binary person.
"Thanks to the persistence of some queer faculty and graduate students at SFS, I pursued my graduate education at Georgetown University," they explain. "I have already begun connecting with the LGBTQ+ community by reaching out to GU GradPride, and exploring the Trans* @ GU resource guide and the LGBTQ Resource Center webpage." 
Ultimately, as Pride month comes to an end, each of the students expressed their hope that LGBTQ+ students' voices will be heard and prioritized and that new cohorts of queer SFS students will enter a campus culture striving to be more welcoming and inclusive.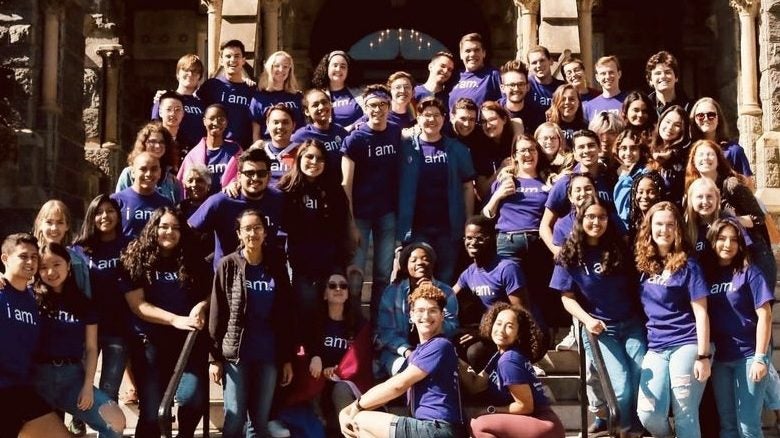 Creating such an environment can make all the difference in a student's success, both at Georgetown and in their careers. 
"I know that the reason I felt comfortable being myself, not just at Georgetown but in all facets of my life, is because I have had the privilege of excellent role models and support systems," says Dallimore. 
"I hope to continue to learn and grow in myself and in my allyship to others," she says, adding, "Being bisexual and preparing to enter a field of service to the international community fills me with joy, hope…and pride."