Since Russian President Vladimir Putin ordered troops to invade Ukraine on February 24, the Walsh School of Foreign Service (SFS) community has gathered virtually and in person to respond to the news and express solidarity with the people of Ukraine. 
From Ukrainian students testifying to widespread devastation and fear in their home country to SFS faculty and alumni offering their policy analysis and journalistic experience to unpack the events of the last several weeks, the SFS community has mobilized to offer support and expert advice in the wake of the conflict.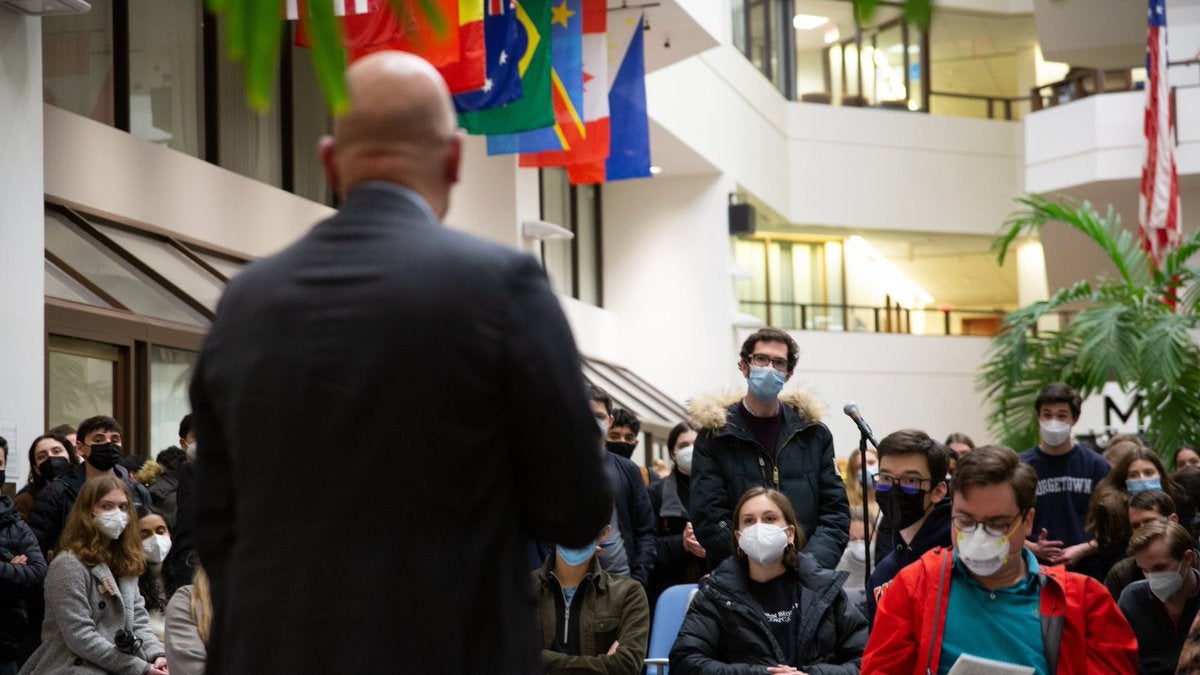 When news of the invasion first broke on February 24, SFS hosted an evening town hall for students, faculty and staff to reflect on the day's rapidly unfolding events. SFS Dean Joel Hellman began the event by acknowledging the personal impacts of the invasion on Ukrainian community members.
Many of their loved ones were likely "huddling against bomb attacks" in their home cities that night.
Katerina Sedova (MSFS'18), a Ukrainian alumna and research fellow at the Center for Security and Emerging Technology, shared her perspective on the first hours of the invasion. "I am here before you because my family is still in Ukraine," she said. "They awoke today to the sounds of sirens and air raids."
Inspired to pursue a career in cybersecurity following the Russian annexation of Crimea in 2014, Sedova thanked the audience for voicing their support for Ukrainians and stressed her country's commitment to resistance. "Ukrainians deserve your support," she told the crowd. "Ukrainians will resist because it's their land, their homes, their children and their children's future."
SFS Professor Charles Kupchan and Security Studies Professor Caitlin Talmadge also reflected on potential outcomes of the invasion. Both echoed Sedova's emphasis on Ukraine's ability to hold off — or at least delay — Russian capture of major cities.
However, though both professors were cautiously optimistic that Putin would fall short of his long-term goals in Ukraine, they still warned of a dangerous moment for Ukraine and the world at large. "The world we are heading into will be a bumpier one than the one we left behind," Kupchan noted.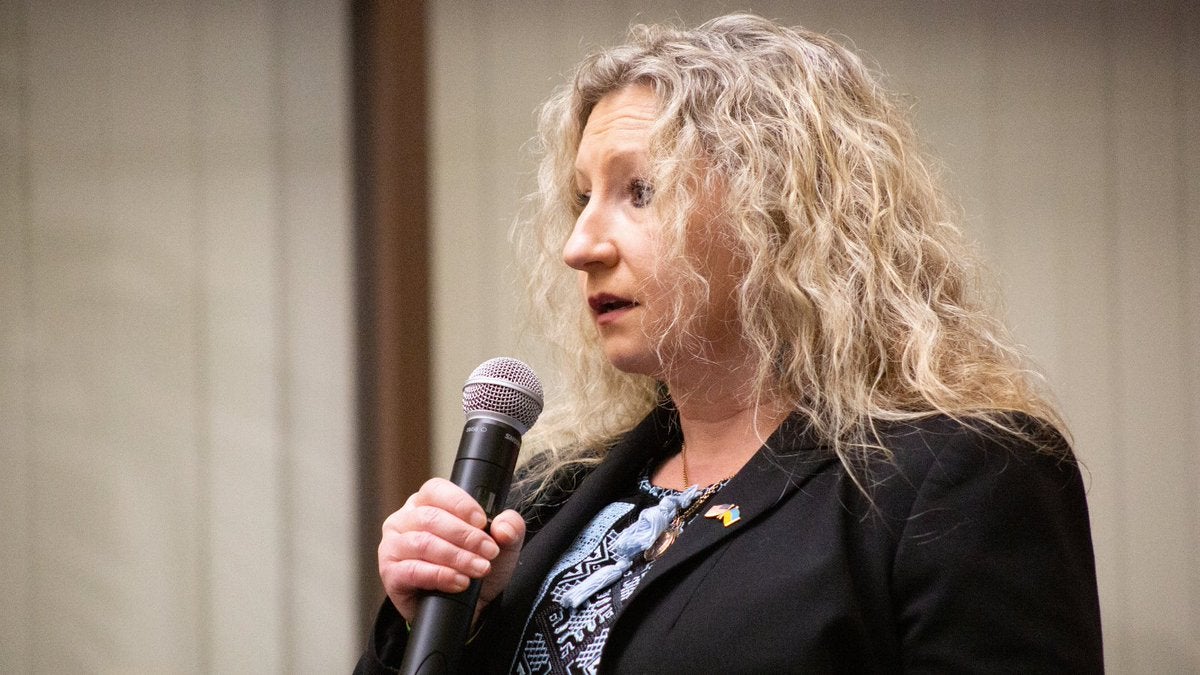 As Russian troops advanced on Ukrainian cities and the humanitarian consequences of the invasion mounted, the Georgetown University community came together again on March 3 to stand with Ukraine. The crowd that gathered on Healy Lawn carried banners, Ukrainian flags and sunflowers to show their solidarity with those impacted by the invasion.
Inna Cherniak (SFS'23) spoke alongside other Ukrainian speakers about how her and her community's lives had been transformed in the days since the invasion began.
"This is the reality that Ukrainians have been living in for the past six days," Cherniak said, explaining that she and a friend have taken turns monitoring nighttime airstrikes in their hometown. "Whenever I call my parents, they don't know what day of the week it is, they don't know what date it is, but they do know that it's the sixth day since Russia invaded Ukraine."
The Healy Lawn demonstration also featured remarks from former U.S. Ambassador to Ukraine and SFS alumnus John E. Herbst (SFS'74), who urged non-Ukrainians in the audience to consider the global costs of the invasion. "Our lives are not on the line here, but our prosperity is and the world that your children will inherit is."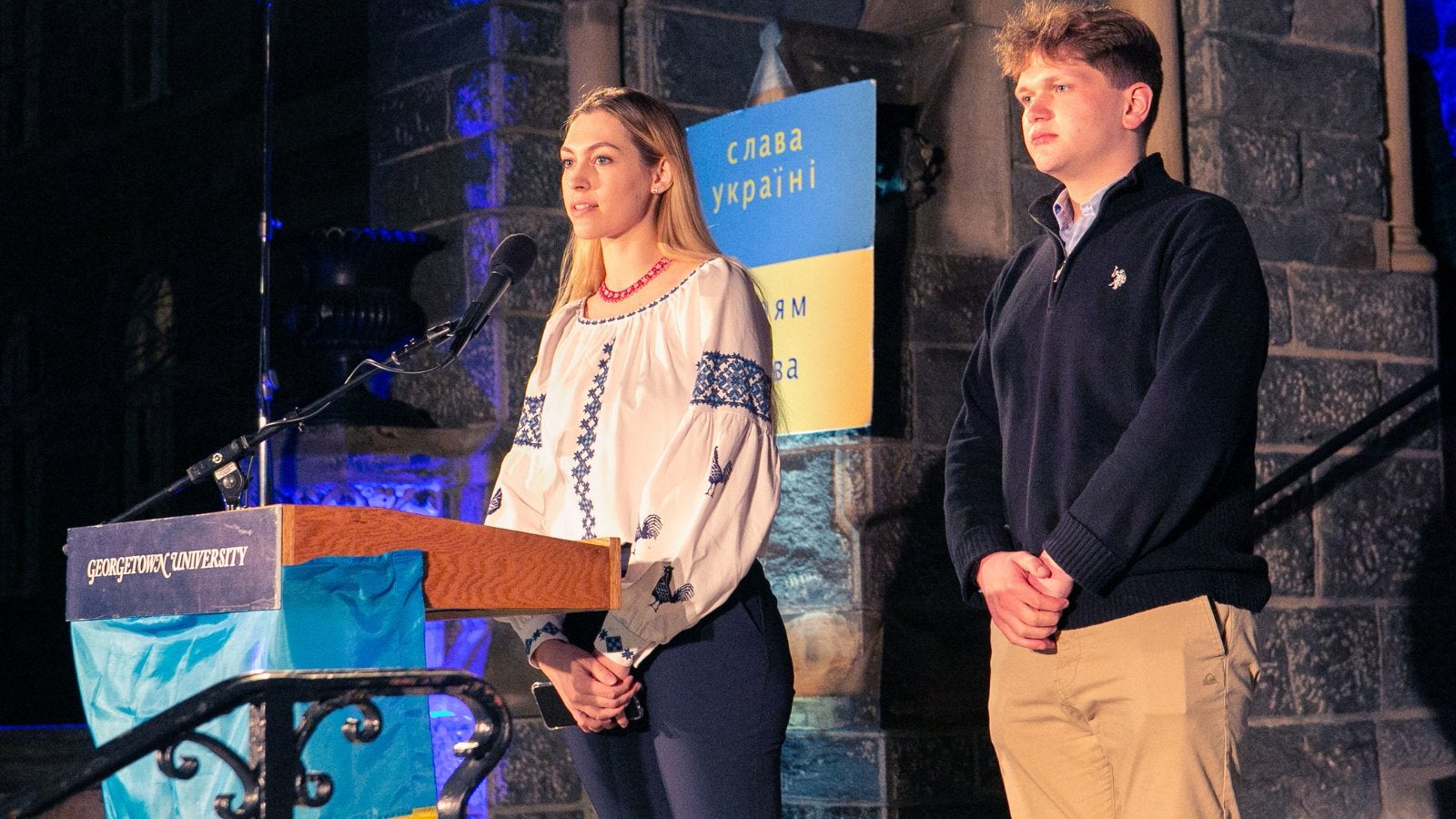 In addition to elevating the voices of students, faculty and staff most affected by the invasion, SFS has also organized a number of events for community members to learn from the expert analysis of the school's many scholar-practitioners.
On March 2, SFS convened a Georgetown Alumni event to hear from Hellman, Kupchan and Dr. Angela Stent on what might come next for Russia and Ukraine. Stent, whose decades-long career in Russian affairs includes a stint at the Office of the Director of National Intelligence and as director of Georgetown's Center for Eurasian, Russian and East European Studies (CERES), said the invasion marks a watershed moment in geopolitics.
"We are at the end of the post-Cold War order," Stent said, arguing that Putin's decision to invade represents an attempt to revise the global balance of power that was struck after the fall of the Soviet Union.
Kupchan, who served as special assistant to the president in the White House National Security Council and director for European affairs during the Obama administration, added that such aggression could alienate Russia globally and lead to domestic unrest. "It is not inconceivable," that the invasion could prove so politically costly that Putin might be ushered out of power, Kupchan said.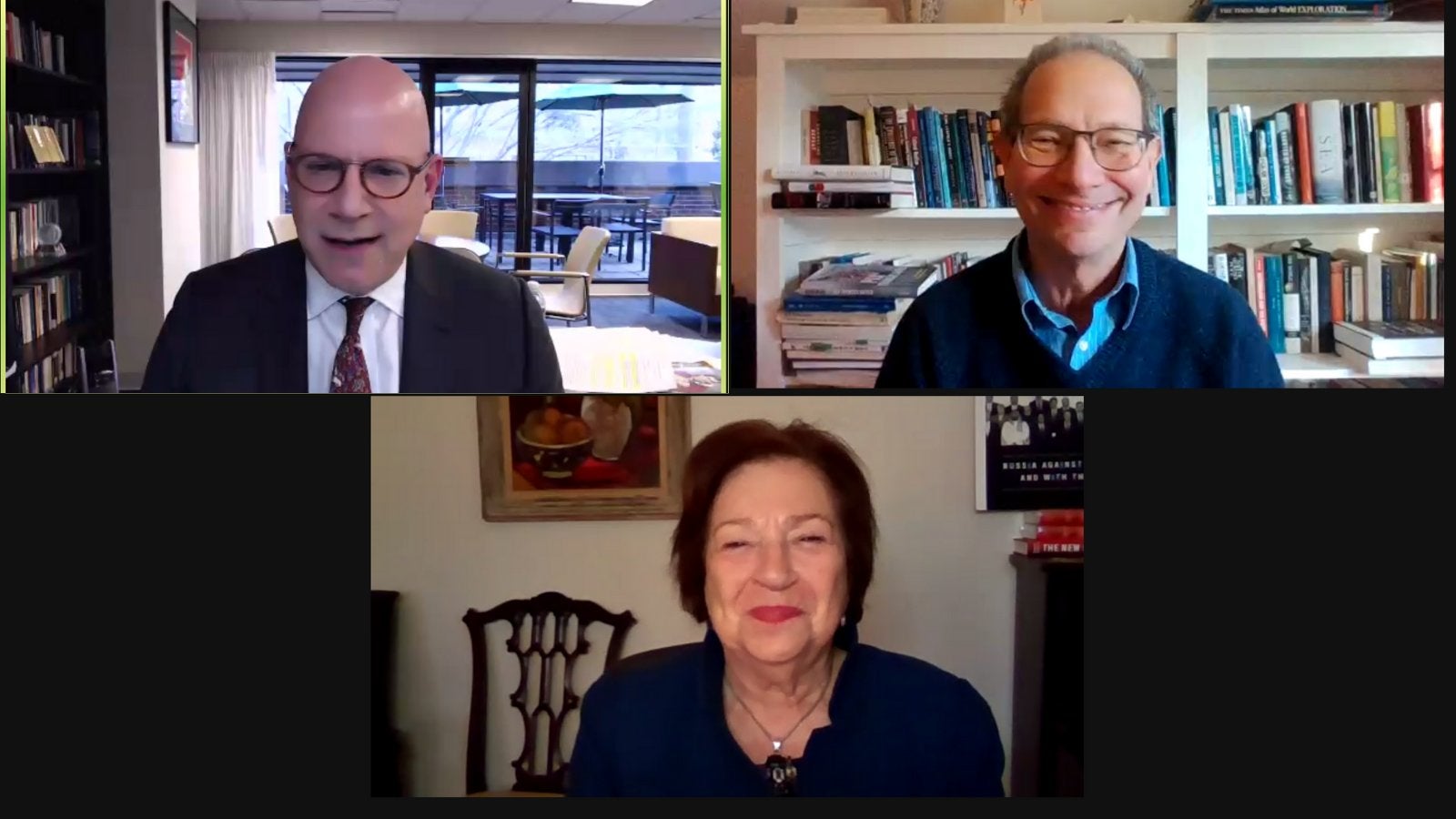 At a symposium on March 3, CERES faculty and other expert speakers pondered similar questions about the invasion's consequences for global politics. Speaking alongside Kupchan and panelists from the Council on Foreign Relations and the Carnegie Endowment's Moscow Center, Brookings Institute Senior Fellow Fiona Hill addressed a seismic shift brought about by the invasion.
"Now we're in a completely different world," Hill said.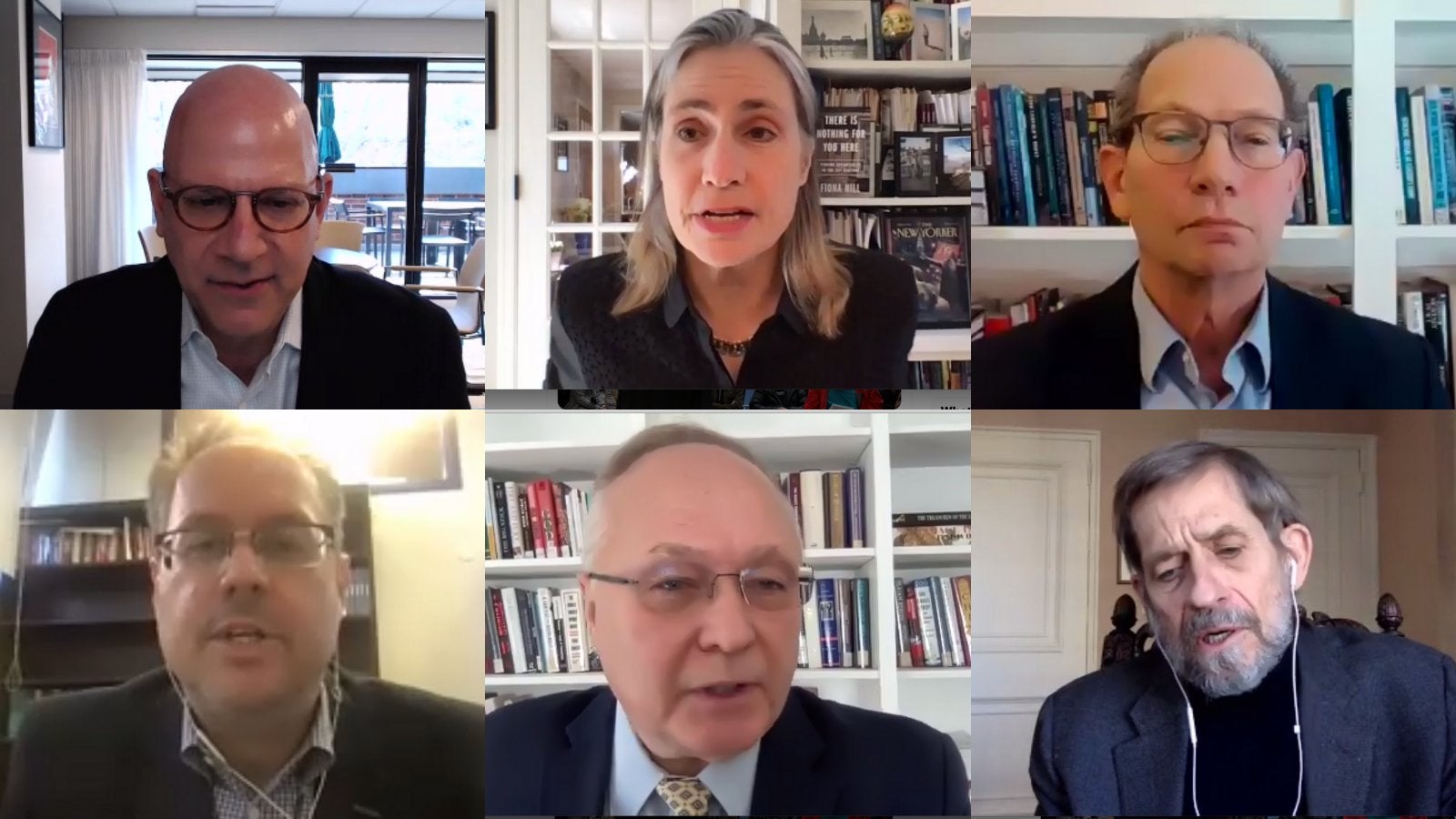 SFS faculty have also shared their expertise to help Congress navigate international legal issues related to the unfolding conflict. On March 16, Professor Anthony Arend testified in front of the House Foreign Affairs Committee on early signs of war crimes and human rights abuses committed by the Russian military. His testimony explored what is considered a war crime and how Congress can leverage international law to hold perpetrators to account.
"We are at a very grave time in our history. The very structure of the international system is being challenged," Arend emphasized. "The Russian invasion of Ukraine is a clear violation of international law, without question."