To mark International Women's Day, this Sunday, March 8, the School of Foreign Service is proudly celebrating the incredible women graduates who have made outstanding contributions to our school and to international affairs. The SFS Class of 1958 was the first to include women, with just 25 female students graduating alongside a much larger male cohort. Prior to 1954, women were only allowed to enroll in night classes at the SFS. Since then, the SFS has come a long way in its education of women and now has a proud tradition of developing female leaders who have had distinguished careers in many fields. Today, we celebrate our alumnae by taking a look at the careers of just some of the SFS women who have followed the example of the first class of female students in striving to promote women on campus and beyond.
Carol Lancaster (SFS'64)
Carol Lancaster (SFS'64) came to the SFS as a first-generation college student at a time when women had only been admitted to the school on equal footing with men for a decade. An excellent scholar, Lancaster went on to complete a Fulbright project in Bolivia and earned her Ph.D. at the London School of Economics and Political Science. She served in the U.S. Department of State's policy planning staff and later as Deputy Assistant Secretary of State for Africa. Lancaster became the first female Deputy Administrator for USAID, where she broke glass ceilings all over the world through her pioneering work in international development.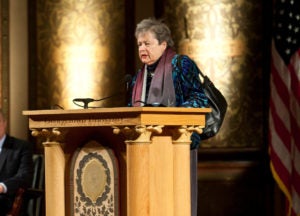 Returning to the SFS as a professor in 1996, Lancaster was committed to emphasizing the key role that women play in boosting economic prosperity and development in her classes. In 2010, she was named SFS dean, a position she held until her untimely death in 2014. During her tenure, Lancaster championed the two causes that had been her passion throughout her career: women's empowerment and international development. She helped found the Georgetown Institute for Women, Peace and Security and the SFS master's degree programs in Global Human Development and Asian Studies, initiatives that continue to expand knowledge and best practice in their fields.
Cheryl Long (SFS'71, L'74)
In 1971, Hon. Cheryl Long (SFS'71, L'74) became the first African-American woman to graduate from the SFS. An interest in law and the realization that gender bias in the Foreign Service would likely impede a diplomatic career led Long to continue her education at Georgetown Law. Her dedication to her studies earned her a nomination for a clerkship with a judge on the U.S. Court of Appeals for D.C. and a seven-year stint as an assistant U.S. attorney, working closely with the D.C. Metropolitan Police Department and the FBI. After a distinguished legal career at the Department of Justice, she was appointed the Director of the Public Defender Service for the District of Columbia, becoming the first African-American woman to head a public defender office in any major U.S. city.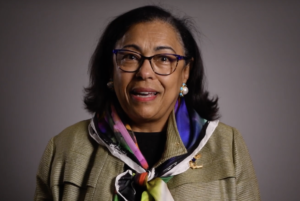 Long was sworn in as a judge on the D.C. Superior Court in 1988 and continues to serve as a senior judge. She regularly returns to her alma mater to share her mentorship and guidance with students and fellow Hoya graduates. Recently, Long shared her Georgetown experience with the university's black alumni community for the 2019 Black Alumni Summit. She encouraged Hoyas to ask themselves, "What have you done to make the world a better place?" "There are thousands of ways to do it but that's the concept that has to guide what you do with the education you get from Georgetown," she added.
Kara Swisher (SFS'84)
Pioneering tech journalist Kara Swisher (SFS'84) is co-founder and editor-at-large of Recode, a technology news site, and a contributing opinion writer for The New York Times. After graduating from the SFS, she pursued a master's degree in journalism from Columbia University before starting her career as a reporter for the Washington Post. A job at the Wall Street Journal's San Francisco bureau led Swisher to become deeply embedded in the tech world and to make a name for herself as one of the most respected and hard-hitting tech journalists in Silicon Valley.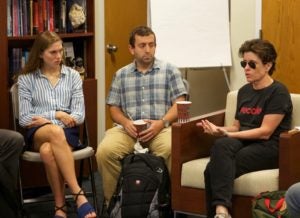 She has interviewed and written about nearly every big name in the tech industry, using her SFS education to shine a light on Silicon Valley's ethical dilemmas relating to consumer privacy, gender dynamics, and more. "Right now I work in Silicon Valley where nobody took humanities, and you can see the disaster that's happened," Swisher said in an oral history interview for SFS. "They're grappling with all kinds of ethical issues, they're grappling with their impact and everything else, and they aren't capable of understanding the patterns of history or politics in the way that they need to."
Izumi Nakamitsu (MSFS'89)
Working for the United Nations was Izumi Nakamitsu's (MSFS'89) goal since she was a student in high school. Today, she holds the title of UN Under-Secretary-General and High Representative for Disarmament Affairs and is the highest-ranking Japanese official at the organization. Since securing her first position with UNHCR in Turkey after graduating from the Master of Science in Foreign Service (MSFS) program, she has worked in 115 countries in a variety of roles for the UN, including as Assistant Administrator of the Crisis Response Unit at the United Nations Development Programme (UNDP) and as Director of the Asia and the Middle East Division of the United Nations Department of Peacekeeping Operations.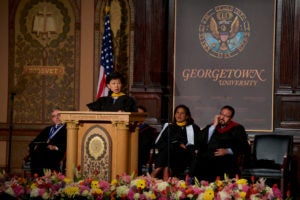 She credits her female professors at SFS, like former Secretary of State Madeleine Albright, with providing her with an insight into the type of career path she might pursue as an international affairs practitioner early on in her career, as well as with giving her the skills she needed to succeed. "I have always been an optimistic and somewhat idealistic person," Nakamitsu said during her alumni speaker address at the 2017 MSFS Tropaia graduation ceremony. "But my two years at Georgetown equipped me with the skills and capacities to think strategically, pragmatically and realistically to truly strive to reach my own ideals and goals."
Kelly Coffey (MSFS'89)
Upon graduating from the Master of Science in Foreign Service program, Kelly Coffey (MSFS'89) embarked on a three-decade career that would see her become one of the most influential leaders in the world of finance. After MSFS, she took a job at J.P. Morgan, where her role drew on her international experience to work on mergers and acquisitions in Buenos Aires, Argentina. Returning to the U.S. six years later, Coffey chaired J.P. Morgan's Reputation Risk Committee in North America and led the investment bank's Women's Network. Coffey rose up through J.P. Morgan's leadership, becoming CEO of the U.S. Private Bank in 2013 and earning numerous accolades along the way, including being recognized by American Banker's "Most Powerful Women in Finance List" multiple times. In January 2019, Coffey began a new role as CEO of City National Bank.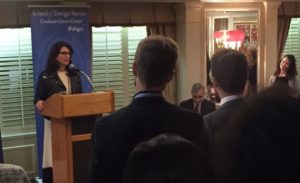 Reflecting on her new role as the first female CEO of City National Bank, Coffey said, "I've been lucky enough to work for people who rewarded me for learning new skills and adapting to new roles. But sometimes, women need a little extra encouragement to go to the next level in their careers. We should all have the self-confidence to say, 'I don't know how to do this yet, but I can learn how.'" Coffey continues to advocate for women and share her expertise with students at her alma mater, most recently as the keynote speaker for the SFS Graduate Career's Center's 2018 New York City Career Trek.
Shéhérazade Semsar-de Boisséson (SFS'90, MSFS'90)
An Iranian and French national, Shéhérazade Semsar-de Boisséson (SFS'90, MSFS'90) graduated with both a bachelor's and master's degree from the SFS in 1990. Just two years later, she co-founded the Development Institute International, France's leading public affairs events promoter. Throughout her career, Semsar-de Boisséson has been a key figure in Europe's public and international policy space, first as owner and publisher of European Voice, Brussel's leading media outlet covering EU policy, and more recently as CEO of POLITICO in Europe.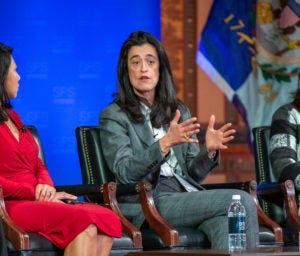 Semsar-de Boisséson has maintained strong connections to Georgetown since graduating, serving on the university's Board of Directors and on the Advisory Board of Georgetown's Master of Science in Foreign Service program. During the SFS Centennial Gala Weekend, she was part of the panel of women who featured in the program's opening plenary session, titled "The Future Will Be Inclusive: Women in International Affairs," where she discussed the important role that women will play in the future of global leadership.
Lulu Garcia-Navarro (SFS'94)
Lulu Garcia-Navarro's (SFS'94) SFS education has stood her in good stead over the course of her career. From her 2005 Peabody Award-winning reporting from the Middle East post-9/11 to her early and insightful reports from Libya in the aftermath of the 2011 Arab Spring, Garcia-Navarro developed a reputation as one of the foremost foreign affairs reporters in the United States. She began her career as a freelance writer for the BBC World Service and has worked as a journalist in TV and radio for AP Television News, AP Radio, and NPR.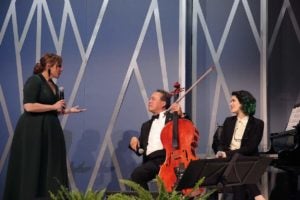 She is the host of NPR's "Weekend Edition Sunday", where she has turned her attention to promoting underrepresented voices in the media by giving a platform to the people affected by the events she covers. Now living in D.C., Garcia-Navarro has visited Georgetown a number of times to share her career insights with the SFS community, most recently for the SFS Centennial Weekend in November 2019. At a 2018 event celebrating the first SFS women graduates, Garcia-Navarro remarked on the inspiration she draws from the SFS alumnae who came before her and her resolve to continue to advocate for greater opportunities for women in her work. "I look at these [early SFS] women [graduates] on the stage and you broke that ceiling, but I look at these women in the audience, the next generation, and I do think there are many ceilings to be broken," she said.
Nicole Bibbins Sedaca (MSFS'97)
Prof. Nicole Bibbins Sedaca (MSFS'97) is not only an alumna of Georgetown's Master of Science in Foreign Service program, she is also the current Co-Chair of the program's Global Politics and Security concentration and Professor in the Practice of International Affairs. Prof. Bibbins Sedaca brings extensive experience in foreign policy to her teaching at Georgetown, having served in numerous positions in the public and NGO sectors of the United States, including as Senior Advisor to the Under Secretary of State for Democracy and Global Affairs and as Senior Director for Strategic Planning and External Affairs in the Bureau of Democracy, Human Rights and Labor. After her government service, she opened and directed the International Republican Institute's local governance program in Ecuador and taught courses on democratization and conflict resolution at the Universidad de San Francisco de Quito (Ecuador).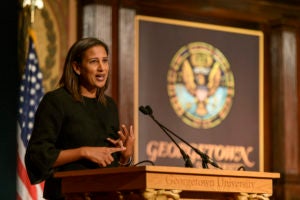 As a mentor, Prof. Bibbins Sedaca encourages her female graduate students to have confidence in their abilities. "When I have a room full of graduate student women, I ask them to say something about the woman next to them. They can easily rave—very honestly—about their colleagues' strengths and talents," she says. "And yet, when asked to give an honest assessment of themselves, many women find it hard to embrace their strengths and talents. The best thing we can do for ourselves is embracing fully and honestly the strengths we have."