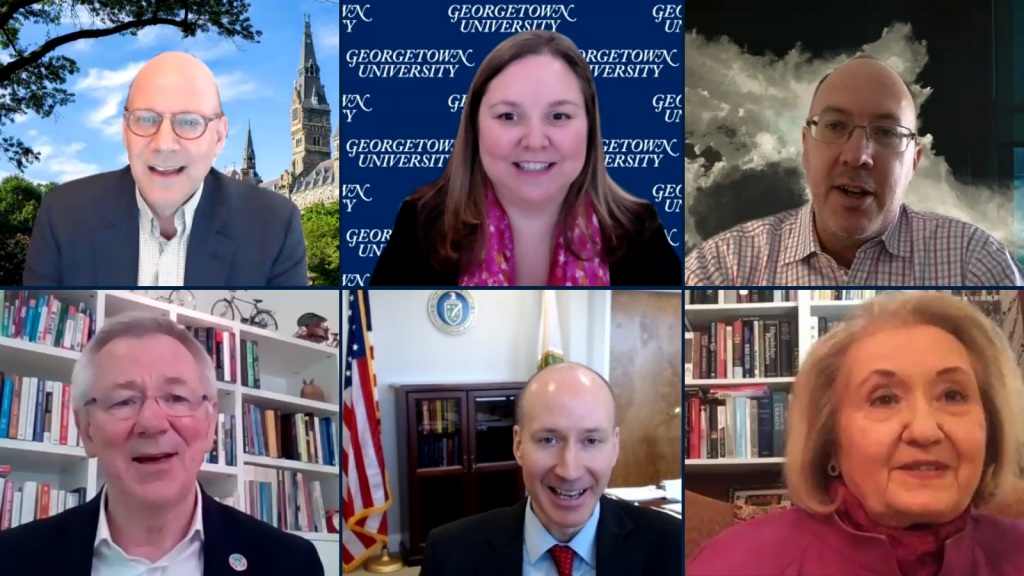 The School of Foreign Service (SFS) and the Science, Technology and International Affairs (STIA) program convened a panel of experts on April 20 to discuss the road to the 2021 United Nations Climate Change Conference later this year. Also known as COP26, the conference promises to be a crucial milestone for global progress on addressing climate change.
SFS Dean Joel Hellman introduced the event and its panelists, alluding to the urgency of the topic at hand. "There are no [international issues] more important than understanding the challenge of climate change," he said.
Professor Joanna Lewis, director of the STIA program and moderator of the day's conversation, agreed. She cited COP26 as a key benchmark for U.S. President Joe Biden, as his administration planned to unveil ambitious climate goals in time for Earth Day. Lewis then turned to address the panelists, each of whom had unique expertise on the domestic and global commitments necessary to address the climate crisis.
She asked U.K. Trade Commissioner for North America Antony Phillipson about the progress his nation has made as it prepares to co-host COP26 with Italy in Glasgow, U.K., in November. Phillipson emphasized the importance the U.K. has placed on working with international partners, saying, "This needs to be a really collective effort if we are going to meet our ambitions and targets and keep warming below two degrees.
Phillipson added that the U.K. has made progress in its domestic agenda as well, which features a 10-point plan outlined by Prime Minister Boris Johnson pertaining to renewable energy initiatives, public transportation, carbon capture and green innovation and finance.
Dr. Andrew Steer, president and CEO of the Bezos Earth Fund, also spoke about the importance of international cooperation and technological innovation. "Smart climate action leads to more economic efficiency; it drives new technologies; and it lowers risk," he said. "Those three things combined actually lead to more jobs, more investment."
However, Steer warned that meeting ambitious mid-century goals requires dependable commitments from the United States and other industrialized countries. "You need a short-term plan for this decade," he added.
Lewis then turned to Deputy Secretary of the U.S. Department of Energy David Turk to ask about U.S. priorities ahead of the summit. Turk focused on how domestic policy — including Biden's infrastructure plan and pending American jobs program — can create international leverage when it comes to climate change.
He was optimistic that the Biden-Harris administration can build up momentum to take meaningful and timely action on climate change. "Not all years in history are equal," Turk said. "There are some years and moments in history that are more important than others, and I think we're living through one."
Ambassador Melanne Verveer, executive director of the Georgetown Institute for Women, Peace and Security, spoke to the essential role of women in this moment in climate history. She outlined how women, particularly Indigenous women and women living in the Global South, are disproportionately impacted by climate change.
Verveer emphasized that the involvement of women and other climate-marginalized people in the design and implementation of policy is key to finding durable environmental solutions. "I want us to see, not so much the vulnerable as victims, but as potential problem-solvers and agents for change," she said.
After each panelist gave their remarks, Lewis asked about the U.S. abdication of climate leadership over the last four years, wondering about damage done to the Paris Climate Agreement and the role of multilateralism in finding a way forward.
Phillipson noted that youth activism and pressure from the international community can help take individual countries and governments to task  when they falter in their climate commitments "We will be held to account in those groups if we don't show more leadership, more commitment, more action on all of these," he said.
Lastly, Steer highlighted the need for cooperation among citizens, scientists and the public and private sectors. "The problems that we face cannot be solved by silver bullets," he said. "It's more of a jigsaw puzzle: you need different players to come together."