SFS alumnus Kono Taro (SFS'86) has lost his bid for Japan's premiership in a closely fought race for leadership of the country's ruling Liberal Democratic Party (LDP). Kono was defeated by party stalwart Kishida Fumio. 
The race was a consequential one for Japan. Under its parliamentary system, the national legislature is divided into upper and lower houses, the latter of which — the Diet — elects a prime minister by majority vote. The LDP holds a majority in both chambers, meaning that incumbent Prime Minister Suga Yoshihide's decision to forgo running for re-election opened up leadership of both the party and country. 
Since the Diet is almost certain to endorse the LDP leader as prime minister in an extraordinary parliamentary session on October 4, Kishida will now ascend to the position, though possibly for only a few weeks. The Japanese electorate will have the chance to vote in the ruling party of government — and thus, potentially, who holds the office of prime minister — in a general election in November.
Kono, who has overseen Japan's COVID-19 vaccine rollout as the minister of administrative affairs, came second in the race. A popular politician with 2.4 million Twitter followers, Kono led in public opinion polls but failed to receive backing for his reformist vision for Japan from the party's more conservative elders. 
In office, Kono boasts an extensive portfolio. Not only was he re-elected to Japan's House of Representatives six times, but he also served as the minister of foreign affairs and minister of defense. What's more, he has a Georgetown education. 
After convincing his father to allow him to study in the United States, Kono matriculated at the Walsh School of Foreign Service (SFS). While at Georgetown, he spent multiple semesters working for Senator Alan Kranston's presidential campaign and two years interning on the Hill for then Representative Richard Shelby. 
"It doesn't really matter which class you take but how you spend your time in Georgetown, how you spend your time in Washington DC — I think that's what matters," Kono reflects. "One of the advantages of SFS is you can study here with such outstanding people from all over the world." 
In 2018, Kono returned to campus to give the second Lloyd George Centennial Lecture on the Future of Globalization. Addressing students in Gaston Hall, Kono discussed the contemporary landscape of foreign affairs and challenges facing both Japan and the world. He also joked about his undergraduate days, recalling his attendance at similar guest lectures and frequently thinking, "gee, they're too old." At 58, however, Kono was the youngest candidate running in the LDP election.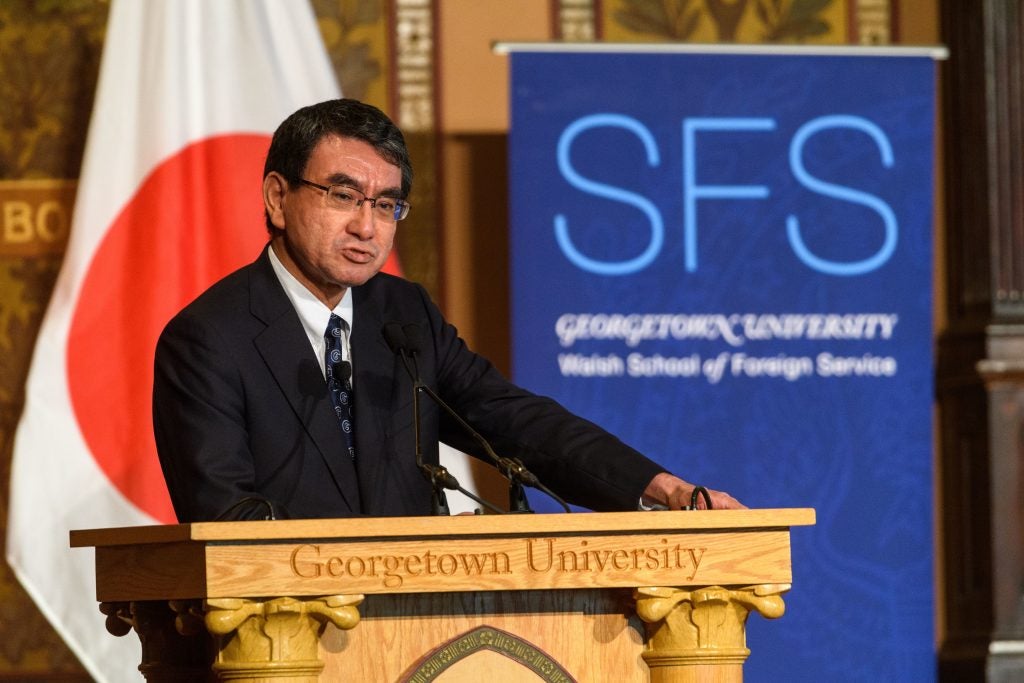 Kono's fluency in English, a skill the minister applied during COVID-19 vaccine negotiations, also garnered attention in Japan.
Kono says that classes like SFS Professor Madeleine Albright's American Foreign Policy Process seminar were key to developing his English, challenging him to speak up despite his lack of confidence with the language. Beyond developing oral skills, however, Kono credits Albright for honing his thinking abilities and teaching him to always be prepared. Years later, the two reunited in Tokyo, during Albright's first visit to Japan as U.S. Secretary of State and Kono's first term in the House.
When Kono became Japan's foreign minister, Albright described him as "playing an incredibly important role" in determining U.S.-Asia relations and credited his "knowledge of the system" with being a potential asset in Japan's regional relationships, including with South Korea.
As Kono looks to his political future, he will continue to draw upon his time at Georgetown to inform his ambitions.
As he stressed during his Lloyd George lecture, "Here at Georgetown, I learned the need to have the heart of a citizen and a bird's eye view — and to tackle problems by striking the right balance between what it should be and what it can be."