Category:

Alumni, Featured News, News, On Campus
Title:

SFS Alumni Well-Represented at 2019 Black Alumni Summit
Date Published:
September 29, 2019
From September 26 to 29, Georgetown hosted the 2019 Black Alumni Summit, a celebration of the professional and personal achievements of its diverse and accomplished Black alumni community. The Summit brought undergraduate and graduate Black alumni from across the globe, classes, schools, eras, professions, and walks of life back to the Hilltop to reconnect with each other and with the university.
SFS alumni were well-represented at the Summit, where they helped to lead discussions on social responsibility, the role of technology, and global change.
Panel: What Does it Mean to be a Hoya?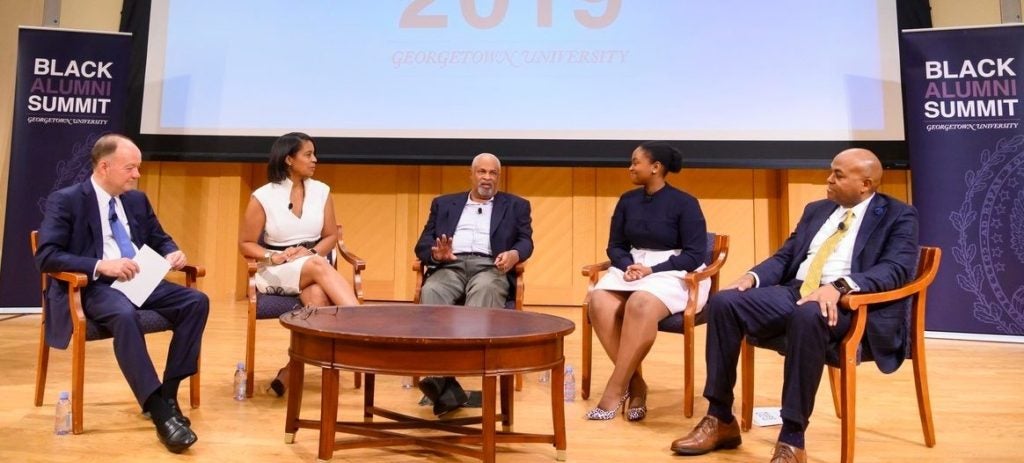 To kick off the summit, Elizabeth Nalunga (SFS'19), the litigation manager for Georgetown's Office of General Counsel, joined several other alumni for a dialogue on Hoya identity. While at Georgetown, Nalunga chaired the SFS Centennial Planning Committee, interned with the Congressional Black Caucus Foundation, and worked for the Georgetown Laboratory for Global Politics and Performance.
The panel, which was moderated by Georgetown President John J. DeGioia, also featured Tyree Jones (L'86, Parent'21), litigation partner in the Financial Industry Group at Reed Smith LLP, Sam Harvey (L'83), advisor for regional projects in Georgetown's Office of the Senior Vice President and Chief Operating Officer, and Tammee Thompson (C'91), founder of a real estate development group.
Panel: The Power of Our Dollars – Corporate Social Responsibility
Sundaa Bridgett-Jones (F'93) discussed corporate social responsibility with Adrian Mebane (C'91), Ernest Tuckett (C'92, L'95), Jason White (B'99), and Laetitia Morrisson (G'11).
Next, SFS alum Sundaa Bridgett-Jones (SFS'93), Senior Associate Director of the Rockefeller Foundation, joined a panel exploring corporate social responsibility and consumer activism. Over the course of her career, Bridgett-Jones has worked at the U.S. Department of State, the National Security Council, and the United Nations Department of Political Affairs.
Bridgett-Jones was joined on the panel by Adrian Mebane (C'91), most recently deputy general counsel and vice president, Global Commercial & Supply Chain and interim general counsel for The Hershey Company, Ernest Tuckett (C'92, L'95), corporate General Counsel and co-founder of the Black General Counsel 2025 Initiative, Jason White (B'99), chief marketing officer at Cura Partners Inc., and Laetitia Morrisson (G'11), Director of Corporate Education Partnerships at Discovery Education.
Panel: Tech Talk – How Emerging Technologies Are Shaping Our World
Kim Keenan (SFS'83) moderated a panel on the impact of technology.
Kim Keenan (SFS'83), co-chair of the Internet Innovation Alliance, moderated a panel on technology's impact on the Georgetown and African American communities. Previously, Keenan served as president and CEO of Multicultural Media, Telecom, and Internet Council, as well as General Counsel and Secretary of the NAACP.
The panel explored how disruptive technologies, from quantum computing and cybersecurity to data privacy and artificial intelligence, will not only impact those working in technology roles, but will also shape industries and academic disciplines. Panelists included David Graff (L'95), senior director for Google's Trust & Safety Global Product Policy team; Alyssa Harvey Dawson (L'96), General Counsel and Head Of Legal, Privacy And Data Governance At Sidewalk Labs Curtis White (L'71), President of Allied Communications, Inc.; and Kay Madati (C'95), Global Vice President and Head of Content Partnerships at Twitter.
Panel: Global Threats and Opportunities to the United States
Brionne Dawson (SFS'02), Zaid Zaid (SFS'97), Tony Johnson (SSP'18) in conversation with SFS Dean Joel Hellman
Lastly, the SFS sponsored a panel to celebrate Georgetown's international identity and assess key global threats and opportunities facing the world today. The panel, moderated by SFS Dean Joel Hellman, featured three prominent SFS alumni engaged in foreign policy and national security.
One panelist was Zaid Zaid (SFS'97), who is currently a member of the Public Policy Strategic Response team at Facebook. Zaid previously served in the Obama White House as Special Assistant to the President and Associate White House Counsel, as well as a position as senior attorney-advisor to the general counsel at USAID.
The panel also included Tony Johnson (SSP'18), a 15-year veteran of the national security field who is currently serving as the team chief of the Strategic Red Teaming Cell in the Joint Advanced Warfighting Division at the Institute for Defense Analyses.
Finally, the audience heard from Brionne Dawson (SFS'02), senior director of East and Southern Africa at the U.S. Chamber of Commerce. Prior to her role at the U.S. Chamber of Commerce, Dawson was a political appointee in the Obama Administration at the U.S. Agency for International Development (USAID) and served in a leadership role at the National Democratic Institute (NDI) in Washington, D.C. and South Africa.
Thank you to all of the SFS alumni who joined us for a weekend of celebration!