This year, the Walsh School of Foreign Service welcomes new faculty members to our community: Tariq Ali, Shantayanan Devarajan, Khaled Esseissah, Jennifer Jefferis, Lily Rahim, and Rubina Verma. They enrich the pool of knowledge, experience, and diversity of the SFS faculty.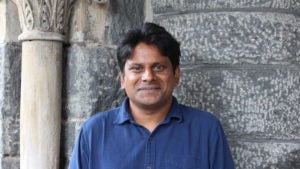 Tariq Ali
Associate Professor of International History
With degrees from Grinnell College, Cambridge University, as well as a doctorate from Harvard University all in history, Professor Tariq Ali is an exciting addition to the School of Foreign Service's roster of faculty. His academic and teaching focus is on nineteenth and twentieth century South Asia and global histories of capital. He elaborates: "I am particularly interested in how the material and everyday lives of ordinary people are shaped by transnational circulations of commodities and capital." Ali is expanding on the research of his first book, A Local History of Global Capital: Jute and Peasant Life in the Bengal Delta (Princeton University Press, 2018), with an exploration of how decolonization, independence, and the rise of the nation-state restructured the working lives of peasants, boatmen, itinerant traders, and small businessmen in post-colonial East Pakistan (present-day Bangladesh) in the 1950s and 1960s.
With his career move to the SFS, Ali looks forward to joining "a truly interdisciplinary school that brings together people from diverse academic and professional backgrounds." Although a historian through and through, Ali recognizes a need to "think beyond the traditional parameters of history as an academic discipline."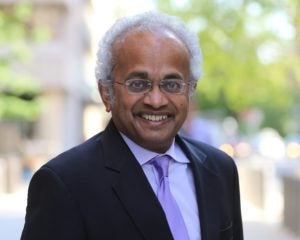 Shantayanan Devarajan
Professor of the Practice of International Affairs and Concentration Chair for International Development
Professor Shantayanan Devarajan started his academic career as an undergraduate mathematics major at Princeton, but hungered for a more hands-on discipline. Economics became the obvious next step; so he pursued a doctorate in the field at UC Berkeley. While teaching at the Kennedy School at Harvard, Devarajan continued his search for practicality as his students challenged him to illustrate the relevance of theoretical models. This he found "invigorating" and led him into policy-focused research, including the economics of development.
Eventually, Devarajan left Harvard for the World Bank so that he could dedicate his career to "improving the lives of the world's poor." At the Bank, he rose to occupy the chief economist position four times, first of the Bank's Human Development Network, subsequently for the regions of South Asia, Africa, and the Middle East and North Africa. In his final position, he became senior director for development economics at the Bank, where he worked to "empower poor people with knowledge, so they can hold politicians to account."
In his new role as a professor, Devarajan is "most excited by the students, who are clearly very bright and accomplished, but also committed and dedicated to the promotion of better policies and outcomes for the world's citizens." He hopes to teach students as well as learn from them to better understand the formulation of development policies and how it is likely to change in this new era of populism.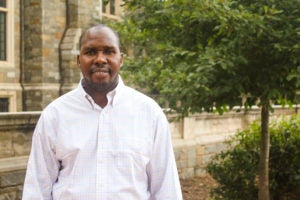 Khaled Esseissah
Assistant Professor of Teaching in African Studies
After completion of his bachelor's and master's degrees from Université de Nouakchott, Mauritania and Université de Cheikh Anta Diop, Senegal respectively, Dr. Khaled Esseissah achieved a second master's degree from Bowling Green State University in Ohio, while on a fellowship from the Fulbright Foreign Student Program. He then studied at Indiana University-Bloomington where he attained a doctorate degree in African History. While studying for his PhD, Esseissah explored African American and African Diaspora Studies, as well as Global Studies of Slavery.
His current book project on the social transformations associated with the abolition of slavery in Mauritania and the recent history of the Harāṭīn community and its diaspora reflects his broad interests in the social, intellectual, and religious initiatives of African Muslims.
Esseissah's work also examines the intellectual connections of the Islamic diaspora,
involving African Muslims and the wider Islamic world. His second major project examines the contributions made by African scholars to scholarship in the wider Islamic world, and reverses the common trope of Africa as the passive recipient of Islamic learning from the Middle East.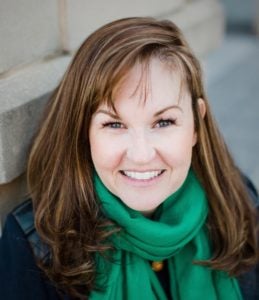 Jennifer Jefferis
Professor of Teaching in Security Studies
Dr. Jennifer Jefferis attained her PhD in political science from Boston University in 2009. Her dissertation "Sacred Protest: Religion and Political Violence in Comparative Perspective" illustrates her long held interest in the gap between belief and behavior. She became an expert in religiously motivated political violence in an attempt to understand why "tightly held similar religious beliefs generate totally different behavioral choices, particularly when those beliefs are religious and the behavior is political." By studying Jama'at al Islamiyya and the Muslim Brotherhood in Egypt, The Christian Coalition and the Army of God in the United States, and Gush Emunim in Israel, Jefferis deepened her comprehension of why some ideologues are pushed towards violence while others tend towards constructive political engagement.
Jefferis continues to publish scholarly articles and books on this subject, but has additionally sought to engage with professionals, practitioners, and policy-makers directly through specialized teaching posts and academic positions. These have included roles at the College of International Security Affairs of the National Defense University, the National Defense College of the United Arab Emirates, and the Near East and South Asia Center for Strategic Studies. At these institutions, Jefferis learnt the importance of tailoring lesson plans to the experiences that her students were bringing to the table, as well as the salience of expressing the "critical link between the theoretical and the practical."
Jefferis is looking forward to joining the faculty of the School of Foreign Service and engaging with the tradition of practical teaching of foreign service to engaged and intelligent students.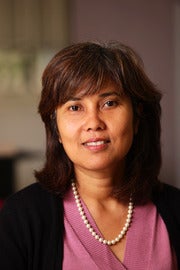 Lily Rahim
Malaysia Chair of Islam in Southeast Asia
Dr. Lily Rahim explains that her career as an academic and professor has been "strongly shaped by an ongoing personal and intellectual preoccupation with Southeast Asia and the Muslim world." Rahim, a Singaporean national, is an expert on the subjects of democratization, authoritarian resilience, ethnic politics, political Islam and developmental states in Asia. A political scientist by training, Rahim stresses the multidisciplinary nature of her work, which is reflected in the book she is currently writing: Regime Change: Race, Religion and the Challenges of Political and Policy Reform in Malaysia. This will be her third sole authored book. Rahim's first book, The Singapore Dilemma: The Political and Educational Marginality of the Malay Community (1998/2001 Oxford Uni. Press), is considered a seminal work on the Singaporean state's management of ethnicity and socio-economic disadvantage. It was recognized as such by the Malaysia National Institute of Translation, which translated the work into Malay. Other works by Dr. Rahim have included interviews with the current and preceding Prime Ministers of Malaysia, as well as a collaboration with SFS Professor John Esposito.
As a new professor at the School of Foreign Service, Rahim looks forward to engaging with the "huge reservoir of expertise at Georgetown" among students in the areas of "comparative politics, governance, political Islam, democratization and ethnic politics."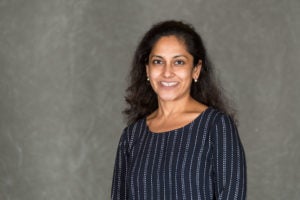 Rubina Verma
Associate Professor of Teaching in Economics
Dr. Rubina Verma credits her father's encouragement for her career interest in economics. She explains that he recognized her "analytical bent of mind" and urged her toward the subject during her studies at the Miranda House of the University of Delhi, India. She soon found that she loved the work, and went on to pursue a master's degree at one of India's premier institutions – the Delhi School of Economics – before moving to the United States for another master's and a PhD both from the University of Southern California. After achieving her doctorate, Verma moved to Mexico City for a position as an Assistant Professor in the Department of Business Administration at the highly prestigious Instituto Tecnológico Autónomo de México (ITAM). After a brief stint teaching back at USC, Verma initially came to Georgetown as an Assistant Professor of the Practice in the College's Department of Economics. There, she saw how "motivated, perseverant and intelligent" Georgetown students tended to be. With her new position at the SFS, she is excited to continue working with students of such acute intelligence.
Dr. Verma's interest in the field of economics involves "topics in international economics that overlap with development economics – such as growth and export behavior of small and medium firms in low income developing economies."