On October 13, 2022, Georgetown's School of Foreign Service (SFS) welcomed current National Security Advisor Jake Sullivan to campus to discuss the Biden administration's newly-released National Security Strategy (NSS). 
Gathering in Georgetown's historic Gaston Hall, the event was co-hosted by the Center for a New American Security (CNAS), a D.C.-based national security think tank, and moderated by Meghan O'Sullivan (COL'91), the Jeane Kirkpatrick Professor of the Practice of International Affairs at Harvard University's Kennedy School.
After a welcome from SFS Dean Joel Hellman, Sullivan began with a recognition of the wide range of foreign policy enthusiasts in the room, from students to long-time dignitaries. "We have before us today some of the sharpest foreign-policy strategists in the country, many of whom I am privileged to call friends," said Sullivan. "We also have the next generation of national security leaders, students, and in some ways, my speech today is a job interview because I and my colleagues are likely going to be working for you all one of these days."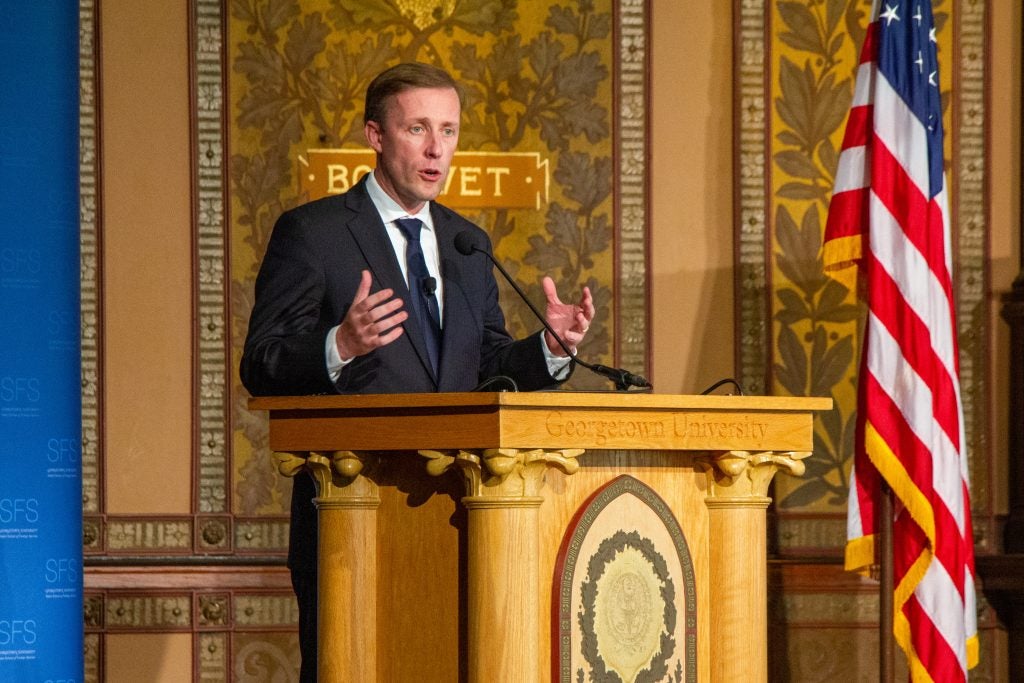 Sullivan identified two central strategic challenges for national security: geopolitical competition and transnational threats. While previous administrations have chosen to focus on only one of these areas at a time, Sullivan emphasized the value of a hybrid approach. "In this administration, the Biden administration, we believe we have come to a point where we can and simply have to tackle both on an equal plane," he stressed. 
As Sullivan explained, the NSS presents three "basic strategic moves" for addressing these challenges: ambitious national investment ranging broadly from clean energy to cybersecurity, coalition-building through multilateral alliances like NATO and AUKUS and shaping the "rules of the road" in the rapidly evolving spaces of "foundational technologies, cyberspace, and trade and investment." 
Among other topics, Sullivan characterized the ongoing war in Ukraine as one of the most pressing geopolitical issues facing the world today. He noted how the war illustrates the interconnected nature of geopolitics and transnational issues through its disruption of global food and energy supply chains. Sullivan went on to strongly rebuke Russia's annexation of Ukrainian territory and underscored the importance of international cooperation to combat the country's influence. 
Sullivan also identified effective competition with China as one of the United States' main priorities. "The PRC [People's Republic of China] represents America's most consequential political challenge," he observed. 
At the same time, Sullivan emphasized a need to cooperate on transnational threats. "We will engage constructively with the PRC wherever we can not as a favor, not in exchange for our principles, but because working together to solve common problems is what the world expects from responsible powers and because it is in our interest," he said.
Following his remarks, Sullivan sat down with Meghan O'Sullivan for a conversation on the transnational nature of current global competition, Biden's trade strategy, and the need for greater cooperation between world powers.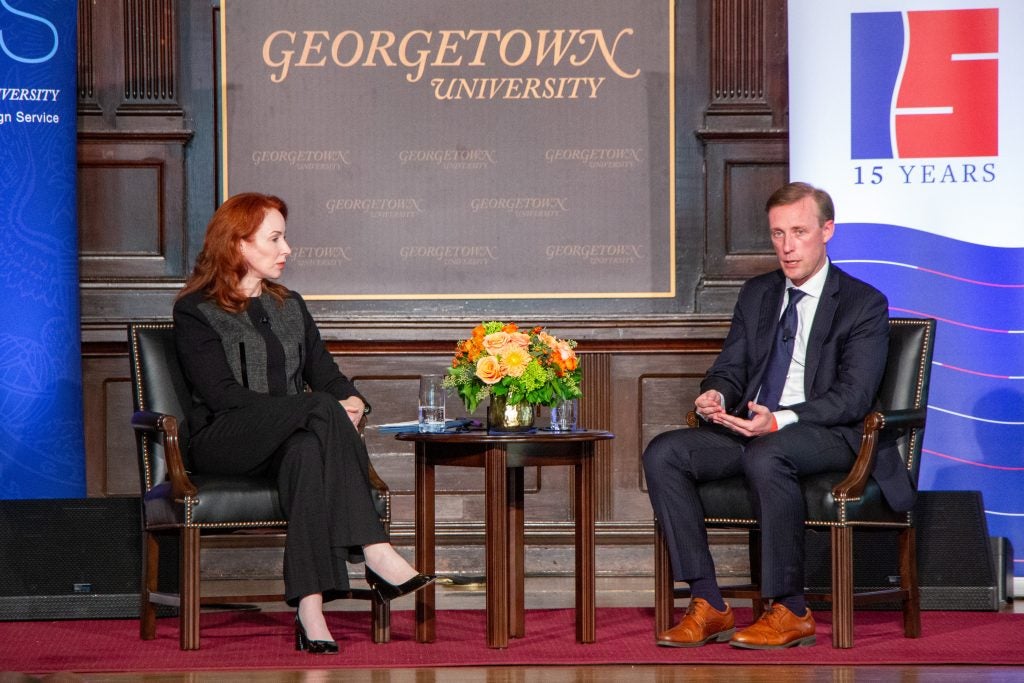 The two addressed the long road to releasing the Biden Administration's first NSS, a document often circulated within the first year of an administration taking office. While initially scheduled for release in February 2022, the official unveiling was consistently delayed due to the unfolding conflict in Ukraine. 
"Administrations have to toggle back and forth between a kind of overemphasis on the geopolitical side and an overemphasis on the kind of transnational order side," Sullivan explained. "And what we are really trying to do is grapple headlong in the document with the fact that we have to put each of these on a priority plane."
O'Sullivan then opened up the conversation to students, whose questions touched on other major geopolitical issues, such as the U.S.' role in the ongoing protests in Iran and the use of the nomenclature "PRC" vs. "China" in the NSS. 
On the latter, Sullivan emphasized that it was "very important to [the Biden administration] that this not become Americans vs. Chinese, but rather a question of the United States' National Security Strategy as it relates to the government of the People's Republic of China."
The event closed with remarks from Dr. Paul Scharre, Vice President and Director of Studies at CNAS.  Reflecting on the key themes of Sullivan's talk, Scharre reiterated the importance of building alliances to both address shared global issues and protect the United States from future national security threats. 
"One of the key themes that we heard in this discussion," Scharre emphasized, was "the importance of doubling down on core U.S. strengths, of a free and open society, and a culture of innovation in rising to meet these challenges in the future."