A trailblazer in international affairs, Georgetown's Master of Science in Foreign Service (MSFS) program celebrates its 100th anniversary year, honoring the far-reaching contributions of its alumni and turning its gaze toward a new set of challenges its graduates will face in the century to come.
A Centennial Celebration: The MSFS Gala Dinner
As part of a year-long series of events honoring the legacy of Georgetown MSFS, the program is holding a Centennial Gala Dinner — complete with a host of distinguished speakers, guests, and the presentation of the prestigious MSFS Centennial Awards. 
The gala will take place on December 2, 2022 at the United States Institute of Peace, and emphasizes the ways that MSFS alumni have lived out the program's core values as they have shaped contemporary foreign affairs.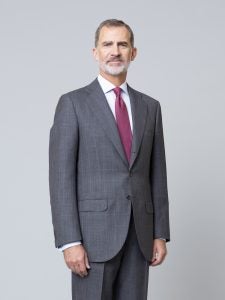 His Majesty King Felipe VI of Spain (MSFS'95) will be the keynote speaker at the gala, where he will provide remarks recognizing the long-standing impact of the MSFS program. His Majesty the King of Spain is a proud Georgetown alumnus and an honorary member of the MSFS Board of Advisors.
The Prince of Asturias Distinguished Visiting Professor for Spanish university faculty at Georgetown is co-sponsored by the BMW Center for German and European Studies, the Prince of Asturias Foundation, and the Endesa Foundation. Established in 1997, the professorship is named in honor of His Royal Highness Prince (now King) Felipe de Borbón y Grecia, and serves as part of an ongoing program to promote Spanish culture in academia. This year's Prince of Asturias Chair is Juan Luis Manfredi, a professor at the University of Castilla-La Mancha who teaches journalism and international relations.
The Awardees
A highlight of the event, the Centennial Awards will recognize a small group of distinguished alumni, thought to have best embodied the program's guiding principles of leadership, creativity, ethics, service, and inclusion. 
The MSFS Centennial Awards Committee received over one hundred submissions from alumni seeking to nominate their fellow MSFS graduates for the honor. From this diverse pool, the committee selected six final awardees with a wide set of experiences, having led careers ranging from the U.S. Foreign Service to major companies. 
Among those receiving the award this year will be Ragnheiður Elín Árnadóttir (MSFS'94), Ambassador Marcia Stephens Bloom Bernicat (MSFS'80), Raja Karthikeya Gundu (MSFS'09), Paula Gene Loyd (MSFS'04), Michael Samway (MSFS'91) and Nicole Bibbins Sedaca (MSFS'97).
Ragnheiður Elín Árnadóttir is the Director of the OECD Development Center. As Iceland's former minister of industry and commerce and a previous member of the Icelandic parliament, she has worked at the cutting edge of issues such as foreign policy, energy, and trade.
Ambassador Marcia Stephens Bloom Bernicat has served as U.S. Ambassador to Bangladesh, Senegal, and Guinea-Bissau. Today, she continues to create a path for women and minorities in the Diplomatic Corps through her current position as the Director General of the Foreign Service and Director of Global Talent. 
Raja Karthikeya Gundu is a Political Affairs Officer in the United Nations Secretariat in New York. Gundu has facilitated dialogue and peace processes in Afghanistan, conducted tsunami rescue operations in the Andaman & Nicobar islands, and created the first COVID-resilient village in India during the Delta wave last year. 
Paula Gene Loyd devoted her entire professional career to public service. She joined the United States Army in 1995 and supported humanitarian and development projects in Korea, Afghanistan, and throughout the world. Tragically, Loyd was killed while fighting for the education and welfare of girls in Afghanistan.
Michael Samway is a passionate advocate of human rights. During his time as vice president at Yahoo!, Samway founded their Business & Human Rights Program. He also served as Chair of the MSFS Board for 10 years, where he created the Futures Scholarship and worked closely with leadership during the COVID pandemic to engage global leaders and students through Zoom.
An executive vice president at Freedom House, Nicole Bibbins Sedaca has devoted her career to protecting democracy and human rights. Sedaca is the former MSFS Deputy Director and Chair for the Global Politics and Security Concentration, where she prioritized promoting diversity, equity, and inclusion within the classroom.