Lloyd George Lectures
The Lloyd George Lecture Series is named for British Prime Minister David Lloyd George, who met with U.S. President Woodrow Wilson and the leaders of France and Italy in Paris during 1919 to imagine a new, more peaceful world. The lecture series brought critical global conversations to Georgetown, featuring eminent world leaders and prominent intellectuals, as SFS marked its Centennial and continues its leadership as America's first school of international affairs.
Past Lectures
Lloyd George Centennial Lecture Considers the Future of the Global Economy
On Wednesday, March 13, 2019, the Walsh School of Foreign Service hosted a discussion on the future of the global economy, as part of the Lloyd George Centennial Lectures on the Future of the Global Order. The keynote was delivered by Adam Tooze, Professor of History at Columbia University, Director of the European Institute, and author of Crashed: How a Decade of Financial Crises Changed the World.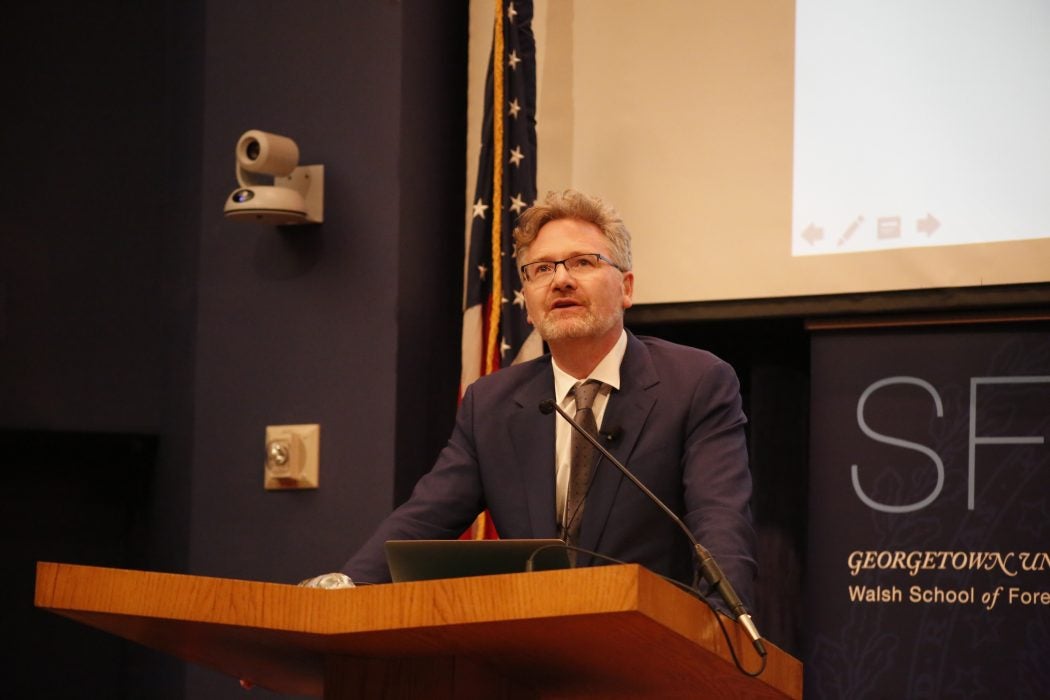 Lloyd George Centennial Lecture Series Continues with Debate on the Future of National Security
The School of Foreign Service Lloyd George Lectures on the Future of the Global Order sponsored a discussion on national security featuring The Honorable Stephen Hadley (National Security Advisor 2005-2009) and Ambassador Susan Rice (National Security Advisor 2013-2017) on February 27, 2019. The conversation between the two former national security advisors was moderated by Professor Charles Kupchan.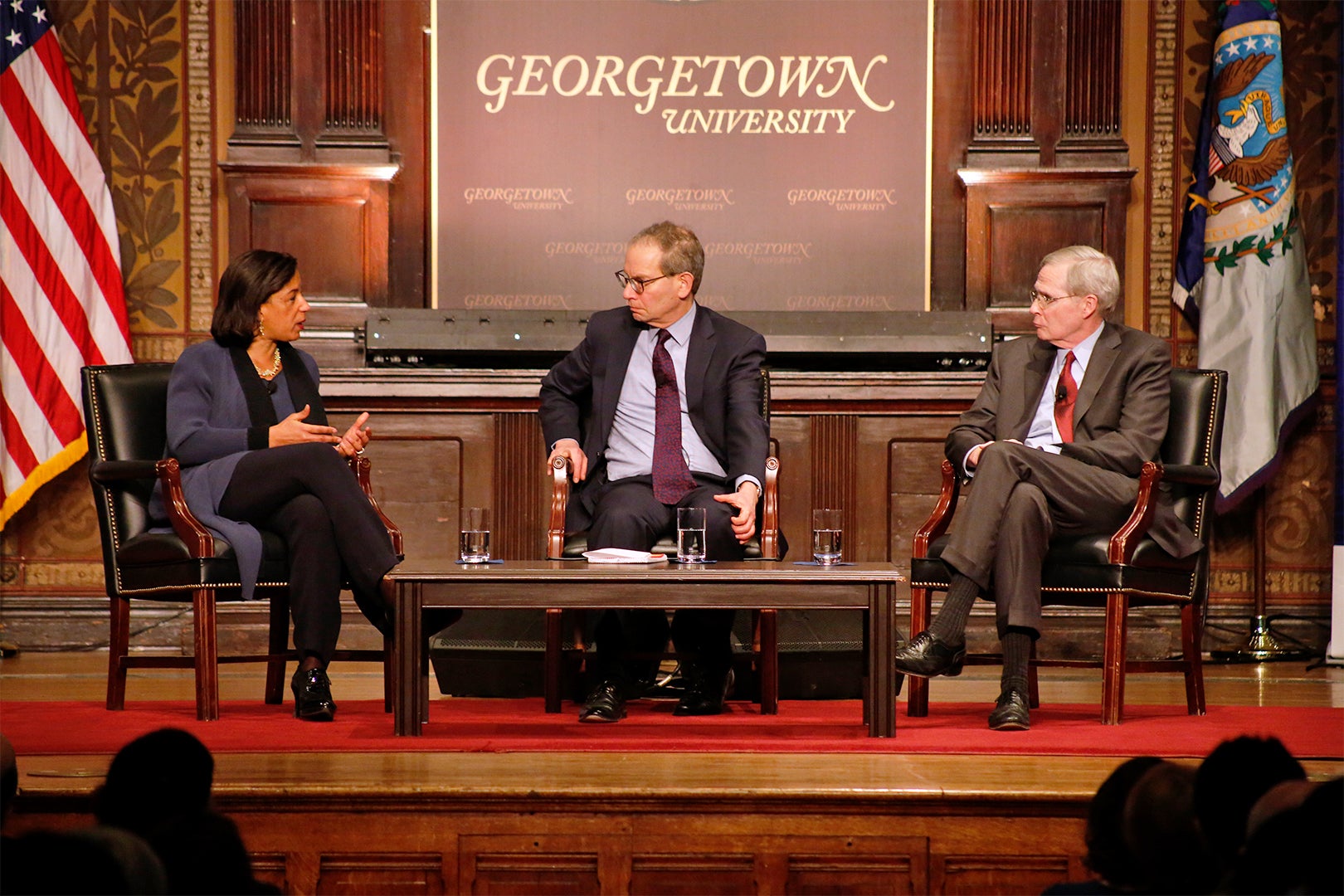 "We need you more than ever": Hillary Clinton stresses the importance of diplomacy at SFS and GU Politics symposium
On Wednesday, February 6, the Walsh School of Foreign Service, in partnership with the Institute of Politics and Public Service at the McCourt School of Public Policy, hosted a half-day symposium on "The Future of Diplomacy." The day began of two panels, the first on "The Essential Diplomat" and the second on "Values in U.S. Foreign Policy," and ended with a keynote conversation with former U.S. Secretary of State Hillary Rodham Clinton.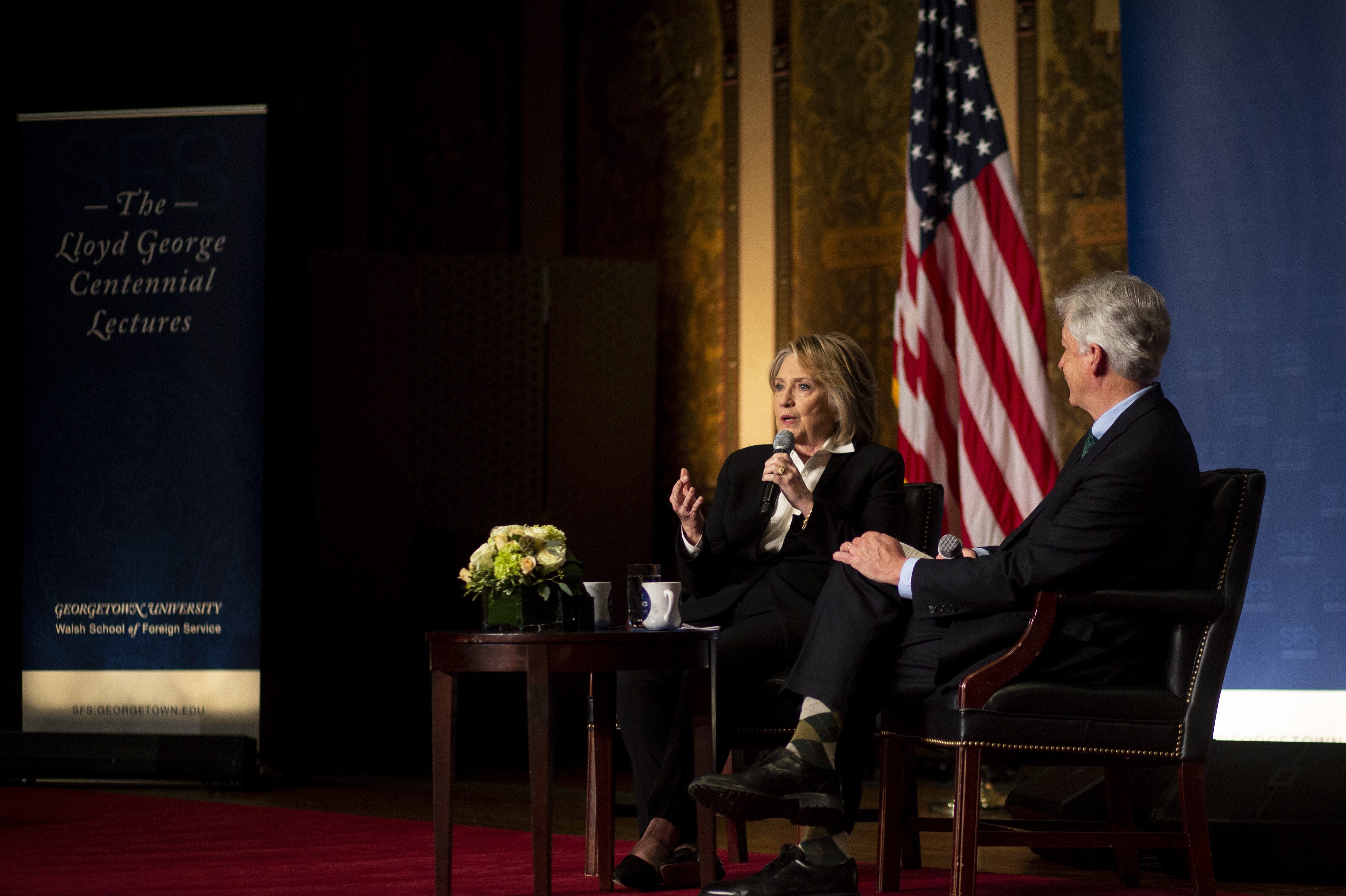 Foreign Minister of Japan Taro Kono (SFS'86) returns to Georgetown to deliver Lloyd George centennial lecture
On September 28, 2018, Georgetown University welcomed the Foreign Minister of Japan, Taro Kono (SFS'86), who gave a lecture as part of the Lloyd George Centennial Lectures on the Future of Globalization. Minister Kono touched on Japan's relations throughout the world, as well as his experiences as a student at Georgetown.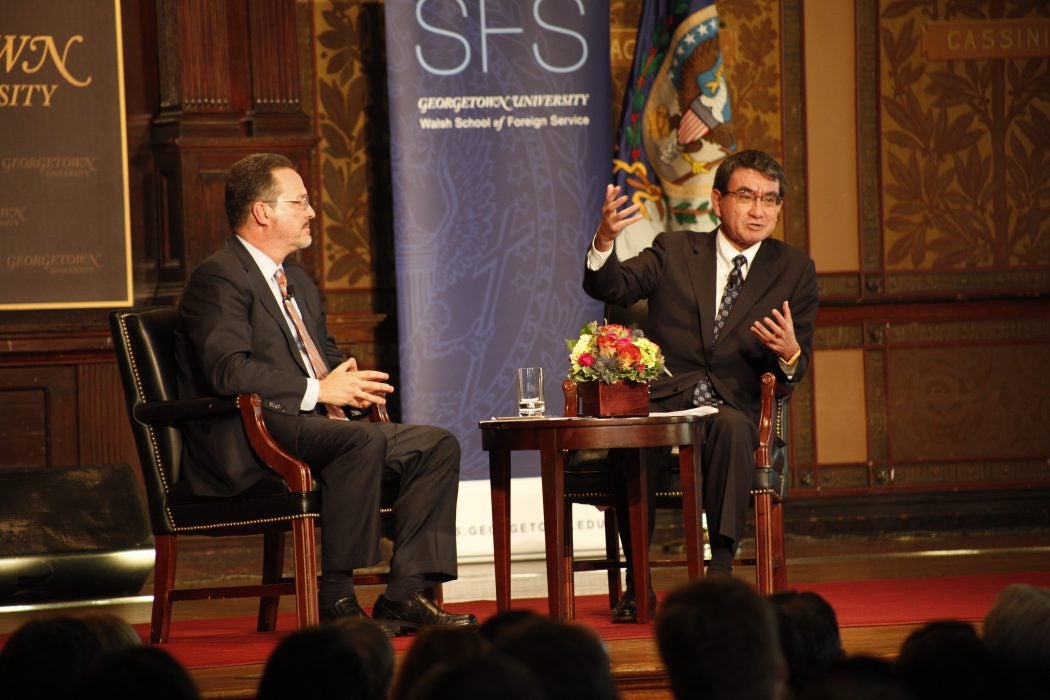 Inaugural Lloyd George Lecture Contemplates Meaning of 1919 in 2018
On February 8, 2018, the SFS hosted the inaugural Lloyd George lecture with the generous support of the Lloyd George family. "The Meaning of 1919 As We Approach 2019" is the first in a series of lectures in honor of the SFS Centennial to address international affairs in the context of the SFS and its founding.