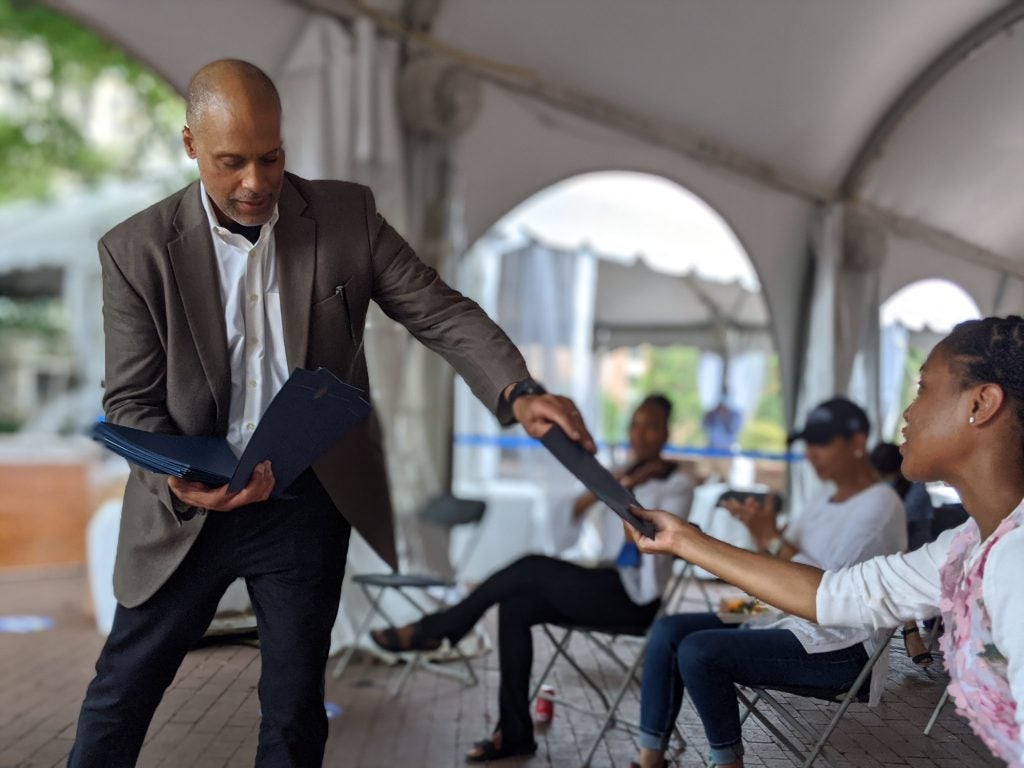 To further its founding mission of educating future global leaders, the Walsh School of Foreign Service has launched initiatives and programs that help lower barriers to an SFS education and add more diverse voices to the study of international affairs.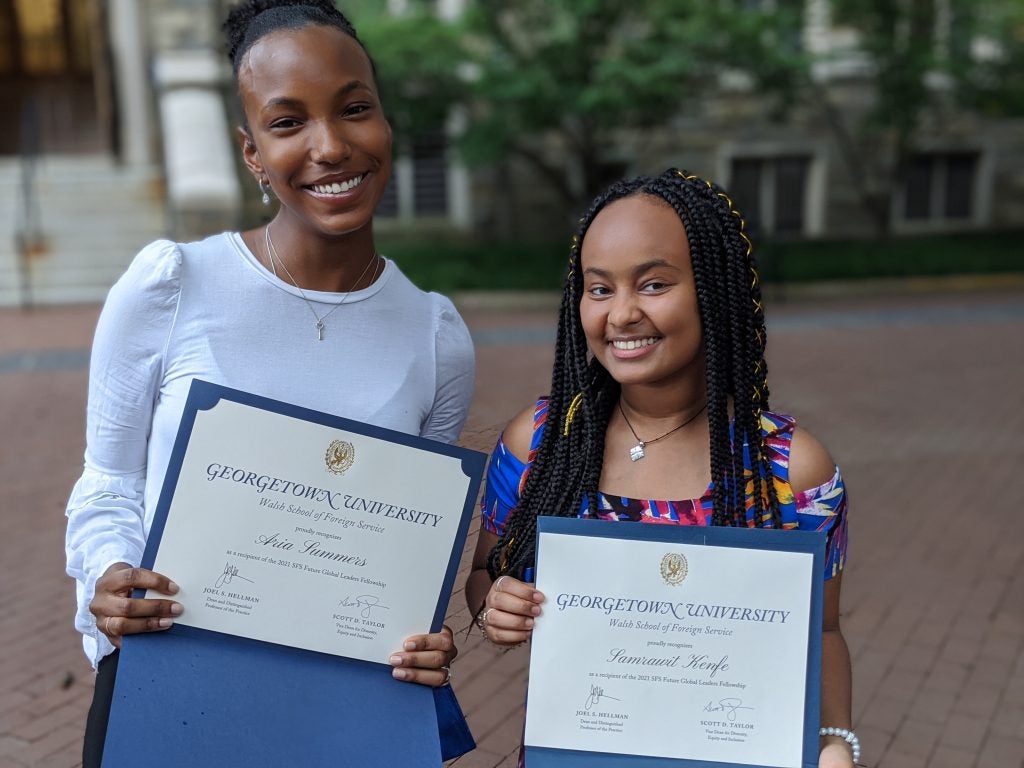 SFS Future Global Leaders Fellowship
The SFS Future Global Leaders program is a week-long academic and leadership program that immerses and introduces high school students to the world of international affairs. This summer program is sponsored by the School of Foreign Service and is designed to foster a foundation for future global leaders from local high schools.
Administered by Georgetown's School of Continuing Studies and taught by SFS Professor Anthony Clark Arend, the fellowship-eligible programs — Washington & the World Academy and International Relations Academy — help high school students explore key issues in both modern international affairs and global service. In both programs, fellows will:
Take part in classes, field trips, group discussions, and an international crisis simulation
Hear from leading professors and practitioners of international relations
Explore issues and careers in global affairs
Live on campus and get an introduction to college life
Receive a Certificate of Participation upon successful completion of the program
Rising high school sophomores, juniors, and seniors with a strong interest in international affairs are encouraged to apply. Accepted students are awarded full scholarships to cover the cost of the program.
Interested students and their families are encouraged to attend one of our virtual information sessions about the Summer 2023 program.
| | |
| --- | --- |
| Information Session 1: | Information Session 2: |
| Monday, February 27th from 6:30-7:30 PM ET | Wednesday, March 15th from 6:30-7:30 PM ET |
| Zoom meeting will be sent after completing interest form below | Zoom meeting will be sent after completing interest form below |
Students may also register their interest in the fellowship and request more information about the Summer 2023 program via the interest form below.
SFS Future Global Leaders Fellowship Interest Form
Program eligibility:
You must meet the following requirements:
Be a rising sophomores, juniors, and seniors in the greater Washington, DC or Baltimore areas
Have a school official submit a completed Recommendation Form
Submit a completed Student Application Form
Who is encouraged to apply?
Students who are interested in international affairs or committed to making a difference in the world
Students from underrepresented minority groups and backgrounds are especially encouraged to apply, including those who would be first generation college students, and those from low income families.
How to apply:
Gather the necessary contact information for themselves, a parent or guardian, and the person from their school who will provide a recommendation.
Write a 300- to 500-word personal statement describing why they want to attend .
Complete and submit the Student Application Form, including all required supporting documentation (i.e. essay and recommendation form)
Speak with your recommender to ensure that person completes the Recommendation Form in a timely manner. Your recommender should be someone who can verify your school records and speak to your strengths and abilities.
Applicants may be contacted for an interview.
Applications are considered complete upon submission of the application, photograph release form, and one recommendation from a teacher, counselor, or other school official.
The deadline for applications for Summer 2023 is 11:59 PM (ET) on Sunday, April 2. Our office will send final decision notifications by Wednesday, April 26.
Partnership with the National Education Equity Lab
The School of Foreign Service is partnering up with the National Education Equity Lab to bring the Map of the Modern World class to high school students. Through this partnership, SFS will offer 150 to 200 U.S. high school students a no-cost place in Professor Mark Giordano's Map of the Modern World class.
To be eligible for the program, students must attend a Title I high school, a designation granted to institutions where at least 35 percent of students qualify for free or reduced lunch and which determines eligibility for additional federal funding. Due to structural barriers like cost, underfunded high schools offer limited resources for low-income or first generation applicants meaning these students often have little contact with private, top-tier institutions such as Georgetown.
Students in the program will earn three college credits for the semester-long course, which will be integrated into their day-to-day high school experience. Giordano's lectures will be available online for students to watch at home or in class, and students will meet virtually with their Georgetown teaching assistants in a weekly discussion section.
To ensure that participants across the country receive the support they need to succeed, teachers at the students' high schools will be trained to facilitate the course. Students will also have the opportunity to engage with their TAs one-on-one through virtual office hours throughout the semester.
The academic experience students receive through Map of the Modern World will be supplemented by Georgetown and SFS information sessions; panel discussions with students, professors, deans and alumni; recruitment events and conversations with leading practitioners in international affairs.
With this course offering, Georgetown joins a number of top U.S. universities striving to expand academic access for more diverse communities of potential applicants by partnering with the National Education Equity Lab to deliver credit-bearing courses to high school classrooms.
"Even though passion and talent are evenly distributed in our country, opportunity is not," according to the National Education Equity Lab. "By enabling high school students from historically underserved communities to take actual college courses from college professors, students can build the skills — and confidence — needed to apply to and thrive in college."

SFS Ambassadors Program
The SFS Office of Diversity, Equity and Inclusion understands the value of representation within and outside the SFS community. By including the voices of SFS students from underrepresented backgrounds and BIPOC groups, we not only strengthen DEI initiatives but also provide an opportunity for students to provide feedback as they engage with local high schools within the DC/Maryland/VA area.
SFS Student Ambassadors will represent the SFS in terms of its diversity, commitment to service, and sense of community. Our Student Ambassadors will be the voice of SFS at recruitment events, admissions events, orientation activities, and other extended outreach programming. Other responsibilities could include going to local high schools or undergraduate universities, hosting SFS BIPOC mixers for undergraduate and graduate students as sponsored by the Dean's Office, and conducting special tours for SFS students of color. SFS Ambassadors will be recognized as outstanding members of the SFS community.
Applications open every Fall to invite new students to represent the SFS as Student Ambassadors. Applications are closed for Fall 2021.
Some responsibilities and requirements include the following:
Students should be interested in making the SFS a more diverse and inclusive space.
Students should be willing to commit 1-2 hours a week.
Students will help lead presentations at local high schools in teams.
Work with the Office of Diversity, Equity and Inclusion to do outreach for SFS DEI programming.
Represent the SFS at student events, orientation activities, major SFS undergraduate and graduate student events.
Answer any questions about the School of Foreign Service, provide students with your unique experiences as an SFS student, SFS resources, etc.
Attend a mandatory training session in the Fall semester.
Excellence in DEI Awards Anchor
Excellence in DEI Awards
Recognizing significant work to enhance diversity, inclusion, accessibility, equity and well-being across the School of Foreign Service (SFS) community.
Back to Top
Purpose
Across SFS, a wealth of DEI-related programs, initiatives, and events are organized and spearheaded by exceptional staff, students, faculty, and other community members. The Excellence in DEI Awards enable the School of Foreign Service (SFS) to highlight the remarkable efforts of colleagues to enhance diversity, equity and inclusion across our community. Through these awards, we shine a spotlight on individuals and groups that have demonstrated an exceptional commitment to promoting fairness, broadening opportunities, and increasing the participation of historically marginalized and oppressed groups. Our goal is to celebrate those who strengthen our community by embracing diverse populations, enhancing inclusion and accessibility, and fostering diversity of thought and perspective.
Awards Categories
Individual awards and group awards are presented annually.
SFS DEI Leader Awards recognize individual staff who have created, led, or advanced efforts that enhance diversity, sense of community, and/or attention to inclusion and equity within the School of Foreign Service.
SFS Pathbreaking Program Awards recognize efforts by varied units, offices, groups, and programs to advance diversity, equity, and/or inclusion within or across SFS.
Eligible groups include:
Administrative or academic units, centers and programs
Inter-unit collaborative teams
Eligibility & Nomination Process
SFS faculty, staff, students, and community members are invited to submit nominations. To nominate someone, please fill out the Nomination Form. Self-nominations are also encouraged. Additionally, the SFS Dean's Office may nominate candidates for awards, even in the absence of a nomination form.
Please note: Individuals may receive individual recognition once every four years. A person who is recognized as part of a group remains eligible for an individual award.
Nomination and Evaluation Criteria
Nominations should demonstrate how the person or program met/exceeded one or more of the following criteria:
Commitment – Exemplary evidence of efforts to advance one or more of the following:

Accessibility – the design, construction, development and maintenance of facilities, information and communication technology, programs and services so that all people, including people with disabilities, can fully and independently engage.
Antiracism – a proactive practice to dismantle systemic oppression by identifying, challenging, and confronting racism in systems, organizational structures, policies, practices, behaviors, and attitudes to redistribute power in an effort to foster equitable outcomes.
Belonging – ongoing, active, and intentional efforts to create environments that involve and empower individuals or groups so that they feel welcomed, respected, supported, and valued.
Diversity – the range of people in the SFS community, including but not limited to those of varied ability status, age, ancestry, belief, caste, color, creed, culture, gender identity, national origin, race, religion, sex, sexual orientation, socioeconomic status, thought, veteran status, as well as a range of life experiences.
Equity – a drive to ensure fairness and justice by acknowledging and addressing structural inequities (historic and current) that advantage some and disadvantage others.
Inclusion – intentional efforts to ensure that everyone has support and access to the resources they need to be successful, and/or to identify and eliminate barriers that prevent full participation and engagement by all community members.

Leadership – Evidence of leadership integrating diversity, equity, and inclusion efforts (as an individual or a group) into the SFS culture through efforts to improve:

Institutional structures and operations (e.g., policies, traditions, procedures, assessments, initiatives, partnerships, outreach efforts, professional development opportunities, etc.)
Recruitment and retention of diverse staff, faculty, or students
Scholarly endeavors and/or creative activities
Pedagogical approaches or curricula development
Other initiatives that advance the SFS commitment to DEI

Innovation – Evidence of creativity and proactivity introducing programs and efforts that enhance DEI, antiracism, belonging, and/or accessibility within and across SFS.
Impact – Evidence of outcomes and impact from DEI-related work. An indication that this project/program/activity "moved the needle" in addressing issues of diversity and inclusiveness. Possible indications that the effort has been or will be replicated elsewhere.
Evaluation of Entries
The SFS DEI Office will review nominations and apply the criteria above to select award recipients.
Ceremony
The Diversity Awards ceremony is held in December each year.
Past Awards
Learn about past SFS Excellence in DEI Award recipients here.