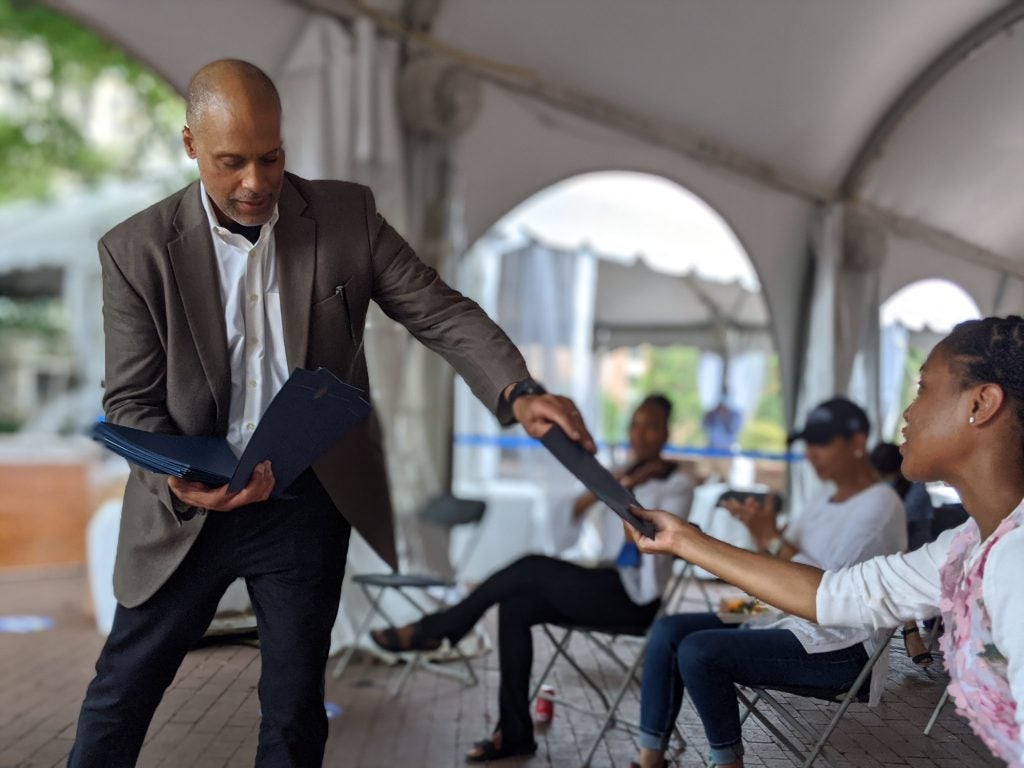 To further its founding mission of educating future global leaders, the Walsh School of Foreign Service has launched initiatives and programs that help lower barriers to an SFS education and add more diverse voices to the study of international affairs.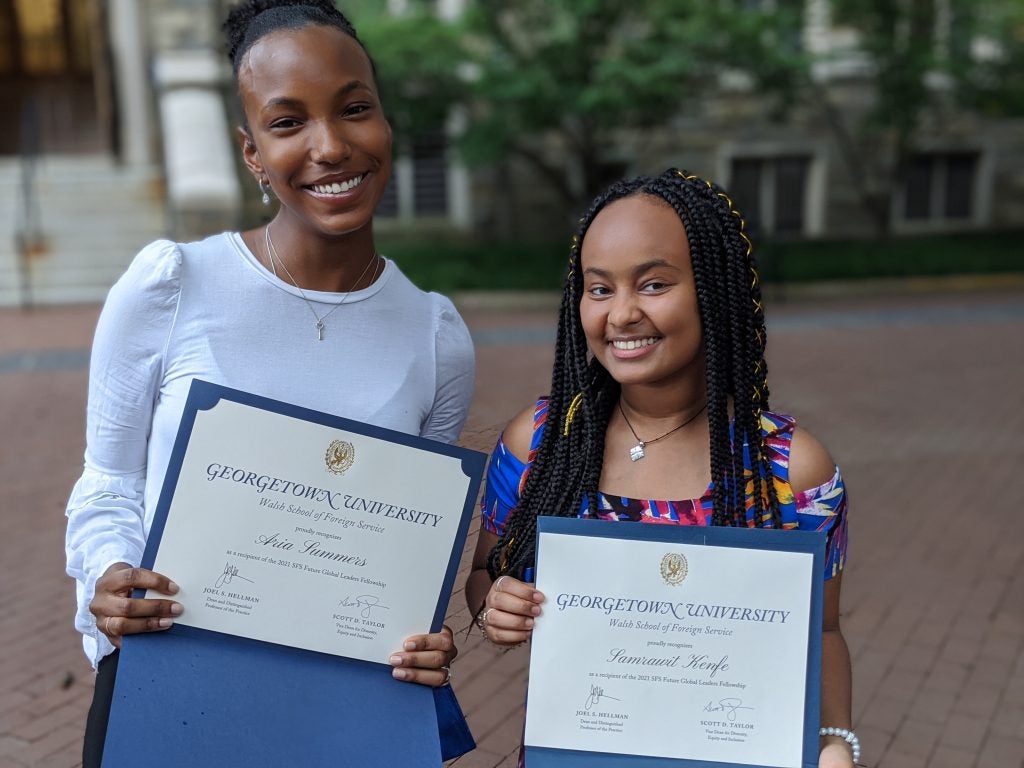 SFS Future Global Leaders Fellowship
The SFS Future Global Leaders program is a week-long academic and leadership program that immerses and introduces high school students to the world of international affairs. This summer program is sponsored by the School of Foreign Service and is designed to foster a foundation for future global leaders from various high schools.
Administered by Georgetown's School of Continuing Studies and taught by SFS Professor Anthony Clark Arend, the fellowship-eligible programs — Washington & the World Academy and International Relations Academy — help high school students explore key issues in both modern international affairs and global service. This involves a blend of virtual classes, activities and small group discussions.
Rising high school sophomores, juniors, and seniors with a strong interest in international affairs are encouraged to take part in this program. Students accepted to this program are awarded full scholarships to cover the cost of the program.
Who is encouraged to apply?
Rising high school sophomores, juniors, and seniors
Students who are interested in international affairs or committed to making a global difference in the world
Students from underrepresented minority groups and backgrounds are especially encouraged to apply (low income, first generation, minority backgrounds – Black/African American, Hispanic, Native American/American Indian/Alaskan Native, Native Hawaiian/Other Pacific Islander and others)
How can I apply?
Applications are considered complete upon submission of the application, photograph release form, and one recommendation from a teacher. Please submit your application using the SFS Future Global Leaders Fellowship Application Form.
The deadline for early applications for Summer 2022 is 11:59 PM (ET) on Saturday, April 16. The final application deadline is 11:59 PM (ET) on Saturday, April 30.
Why should I be interested in this program?
Accepted students are awarded full scholarships to cover the cost of the program.
SFS graduates take on leadership roles in many different areas. Some work in the private sector, with law, medicine, and business providing a range of opportunities. Our alumni can be found in the areas of diplomacy, international organizations and humanitarian work, as well as in scholarly careers as members of university faculties or research organizations.
Interested students are encouraged to attend one of our virtual information sessions about the Summer 2022 program.
Students may also register their interest in the fellowship and request more information about the Summer 2022 program via the SFS Future Global Leaders Fellowship Interest Form.
Partnership with the National Education Equity Lab
The School of Foreign Service is partnering up with the National Education Equity Lab to bring the Map of the Modern World class to high school students. Through this partnership, SFS will offer 150 to 200 U.S. high school students a no-cost place in Professor Mark Giordano's Map of the Modern World class.
To be eligible for the program, students must attend a Title I high school, a designation granted to institutions where at least 35 percent of students qualify for free or reduced lunch and which determines eligibility for additional federal funding. Due to structural barriers like cost, underfunded high schools offer limited resources for low-income or first generation applicants meaning these students often have little contact with private, top-tier institutions such as Georgetown.
Students in the program will earn three college credits for the semester-long course, which will be integrated into their day-to-day high school experience. Giordano's lectures will be available online for students to watch at home or in class, and students will meet virtually with their Georgetown teaching assistants in a weekly discussion section.
To ensure that participants across the country receive the support they need to succeed, teachers at the students' high schools will be trained to facilitate the course. Students will also have the opportunity to engage with their TAs one-on-one through virtual office hours throughout the semester.
The academic experience students receive through Map of the Modern World will be supplemented by Georgetown and SFS information sessions; panel discussions with students, professors, deans and alumni; recruitment events and conversations with leading practitioners in international affairs.
With this course offering, Georgetown joins a number of top U.S. universities striving to expand academic access for more diverse communities of potential applicants by partnering with the National Education Equity Lab to deliver credit-bearing courses to high school classrooms.
"Even though passion and talent are evenly distributed in our country, opportunity is not," according to the National Education Equity Lab. "By enabling high school students from historically underserved communities to take actual college courses from college professors, students can build the skills — and confidence — needed to apply to and thrive in college."

SFS Ambassadors Program
The SFS Office of Diversity, Equity and Inclusion understands the value of representation within and outside the SFS community. By including the voices of SFS students from underrepresented backgrounds and BIPOC groups, we not only strengthen DEI initiatives but also provide an opportunity for students to provide feedback as they engage with local high schools within the DC/Maryland/VA area.
SFS Student Ambassadors will represent the SFS in terms of its diversity, commitment to service, and sense of community. Our Student Ambassadors will be the voice of SFS at recruitment events, admissions events, orientation activities, and other extended outreach programming. Other responsibilities could include going to local high schools or undergraduate universities, hosting SFS BIPOC mixers for undergraduate and graduate students as sponsored by the Dean's Office, and conducting special tours for SFS students of color. SFS Ambassadors will be recognized as outstanding members of the SFS community.
Applications open every Fall to invite new students to represent the SFS as Student Ambassadors. Applications are closed for Fall 2021.
Some responsibilities and requirements include the following:
Students should be interested in making the SFS a more diverse and inclusive space.
Students should be willing to commit 1-2 hours a week.
Students will help lead presentations at local high schools in teams.
Work with the Office of Diversity, Equity and Inclusion to do outreach for SFS DEI programming.
Represent the SFS at student events, orientation activities, major SFS undergraduate and graduate student events.
Answer any questions about the School of Foreign Service, provide students with your unique experiences as an SFS student, SFS resources, etc.
Attend a mandatory training session in the Fall semester.