Like so many of her SFS peers, Menty Kebede (MSFS'21) had to change her plans in response to the COVID—19 pandemic this summer. However, amidst the upheaval, the Master of Science in Foreign Service graduate student—who is currently interning with the United Nations High Level Panel on Internal Displacement—is optimistic that she is also creating good memories she can cherish in the future.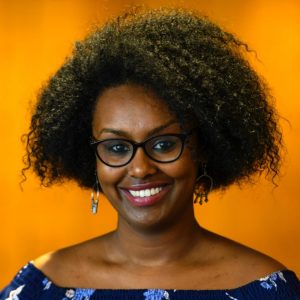 "I hope that I'll look back on this summer in ten years and think of it as a pivotal moment in which I recommitted to honoring and serving my community, my family and friends, and myself, by reflecting on and attending to my personal and professional values," she says.
Kebede says that pandemic forced her to scale back the work and activities she would ordinarily pursue when not taking a full graduate course load. "I am typically someone who thrives off of a tightly-packed calendar, and I have learned to adjust to a slower pace," she says.
Kebede's "slower pace," however, still makes for a busy schedule. Since finishing her first year at Georgetown, Kebede has been working at her internship; taking classes in Spanish, data visualization and digital mapping at Georgetown; dedicating her time to COVID-safe activism combating racism and police brutality and helped to organize a rapid response digital fundraiser for COVID-affected refugees in Lebanon. 
Gaining Valuable Experience Through Her SFS Network
Kebede knew that she wanted to use her summer break to gain experience of on-the-ground humanitarian work with the UN, preferably overseas. However, when the COVID—19 pandemic shut down the possibility of international travel, Kebede had to adapt her plans. She turned to her Georgetown network for help.
"I heard through a friend in the MA in German and European Studies program that a professor at Georgetown, Dr. Elizabeth Ferris, had helped connect her to some United Nations Office for the Coordination of Humanitarian Affairs (OCHA) contacts in the past," she explains. "I went to visit Dr. Ferris, who put me in touch with someone at OCHA, who helped me navigate finding an internship."
Kebede is currently working with the Secretariat at the Panel on Internal Displacement, where she supports stakeholder engagement, coordination and research to advance the Panel's mission to find concrete solutions to internal displacement.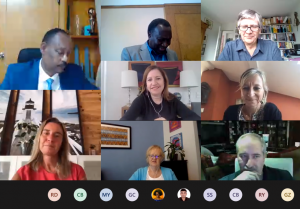 One of the most rewarding aspects of her internship is the first-hand experience and insights she gains from working with leaders in the field. "I sit in on conversations between Ambassadors, heads of state and high-level government officials, where I get to observe from a fly-on-the-wall perspective," she says.
Kebede has also encountered a few familiar faces in the course of her work. In addition to joining calls with Dr. Ferris, who serves on the Panel's Expert Advisory Group, Kebede has participated in work meetings with SFS Global Human Development Adjunct Professor Jeremy Konyndyk and conducted research and writing under the guidance of Research and Outcomes Officer and MSFS alumnus Mark Yarnell (MSFS'09). 
"There have been wonderful opportunities to engage with Georgetown community members!" Kebede explains. 
Engaging With The World's Most Pressing Problems
Through her internship, Kebede has had the opportunity to learn from colleagues working on the frontlines of current and urgent humanitarian emergencies. "I have attended a number of high-level webinars with critical information about humanitarian situations from staff on the ground in emergency settings in Syria, South Sudan and around the world," Kebede says. 
As a volunteer Communications Officer for the Harvard Arab Alumni Association Refugee Fundraiser, Kebede has helped to organize a fundraiser for disaster relief in Beirut, Lebanon, where a massive explosion on August 4 killed more than 170 people and wounded more than 6,000 others. She and her team successfully raised $30,000 in less than a week, and have launched a volunteer program on the ground to assist with reconstruction efforts. 
"COVID-19 and the explosion in Beirut both tragically highlight how the most vulnerable members of our societies suffer acutely during emergency situations," she says. "At the level of design, humanitarian response policy must have an eye towards targeting disenfranchised communities. We were sad to have to postpone our main annual conference, but it was critical that we adapt to the pressing issue at hand."
The graduate student has also been engaging with urgent issues closer to home. When the killings of George Floyd, Breonna Taylor and Ahmaud Arbery mobilized widespread protests against racism and police brutality in towns and cities across the U.S., Kebede joined up with her MSFS classmates to participate in protests in Washington and develop recommendations for the program's leadership team to foster diversity, equity and inclusion within the MSFS curriculum and student experience.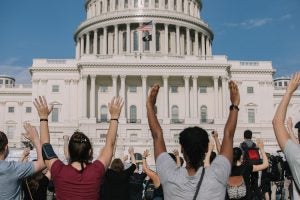 Kebede says she has been energized by renewed engagement on anti-racism, both within the Georgetown community but also in the broader field of international affairs. However, she stresses that efforts must now broaden to inform practice in a variety of global contexts in the wake of the coronavirus.
"I am heartened by efforts to combat global anti-Blackness," she says. "While we have unquestionably seen renewed vigor and momentum in the current moment, we must continue to apply this human-rights lens in shaping responses to the ripple effects COVID will have on the world. The national and global discourse reflects important steps toward social change, which must be coupled by legal and systemic protections of marginalized communities."
Adapting to Life During a Global Pandemic
Kebede has already had to tackle the very real effects of the pandemic in both her personal and professional life. At the Panel, research and engagement that hinged on on-the-ground consultations has been significantly disrupted. 
"The pandemic required adaptability," she stresses. 
Kebede also felt the effects of coronavirus at home, when both her parents contracted COVID—19. "My father actually contracted COVID in early March, which was really scary, given how much we still did not know about the virus at the time," she says. 
"Looking back, we all came through that whole experience relatively unscathed. My mom recently tested positive for antibodies, meaning she likely contracted it while remaining asymptomatic," she adds.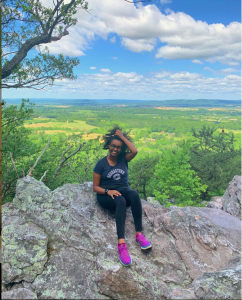 Now, Kebede is looking toward the fall semester, where she will take online classes, as campus remains closed for the safety of students, faculty and staff. She is hoping to begin an internship with the State Department Bureau of Democracy, Human Rights and Labor with the Office of Multilateral and Global Affairs (DRL/MLGA), but will continue her work with the Panel as she awaits her security clearance. 
She is excited to get back to classes and events, even if they are offered virtually, because she values opportunities to cultivate relationships with her peers  and professors. 
"I am really looking forward to the electives I will be taking in my second year," she says. "And I hope to redouble my efforts identifying and connecting with Georgetown community members working in the field of multilateral human rights and humanitarian affairs."