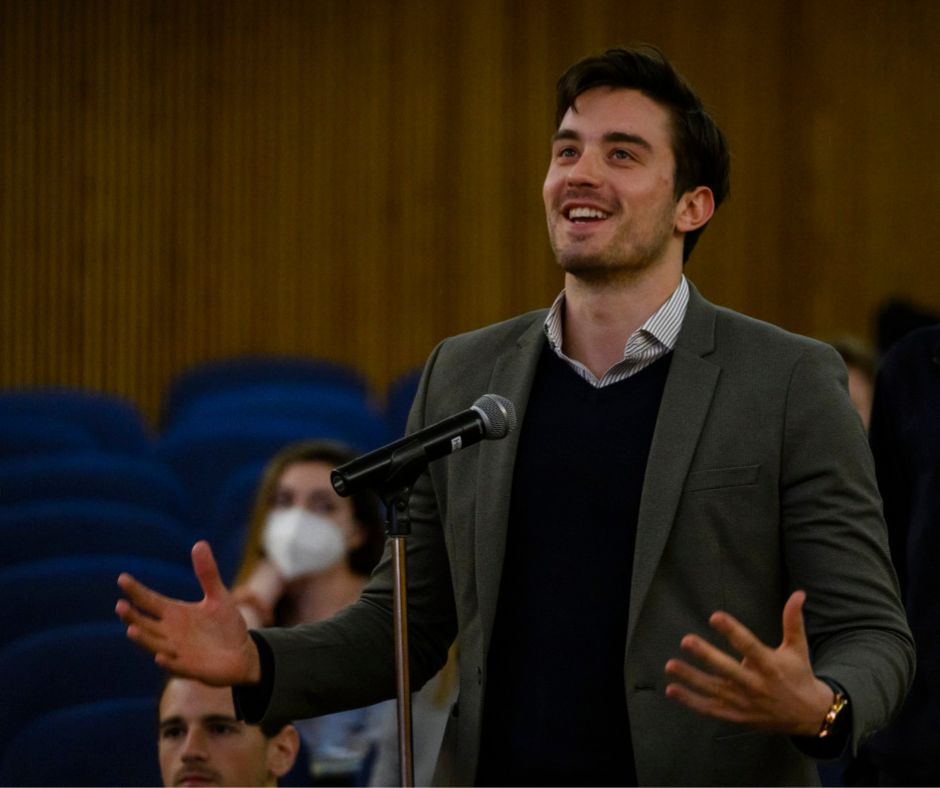 Luka Ignac (MAGES'22) has had a passion for transatlantic affairs since high school. "I wanted to become part of the next generation of policymakers who will be able to shape policy outcomes and ensure that U.S.-EU relations continue to thrive," he says.
It was maybe inevitable, then, that the international graduate student would find inspiration in SFS's Master of Arts in German and European Studies (MAGES) program. "I knew that MAGES will put me on the right path to meet that goal," Ignac explains. 
Now, after two years in a program that has enabled him complete multiple DC internships, conduct original research with a former ambassador, organize a transatlantic research conference and study under one of the United States' most respected diplomats, Ignac is looking forward to the next step on a career path that he hopes will ultimately lead him into public service. 
Learning from an SFS Icon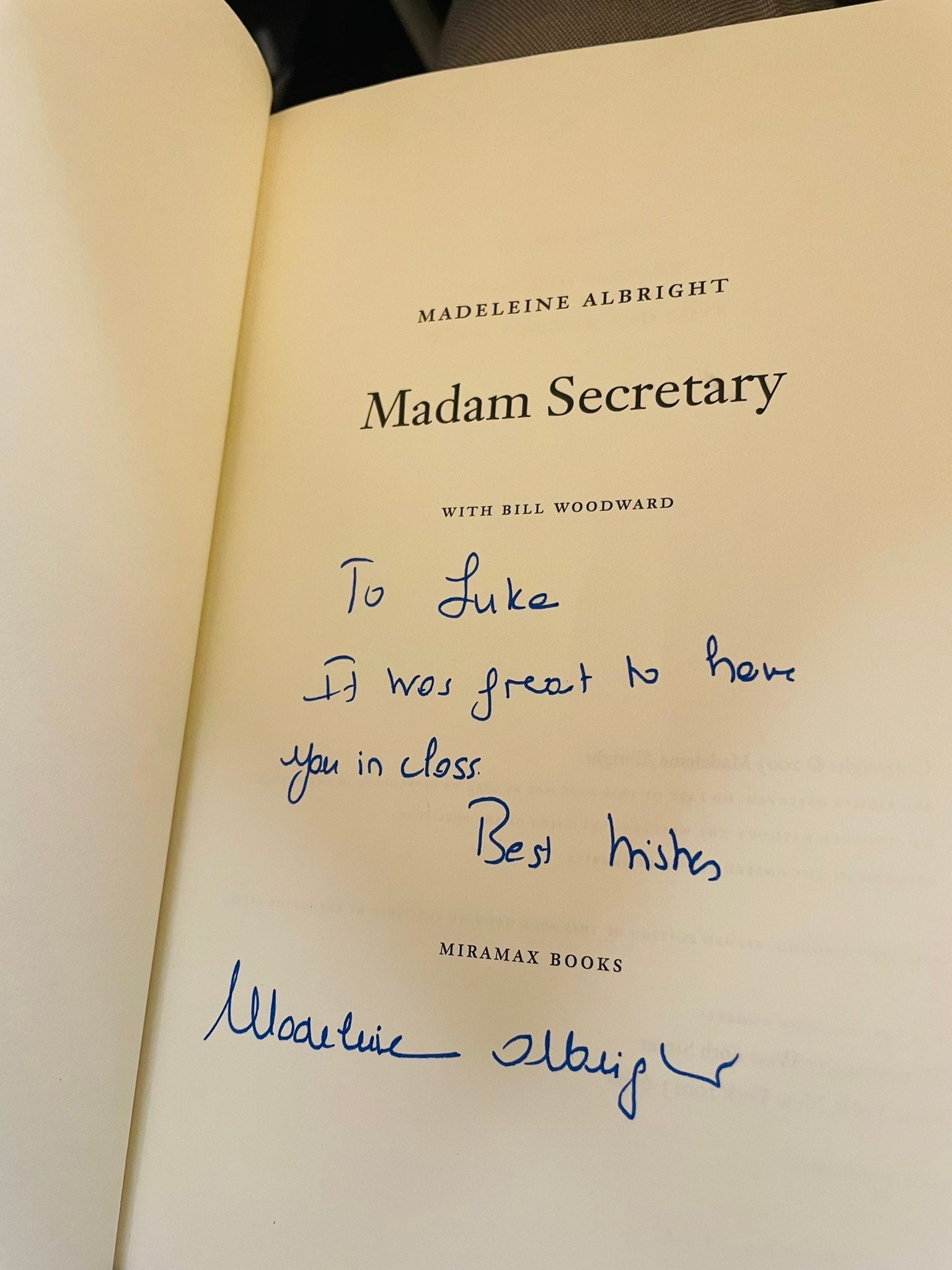 When Ignac entered the MAGES program, all students were required to have language proficiency in two European languages other than English. "In my case that proved not to be a problem as I already speak three languages!" jokes Ignac, who grew up in Zagreb, Croatia, and speaks Croatian, English and French.
What he wasn't expecting was to hear his native language on his first encounter with one of SFS's most beloved professors: former U.S. secretary of state Madeleine Albright. "I vividly remember walking into her office and her starting to speak to me in Croatian. I will never forget that moment!" he remembers. 
"Professor Albright," as she was known to her students, quickly became an important mentor to Ignac, who by chance got into her signature SFS course, America's National Security Toolbox, when a classmate withdrew from the course.
When Albright passed away on March 23 of this year, Ignac and his fellow classmates published a joint statement mourning her loss and reflecting on the incredible example of public service she gave to the world. "She never stopped advocating for women's rights, human rights and the right of all people to live free from violence and discrimination," they wrote. "It is our duty to carry on this legacy."
Albright's impact on Ignac was also personal. "She always found time with me to share career advice and reassure me about my ambition of becoming a public servant," he says. "Learning from a former secretary of state, a person with unparalleled life experience and a plethora of anecdotes always provided for fascinating, engaging and entertaining classes."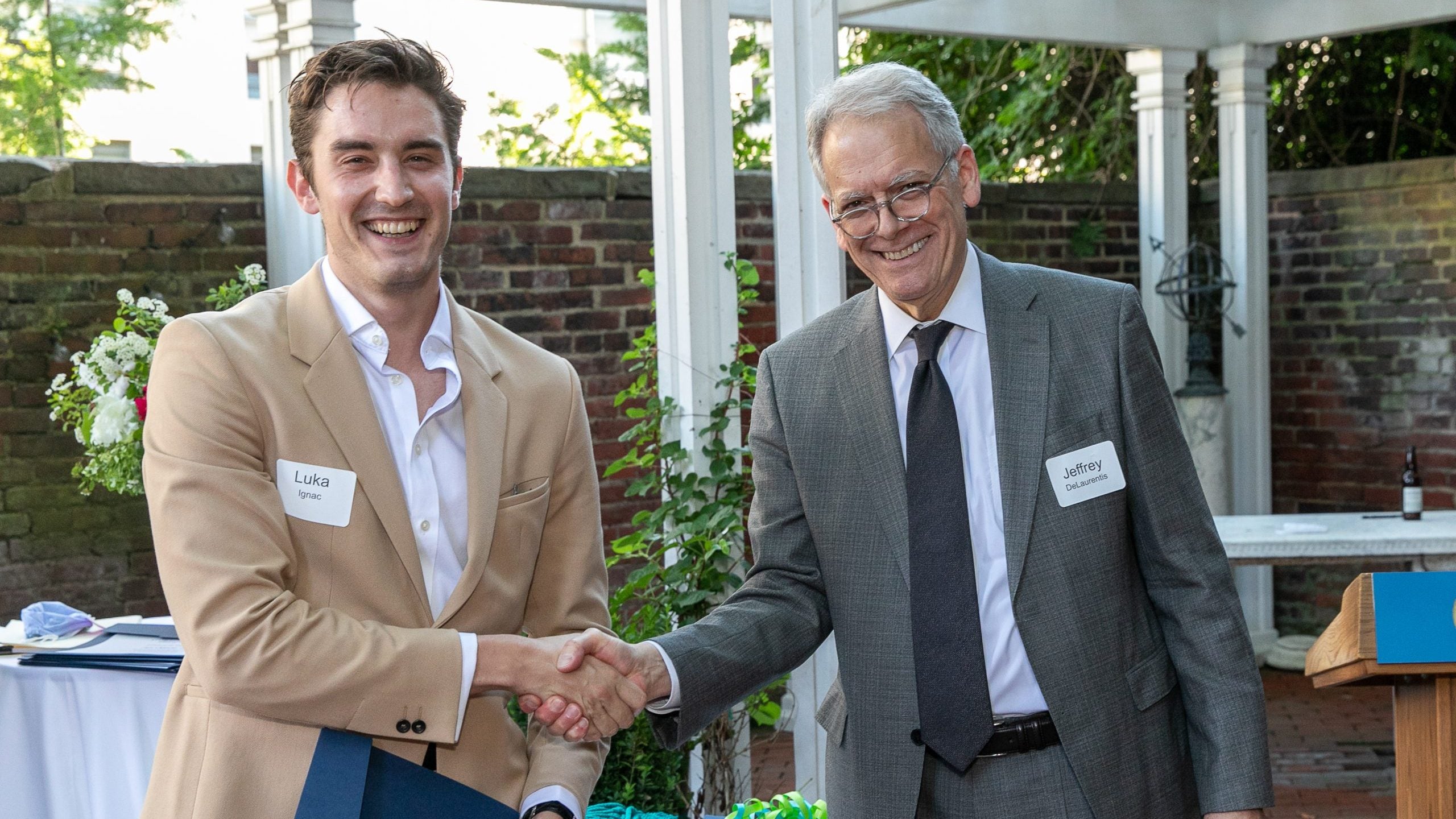 A Unique Community
As a Donald F. McHenry Global Public Service Fellow, Ignac also had the opportunity to learn from other distinguished figures among SFS's practitioner faculty. The program, which is administered by the Institute for the Study of Diplomacy (ISD), provides financial and professional development support to exceptional graduate students dedicated to careers in international public service.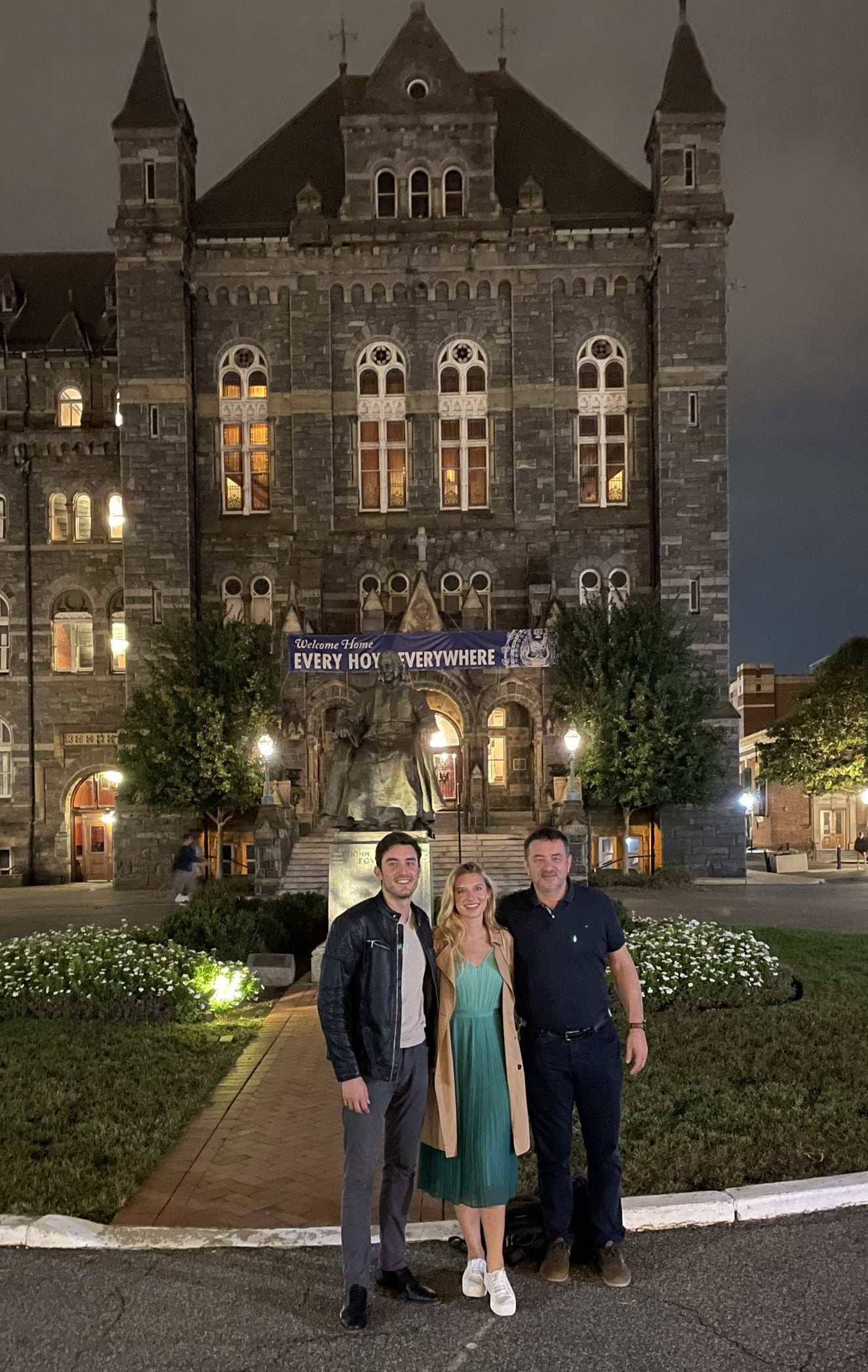 A member of the initiative's first cohort of fellows, Ignac benefited from mentorship from Ambassador Marie Yovanovitch, an ISD non-resident fellow and former U.S. ambassador to Ukraine. Yovanovitch helped Ignac to think through his professional future, sharing advice on how he could use the experiences and skills he gained at Georgetown to pursue a career in public service. She was also an important example of how Ignac could leverage his career for good. "Ambassador Yovanovitch worked with me on my professional development," he says. "But above all, her life stories reaffirmed my commitment to global public service." 
Though Ignac took the opportunity to explore other fields and regions during his time at Georgetown, the dedication of his faculty mentors kept him rooted in his program. "I have continued to cherish my interest in transatlantic relations, primarily because of the amazing MAGES faculty," he explains.
Learning from incredible SFS faculty is just one benefit of a graduate program that Ignac calls "the most interdisciplinary" in SFS. The soon-to-be MAGES alumnus also appreciated opportunities to connect with SFS peers, which led to him meet his partner, who is a 2021 graduate of the Master of Science in Foreign Service program.
"I truly enjoy the ability to meet, learn and engage students across different specializations and areas of focus," Ignac says. "The ability to be in the same class, be surrounded by people with an Asia focus, a Europe focus, a Latin America focus allows for a unique learning experience that always results in rich debates."
Building on Georgetown Opportunities
That spirit informed Ignac's work as co-director of the Transatlantic Policy Symposium (TAPS), a conference, led by MAGES graduate students, that convenes student scholars and practitioners working on relations between Europe and North America.
The 2022 conference, the first in-person TAPS since the beginning of the COVID-19 pandemic, focused on the theme "Toward a Geostrategic Europe?" and hosted presentations on original research from 10 student panelists from across the transatlantic space.
"I also had the opportunity to interact with senior E.U. and State Department officials and a variety of experts in DC through TAPS," Ignac says, referring to the numerous international relations experts, including former U.S. Under Secretary of State for Global Affairs Ambassador Paula Dobriansky, E.U. Ambassador to the U.S. Stavros Lambrinidis and Principal Deputy Assistant Secretary in the Bureau of European and Eurasian Affairs Ambassador Dereck J. Hogan, who gave addresses at the event.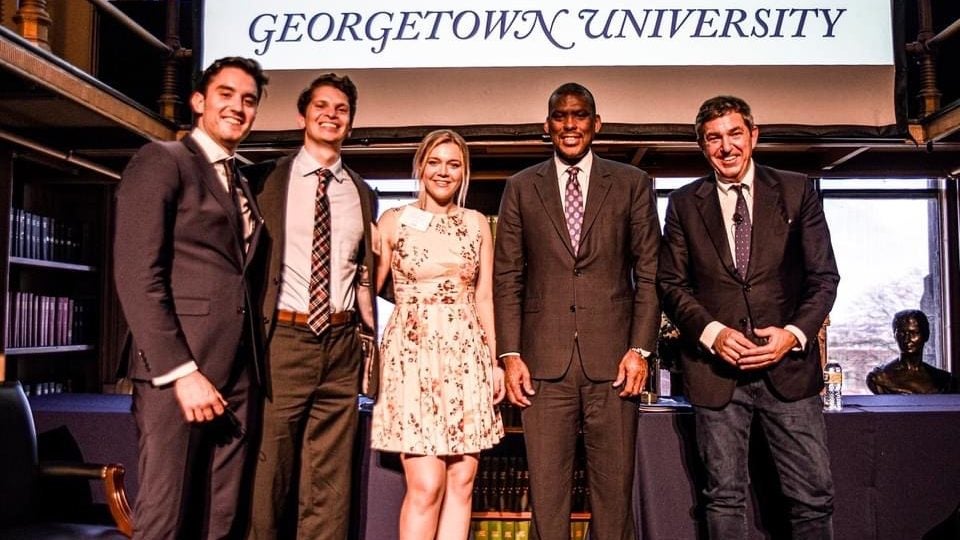 Georgetown's Washington connections also enabled Ignac to complete a number of internships in the city while also continuing his studies. He worked on the government affairs team for the BMW Group in Washington, DC, and gained valuable experience as a young global professional for the Atlantic Council. 
Ignac explains that these professional opportunities, as well as the alignment between the university's values and his own, were what brought him to Georgetown in the first place. 
"I always aspired to become a public servant and always thought of Georgetown as a place uniquely positioned to prepare the next generation of public servants for transformational careers," he says. 
After graduation, Ignac is hoping to gain experience in the private sector, before making a more permanent move into public service. And, while he is excited about this new chapter, he knows he will feel nostalgia for the Hilltop.
"I know that in just a couple of months I will miss the ability to spend hours contemplating the best solution to overcoming transatlantic trade issues or addressing the democratic backsliding in Hungary," he says, "I'll miss the ability to be creative in ways that are often not encouraged in the real world."
Whatever his next step, Ignac is sure that he will carry Georgetown's foundational values into his future career. "Going to Georgetown represented choosing a belief in the value of public service," he shares, "something that I hold very dear to my heart."