In students' first year of the Asian Studies Program, Director Michael Green leads a required crisis simulation as part of his Theory and Policy in Asia course. For Khyle Dank Eastin (MASIA'20), this crisis simulation was not only an introduction to war-gaming and simulations, but also the moment when he formed long-lasting friendships with his classmates.
For Eastin, building close relationships within the Georgetown community has defined his time at graduate school. From his fellow students in the Master of Arts in Asian Studies (MASIA) program to the professors and mentors who offered guidance along the way, Eastin affirms, "The friends and relationships I've built here have included some of the most respectful, supportive and intelligent people I've known."
Eastin, a Mandarin speaker who is concentrating in Politics and Security, has spent his two years at SFS gaining the knowledge and skills that will help him pursue a career in international security and foreign policy.
"My time at Georgetown has been academically and professionally formative in giving me the tools, and allowing me the space, to work through challenging and meaningful problems facing the global community in the present, and likely continuing into the future," Eastin says.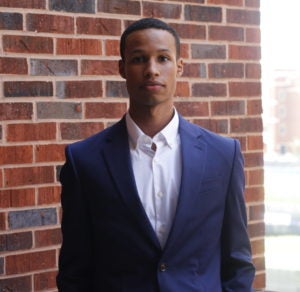 At a Glance
Hometown: Minneapolis, MN
Program of Study: Master of Arts in Asian Studies
Language: Mandarin
On-Campus Activities: I was an Associate Editor with the Georgetown Journal of Asian Affairs (GJAA) (Spring '19), and co-launched a group for graduate students across the School of Foreign Science to engage on topics related to China's growing presence in global political affairs.
Non-GU Activities: During the Spring 2019 semester I interned as a China Policy analyst with the National Security and International Policy team at the Center for American Progress. During Summer 2019, I worked as a Regional Analyst at CrowdStrike, a cybersecurity firm. During the Fall 2019 and Spring 2020 semesters I continued working part-time with CrowdStrike.

An Easy Decision
Eastin, who graduated from Pomona College with a B.A. in International Relations, knew that he wanted to build on his experience in China and his interest in security studies at graduate school.
Once he decided that a regional studies degree program was best suited to his career goals and passions, Eastin says that the MASIA program at SFS was "the standout" choice. The program's regional focus and functional concentration, as well as the freedom of class selection it offered, made the decision an easy one.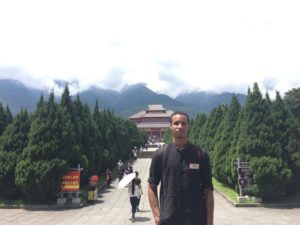 "These factors allowed me to gain tools to improve myself as a foreign policy, national security and geopolitical analyst, as well as provided me enough room to explore my academic and professional interests on sub-topics," he explains.
Additionally, Eastin says the location was perfect for him: "I wanted the experience of being in D.C., as there are few cities globally that I could go to with the same level and amount of national security and foreign policy expertise."
In the Classroom: From East Asia to Yemen, South Asia and Outer Space
Eastin says that his classes have introduced him to new topics and invaluable mentors, as well as peers who challenge his thinking.
"The diversity in backgrounds, experiences and expertise being built inside and outside of the classroom makes for endless potentially thought-provoking conversation topics," he says.
Theory of Cyberwar with Professor David Fahrenkrug helped Eastin to hone in on more specific interests in the security and regional studies field. Although he admits he did not initially have an interest in cyber-related topics, Eastin says that this course changed his perspective.
"The goal of the course is for students to develop their own unique theory and framework for understanding what power in the cyber domain means, how it looks and how this power can be measured," he explains.
In the discussion-based class, Eastin says Fahrenkrug "acts as a knowledgeable guide with resources and discussion questions to foster an environment that challenges students to go several steps further and develop their own logical argument and framework for thinking on the topic."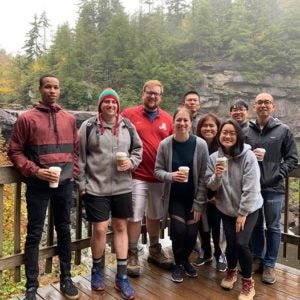 After taking the course, Eastin says he developed an interest in national security issues in outer space, as well as an appreciation for theoretical approaches.
Amb. Barbara Bodine's Institute for the Study of Diplomacy capstone course, Rebuilding Yemen, challenged Eastin to explore a new region while developing new skills. He says, "Ambassador Bodine was, and continues to be, a major source of expertise and mentorship to not only develop my analytic capabilities, but my public speaking, and overall self-confidence as a professional in the foreign policy and national security field."
Taking Amb. Touqir Hussain's "Post-1979 Pakistan, Afghanistan and Iran" class and the conversations he had with the ambassador also shifted Eastin's perspective, and developed his regional focus to incorporate Pakistan, Iran and Afghanistan. He says Amb. Hussain "consistently reminds me to check my own biases on geopolitics in order to provide the clearest and best analysis I can."
Finally, though Eastin joined Asian Studies with advanced knowledge of Mandarin, he has used his time at Georgetown to expand his language skills. He says language courses with Professors Fei Ren, Juei-Chen Hsiao and Peng Wang helped him master formal Chinese, supported his language progression and boosted his self-confidence.
Mentors and Cheerleaders
Eastin says that the most surprising thing about his graduate school experience was the warmth of the Asian Studies community, as well as the support he received from his professors.
"From going in to office hours to seek help on working through a challenging class-related problem, to talking about their academic, professional and general interests and hobbies, I've benefited greatly from the professors I have met during my time at Georgetown, and their willingness to offer their time to share a bit of insight and wisdom with me," he says.
Eastin credits a range of mentors and faculty members with helping him during his time in the program. Eastin says that Professor Dennis Wilder's support "reassured me that I have the capability to make it as a China and Asia-Pacific analyst," while Professor Yukhi Tajima "challenges me to step my game up in terms of analytical ability, clarity and logical thinking."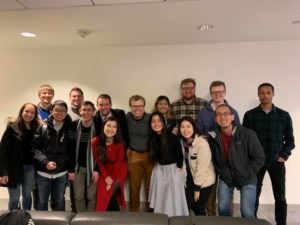 Eastin adds that Professor James Millward was the reason he was able to attend Georgetown in the first place. "His constant support for my academic and professional interests, and his consistent belief in my capabilities as someone studying China-related topics has been a major source of confidence and comfort during my time at Georgetown," he says.
Lastly, Eastin is grateful to Robert Lyons, Associate Director of Academic Programs, and Stephanie Gage, Program Coordinator, on the Asian Studies team, for being his "biggest cheerleaders."
Graduating On a Hopeful Note
After graduation, Eastin will work at cybersecurity company Crowdstrike as a regional analyst. Long term, he hopes to continue to focus on security issues in Asia, and U.S.-China relations, areas of expertise that will help him as he looks for opportunities in the foreign policy and national security spheres.
As he graduates in the midst of the COVID-19 pandemic, Eastin says that he has a lot to be thankful for. "Granted the privileges I have relative to some others during this pandemic, I feel grateful to have had time to myself to press pause, think and reflect a bit on my experiences thus far, as well as some potential positive outcomes as a result of this global situation," he says.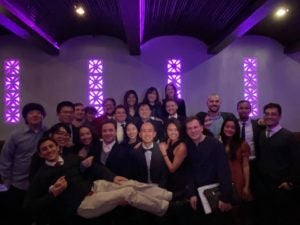 He sees reason for hope. "What is considered essential in some countries may be fast tracked. For example, there is a need for access to telecommunications, and space-based platforms can help provide these services to underserved and rural areas of various countries. This is a development that appears to have taken on greater importance in response to the pandemic," he adds.
As the need for these essential services is thrown into sharp relief, Eastin is graduating with a degree at the intersection of regional studies, security, technology and even outer space. As he sets out to make his mark on the world post-graduation, he might be the one to deliver them.