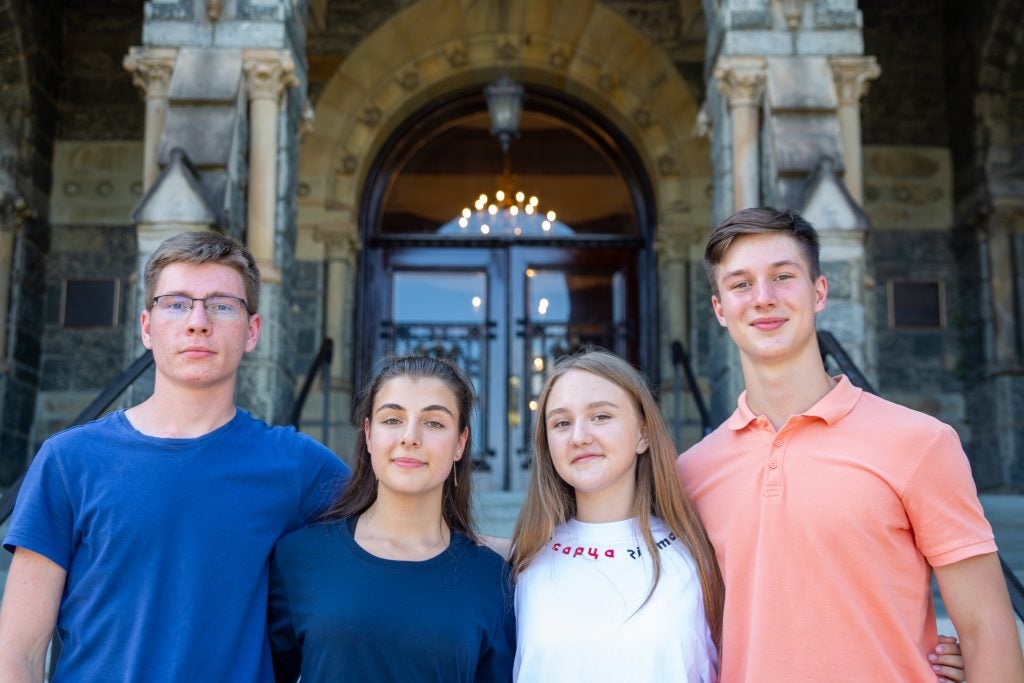 "No one could have expected that the course of our life would have changed like the snap of a finger — the moment we all woke up on the morning of the twenty-fourth of February when the war started," reflects Kyryl Myronenko (SFS'26). "But because of the extremely generous scholarship my fellow classmates and I received, we are able to attend the best school of international affairs in the world."
In June, the Walsh School of Foreign Service (SFS) announced the new Gracias Family Sunflower Current Use Scholarship Fund. Made possible by a $5 million gift from Antonio Gracias (SFS'92, MSFS'93) and Sabrina Kuhl Gracias (B'93), the Fund provides direct, immediate financial support to current and future Georgetown students affected by the war in Ukraine. 
Four undergraduate and four graduate students are recipients of the scholarship this year: Olha Kovach (SFS'26), Kyryl Myronenko (SFS'26), Oleksandr Sinhayivskyy (SFS'26), Tetiana Tkakchenko (SFS'26), Iryna Adam (SSP'24), Ruslana Kochmar (MSFS'23), Juliana Kogan (MASIA'23) and Nikita Makarenko (MSFS'24).
As the semester begins, six of these students are arriving at Georgetown for the first time this fall, Myronenko included. "It's a very emotional moment for all of us," he expresses.
While the war continues to permeate every aspect of life as a Ukrainian, students are finding ways they can make a difference, sharing what an SFS education means to them and conveying their hopes for the future.
"We Like Talking About Ukraine"
Tetiana Tkachenko (SFS'26) first learned of Georgetown when she participated in the Erasmus Exchange Program as a high school student. On a week-long trip to Germany, Tkachenko remembers meeting a student from Georgia. "He was saying that he wants to apply to Georgetown because there is this school that's very good in politics," she recounts.
The student told her he planned on becoming president of Georgia, to which Tkachenko replied, "Yeah, I'm also mostly into politics." To herself, she thought, "Maybe one day, I will be the president of Ukraine."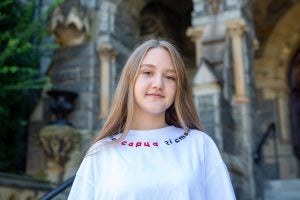 After graduating from high school in June 2021, Tkachenko decided to take a gap year, during which she worked at a charity organization which pairs American and Ukrainian students together for language practice. Being from Eastern Ukraine and having family members who work in the military, Tkachenko says she had expected tensions with Russia to reach a boiling point. When the war broke out, she describes the process of learning about and applying to the Gracias Scholarship as a whirlwind of redoing essays, receiving her acceptance and making the trip to campus.
Like most Ukrainian students, Tkachenko's journey was complicated, as she wrangled the documents necessary to travel to the United States. Her visa could only be obtained in Romania — a thirty hour bus ride which she completed three times. First she needed to get her visa, then return home and then travel back to Romania so she could fly to Germany. From Germany, she finally boarded a plane to DC.
So far, Tkachenko has been enjoying her classes and the many opportunities to join in student life. She is hoping to get involved in one of the student-run newspapers and is curious about intramural sports. Asked what she wants the broader Georgetown community to know about Ukraine, Tkachenko wishes that people would be more open about discussing the war, especially with Ukrainian students. 
Tkachenko describes the awkward silence that often follows when she shares she is from Ukraine. She explains, "I'm like, yeah, you can talk, because they don't really know how to talk…They feel uncomfortable because they don't know if they can ask questions." 
"We like talking about Ukraine," Tkachenko affirms.
"Making God Laugh"
For Kyryl Myronenko, an SFS education is crucial to realizing his childhood dream of working at the intersection of politics and economics — a dream which the war in Ukraine galvanized. SFS, however, was not where Myronenko initially saw himself. Originally, he had planned to pursue a bachelor's degree in Ukraine, perhaps coming to Georgetown afterwards for a master's program. 
"Frankly speaking, I had this very, very detailed plan. But I understand that, as they say, the best way to make God laugh is to tell him about your plans," Myronenko smiles, continuing, "When the war started I realized that I want to support my country. I want to do something beneficial to the common good."


A year ago, Myronenko could not have imagined how his conversations with his family and friends would change. Now, he wakes up early to comb through news reports, making sure he stays updated on the latest situation in Ukraine. Myronenko has also been pleasantly surprised by new friendships: older Ukrainian students inviting him over for dinner, a hallmate joining him to run a 5K supporting Ukraine and unexpected bonding in the dance studio (he is the four-time Ukrainian champion in solo and duo hip hop and disco).
Most of all, Myronenko is enjoying his first-year proseminar Terrorism & Civil War, which examines how terrorist logics intertwine with intrastate conflict across several case studies. The proseminar has taught Myronenko new ways to analyze warfare, while the small class size provides an especially enriching environment for Myronenko to engage in robust discussions with his peers, learning from others and sharing his own experiences.
"Every single time when I come out of my classes, I immediately call my parents in order to share with them a bit of positive news that I'm doing really, really great," Myronenko emphasizes. "Here, I feel like I'm on a mission. When I was talking to my friends, and they were telling me, 'Oh you're leaving Ukraine for such a long time,' I say, rather, I have to leave. I have to, in order to come back as someone — as an asset to my country but not a liability."
Keeping Ukraine in the News Cycle
Iryna Adam (SSP'24) almost decided to give up on attending Georgetown. After applying and gaining admission to the Security Studies Program (SSP) in 2020, the COVID-19 pandemic led her to defer her enrollment. Adam went to work for the National Democratic Institute (NDI) in Ukraine, but as the pandemic dragged on, a successful series of promotions and new position at the Center for Strategic Communications and Information Security drove her to consider whether she should put off graduate school and continue working. Then, Russia launched its full-scale invasion of Ukraine.
When Adam was contacted about the possibility of funding support from the Gracias Family Foundation, she decided to make the transition back to school. "I was like, okay. If there's going to be funding that's a very good opportunity to both get an education and to still be able to help the country," she outlines.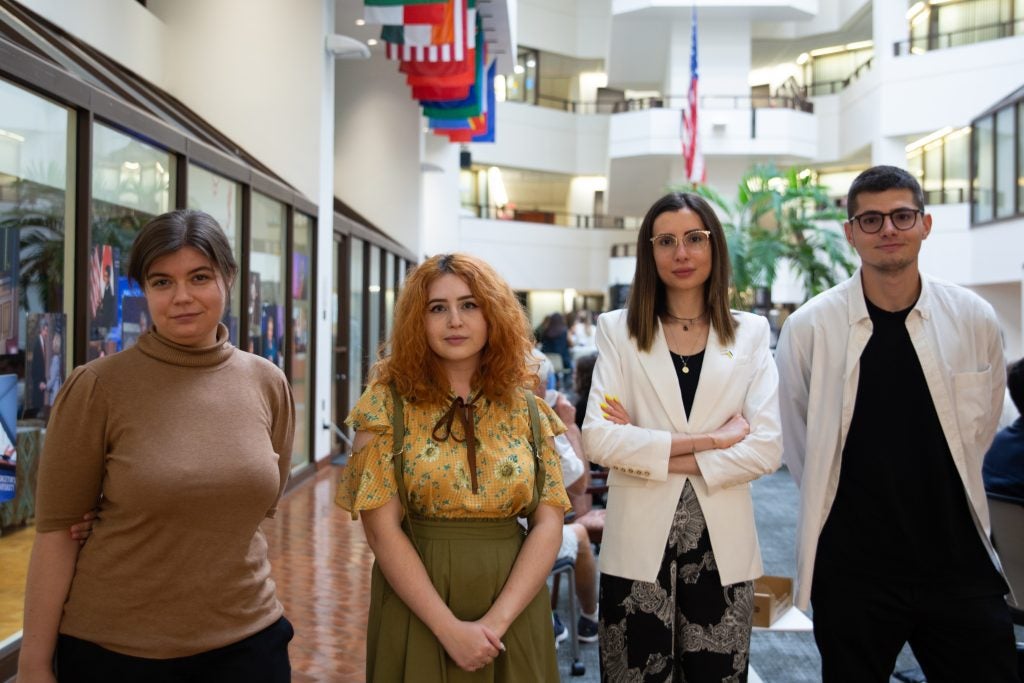 Initially, Adam applied to SSP with an interest in the intelligence concentration. At NDI, she had concentrated on studying disinformation and the role of communication between government and civil society in building a strong democracy — work she expects to continue to build on as she pursues a degree in security studies.
In particular, Adam highlights the importance of people remaining aware and informed of the war in Ukraine, expressing her concern that "the world is getting tired of the 'Ukraine topic.'" Nonetheless, Adam argues the war does not only affect Ukrainians, but bears greater significance for global affairs. 
"It's not just scholarships, but any kind of help that the West is giving Ukraine is much appreciated, and it's what's kind of keeping us strong and helping us progress further," Adam conveys. "But also the fact that there's even this story is bringing some awareness to Ukraine and to the issues happening there, and also to the growing threat of Russia as an international actor. It's a pretty important thing to be talking about."
"Ukrainians are Strong and Resilient People"
While Nikita Makarenko (MSFS'24) may be new to Georgetown, he is well acquainted with DC. After coming to the United States in 2015 to finish high school, Makarenko earned a bachelor's degree from American University before going on to consult for the DC office of a multinational firm.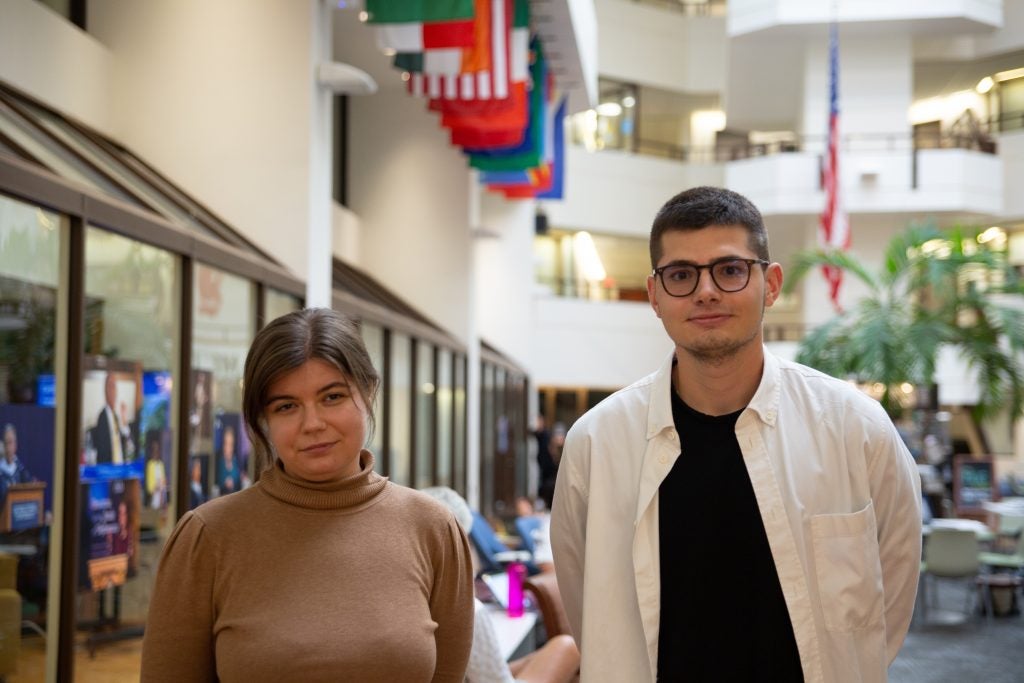 The Master of Science in Foreign Service (MSFS) program particularly appealed to Makarenko for its blend of classes, practical training and networking opportunities. "I had the idea that I wanted to pursue a master's in international relations, and MSFS is the best program out there to do so," he says. When he learned of his acceptance, a merit-based scholarship on top of being able to stay in the city cemented his decision to attend Georgetown. 
As Makarenko begins his studies at MSFS, he is looking forward to encountering new perspectives on global affairs. In particular, he is excited about how professors are adapting curricula to meet new diversity, equity and inclusion initiatives. "This is something that was, I feel, not as emphasized during my undergraduate education. I remember almost all my classes focused on perspectives from authors and scholars from the West," notes Makarenko.
"I took a couple of classes with specific focus on Asia and Africa, and I learned so much from them," he continues. "I learned so much from the scholars from those regions, and I think it goes hand in hand with experiences that I have, and experiences that other people bring to the table…When we come together and combine our knowledge…I think it shapes a better program."
Makarenko also has his own story to "bring to the table." January 2022 was the last time he visited his family in Ukraine who, located in Dnipro, are just a few hundred miles from the front line. It was through conversation with family and friends that he noticed something TV and radio narratives seem to obscure.
"I feel like something that's not often talked about in the media…is the fact that Ukrainian people, in my opinion, are very strong" observes Makarenko. "Ukrainians are strong and resilient people. We have had a lot of challenges along the way, not only in the thirty-one years of independence, but throughout the twentieth century and before that, so we truly believe that we'll be able to prevail and come out better off on the other side."
Making New Connections
Olha Kovach (SFS'26) was not always explicitly interested in international affairs. Before coming to Georgetown, Kovach was primarily involved with Ukrainian social issues, having worked with disabled children and focused on education policy. After the Russian invasion of Ukraine, however, Kovach — like Myronenko — saw her passions in a new light.
"There was a connection between government responses to different issues in Ukraine, and especially when the war started, I could see the connection between these two areas better," she says. "I think that slowly I became interested in international politics, especially in Culture and Politics, because I think that this major can give me an opportunity to learn about this connection between social science and politics."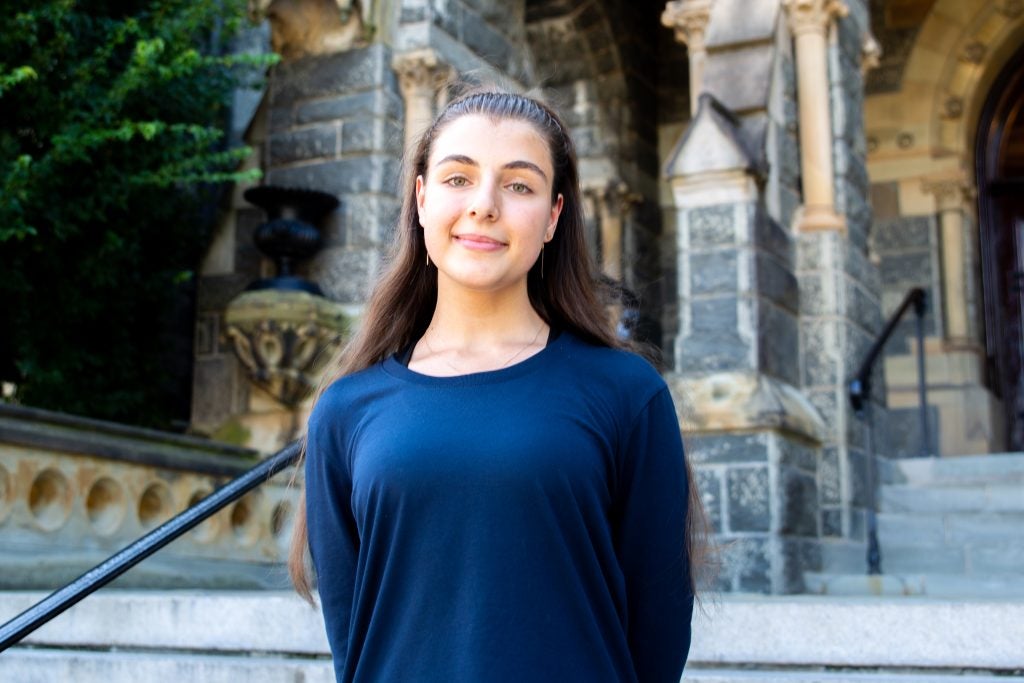 Now, Kovach is asking herself several questions. "How can I address different social issues on a governmental level," she wonders, adding, "How can I help Ukraine recover after the war?" 
Through her classes, she has been able to gain a better understanding of the dynamics of war at a state level in addition to how international conflict plays out across individual lives. In her proseminar Forced Displacement, for example, she has been learning about the historical, social, political and economic forces which shape human mobility. 
Kovach has also enjoyed exploring DC, attending different Ukrainian cultural events and connecting with her fellow Ukrainian students. She is especially excited about opportunities for practical experience, such as working for a nonprofit to better understand the aspects of human security involved in rebuilding from conflict. As Kovach immerses herself in life at SFS, however, she hopes the Georgetown community and United States at large will not forget about Ukraine's evolving needs for humanitarian support.
"I know that people acknowledged that there is a war in Ukraine, but right now, they're starting to forget that there are different ways they can help," Kovach stresses. "They can donate…they can simply talk about this, so that other people know that they're supporting Ukraine. So I would like to remind [everyone] that people in Ukraine still need help, as everyday, someone is trying to start over their life and others continue to fight for the country's freedom."