From Amman, Jordan to Accra, Ghana and Capitol Hill, Stefan Sujansky's time at Georgetown has not only enabled him to explore a range of academic pursuits around the world but also discover his own capacity for changemaking.
During his four years at SFS, Sujansky (SFS'22) has embodied the school's core value of service. Among other activities, the graduating senior worked on a USAID-funded project to improve agricultural practices in Ghana and volunteered as an Arabic translator for a medical NGO supporting refugees in Greece.
Sujansky also spent nine weeks in Amman, Jordan as part of an Arabic immersion program and currently works as a research assistant for the Georgetown University Initiative on Innovation, Development and Evaluation (gui2de), where he conducts analysis on care management practices among doctors in Estonia.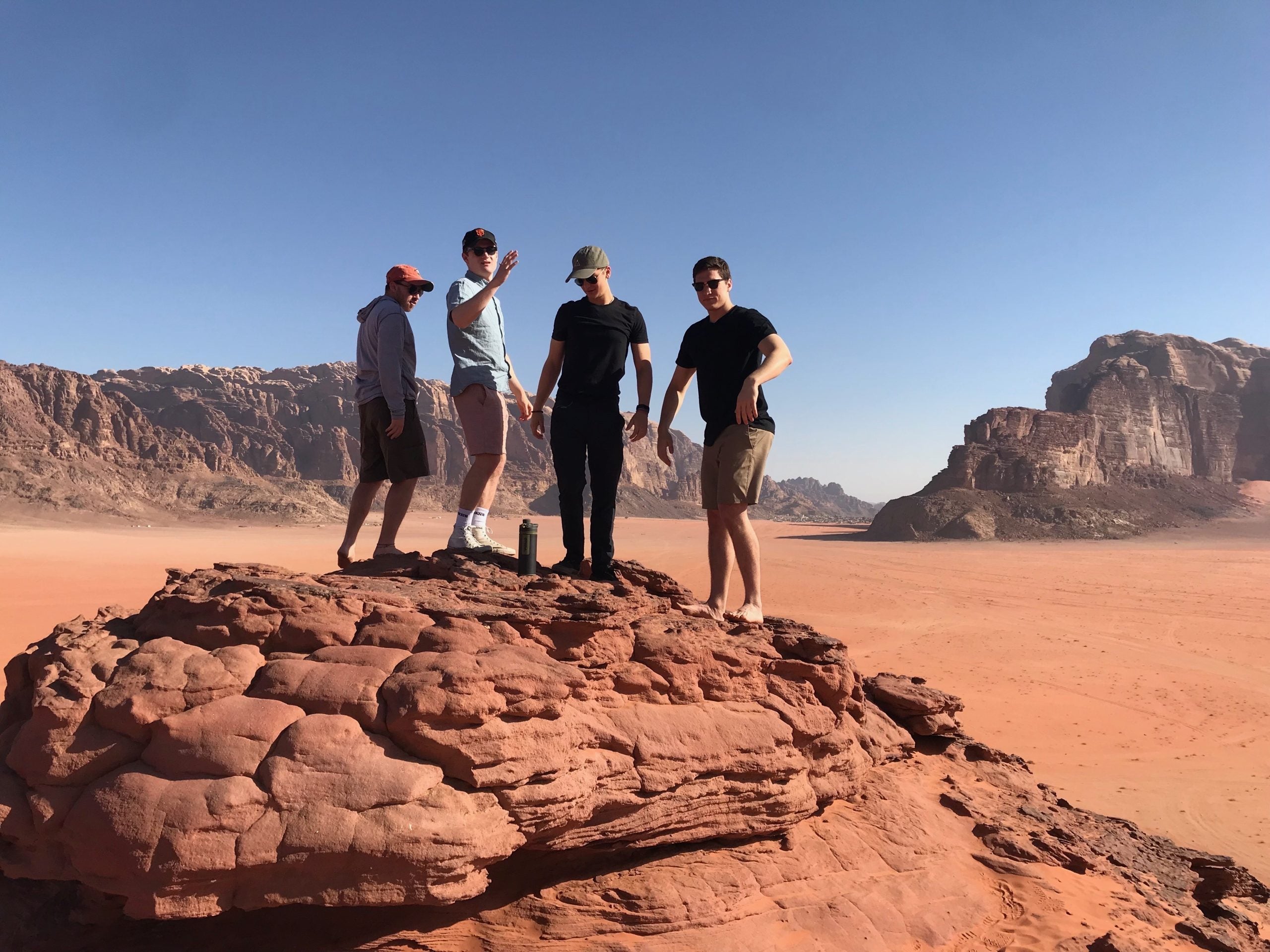 All of these experiences were the result of Sujansky's determination to take advantage of all the SFS opportunities that came his way. "My time in SFS has taught me that the best way to discover my interests is by diving head-first into topics and environments that challenge me," he explains. "Exploring my challenges and discomfort these past four years has taught me a lot about my interests and desired work environment."
Finding Mentorship on the Hilltop
A Bay Area native, Sujansky came to Georgetown to study the intersection of political and economic systems, which naturally conveyed into becoming an International Political Economy (IPEC) major. The IPEC program opened doors, enabling Sujansky to access faculty and experiences that would form his interests on campus and beyond.
One major source of support was Professor Andreas Kern, who teaches International Political Economy, and provided invaluable advice to Sujansky over the past few years. Beyond the classroom, Professor Kern helped Sujansky with his honors thesis as well as internship and postgraduate opportunities, connecting him to people like gui2de Research Fellow Ben Daniels, whom Sujansky works for at the initiative.
In addition to building a professional network, classes like Professor Marko Klasnja's Corruption, Patronage and Clientelism — one of Sujansky's favorites — also presented a critical space to hone his research skills. Although Sujansky admits knowing little about corruption prior to taking the course, he remembers Professor Klasnja's mentorship and continual faith in his students.
"Replication projects" for the class asked students to think critically about academic literature and a semester-long research assignment provided important practice with a large-scale, independent work. "This process taught me important lessons about quantitative research that are still helping me this semester as I write my honors thesis," Sujansky says.
A Commitment to Service
Most of all, Sujansky credits Dean Mitch Kaneda for some of his best experiences. Kaneda serves as curricular dean for IPEC majors, and is a favorite among Georgetown students for his International Trade class. When Georgetown announced a virtual fall 2020 semester, however, it was Kaneda who encouraged Sujansky to seek out new adventures through a leave of absence.
To supplement a minor in Arabic, Sujansky had previously traveled abroad through Georgetown in Amman, a program focused on giving SFS students an immersive encounter with Arabic language and culture. Over the course of nine weeks, Sujansky lived with an Arabic-speaking host family in the city and took Arabic language courses at the Qasid Institute. His experiences in Jordan not only allowed him to skip an entire year of intensive Arabic classes back on campus, but ultimately enabled Sujansky to put his skills to use helping others.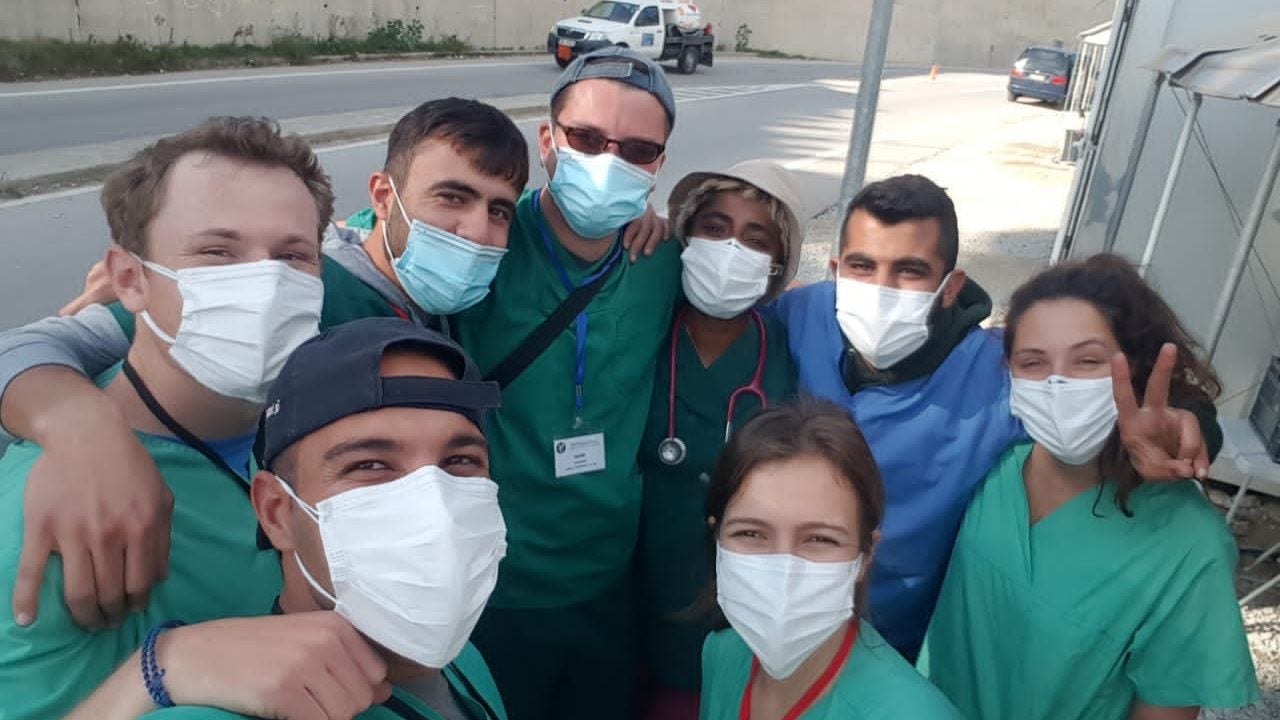 During his semester of leave, Sujansky traveled to the Greek island of Samos, where he worked as an Arabic translator for medical NGO Med'EqualiTeam. Alongside medical staff and other volunteer translators, Sujansky volunteered at the Vathi Refugee Camp on the island, which housed approximately 6,000 asylum seekers from the Middle East and Africa.
Though the work was demanding, it sparked Sujansky's passion for humanitarian and development work. "Working with Med'EqualiTeam's incredible medical staff and other volunteer translators (many of whom were refugees themselves) was an eye-opening and rewarding experience," he says. "It's informed which jobs and internships I've pursued since then."
"Incredible Peers"
One of these internships included a stint working for the West African Rice Company, a social impact agriculture company in Ghana. There, Sujansky helped to design and implement a study in the country's Upper West region to introduce innovative farming methods to the area's communities. "While the project didn't always go smoothly, it was an experience that I will never forget," Sujansky recalls. "I also appreciated getting to travel across Ghana for work and meeting wonderful colleagues at the company."
However, though his time at SFS has taken him across the globe, Sujansky says he'll miss his peers and campus community most. "Being a part of SFS and Georgetown has been a unique experience in part because I've constantly been surrounded by students who have a wide range of interests and are all 'plugged-in' to what's happening in the world," he remarks. "Finding this kind of environment is not easy, and I'll miss being able to learn something interesting from my peers every day."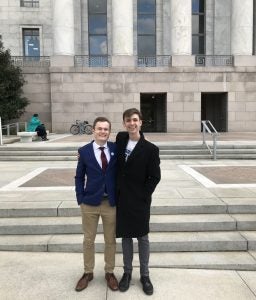 One community that Sujansky found particularly inspiring was in the Georgetown chapter of March for Our Lives (MFOL). He co-founded the Hilltop branch of the gun violence prevention advocacy group during his freshman year and has remained an active member since.
During his sophomore year, Sujansky collaborated with other members on what he now considers his most cherished Georgetown memory: planning a roundtable discussion on the impact of everyday gun violence.
The event, which took place in the Healey Family and Student Center, featured remarks by DC Mayor Muriel Bowser and Senator Chris Murphy (D-CT). Sujansky himself moderated a panel discussion bringing together important voices such as a DC-based youth activist and trauma surgeon from Baltimore.
"Hosting such interesting and high-profile guests reminded me why I came to study at Georgetown, in DC, in the first place," Sujansky explains. "While I was impressed with the university's ability to attract interesting speakers, I was even more delighted with the energy and diligence of the students who helped plan the event."
This dedication is typical of Georgetown students, Sujansky says. "I've spoken with students researching everything from international trade dispute settlement mechanisms to solar electrification projects in India," he shares. Despite having their own projects to work on, Sujansky recalls how many classmates would take the time to listen when he encountered challenges, offering their advice in an environment that the senior found intellectually rigorous but equally generous.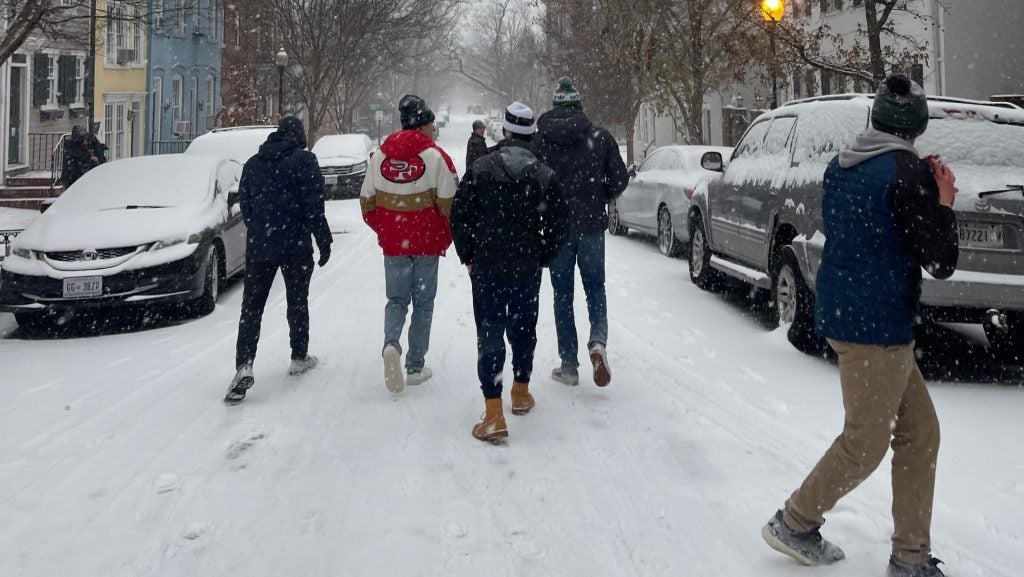 "I know that, ten years from now, I'll look back at my time in the SFS fondly. Over the past four years, I've found friends and experiences that will shape the trajectory of the rest of my life," Sujansky reflects. "I'm grateful for the support and opportunities that SFS and the Georgetown community have given me these past four years, and I'm excited to hear about what my incredible peers do next."