The academic year brings new opportunities and challenges for everyone, but for Professor Michael David-Fox, this fall semester is especially eventful. David-Fox begins his tenure as director of the Center for Eurasian, Russian and East European Studies (CERES) in what he describes as a "busy and exciting time."
As if taking the helm during a low point in U.S.-Russia relations, the deepening of illiberalism in Eastern Europe and the Taliban takeover of Afghanistan was not enough to keep him busy, David-Fox is also welcoming two graduate cohorts to campus for the very first time after 18 months of virtual learning due to COVID-19.
David-Fox credits an extensive network of engaged scholars and practitioners with helping him build momentum to meet this historic moment, and he looks forward to guiding CERES through a fascinating time for the region. "We study a very big chunk of the world that is crucial to understand at so many levels — not just politically and geopolitically, but historically and culturally," he says.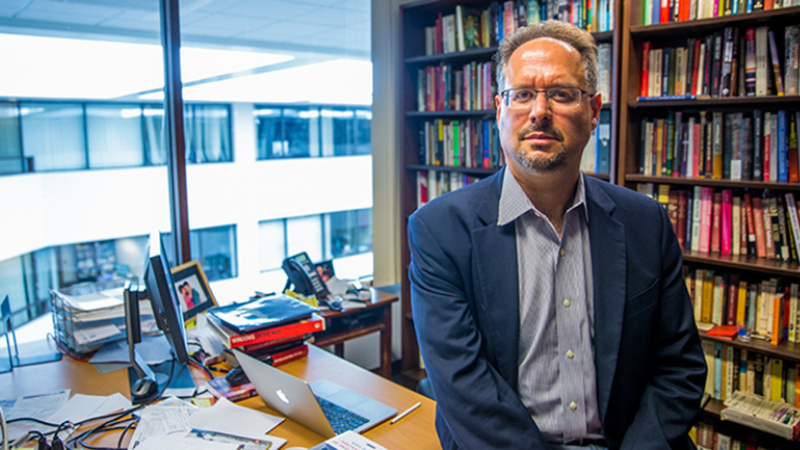 Synthesizing Regional Expertise
David-Fox has taught at the School of Foreign Service (SFS) since 2011, when he was hired for his wealth of knowledge and experience in central European, Russian and Eurasian studies. It's this regional expertise, he says, that he believes will be his biggest asset as CERES director.
"I can't even count the number of trips I've made [to the region] since I first went to Moscow and Prague as a student in the late 1980s," he says. "I'd guess 40 or more."
Over decades of studying and engaging with the region, David-Fox has cultivated relationships with major centers of Russian and East European studies around the world, particularly those in Berlin, Paris, Prague, St. Petersburg and Moscow. By drawing on these international connections, David-Fox plans to deepen CERES' relationships with scholars worldwide. "I'm now co-organizing a major international project comparing the 20th and 21st-century experiences of Russia/U.S.S.R. and China, which I expect will be important for our students and research profile," he says by way of example.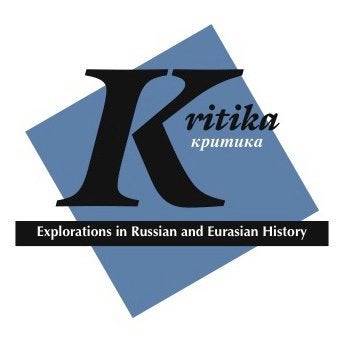 In addition to managing the center's programming and research endeavors, David-Fox is also responsible for mentoring graduate students in the Masters of Arts in Eurasian, Russian, and East European Studies (MAERES) program. Students in MAERES go on to pursue a range of careers in the public and private sectors, non-profit world and academia, but clear and insightful writing is an essential skill for all graduates.
Here, David-Fox anticipates that his experience co-founding and editing Kritika: Explorations in Russian and Eurasian History, a scholarly journal now based in CERES, will allow him to be a valuable resource for students seeking to hone their writing.
"My work as an editor has helped me advise many Georgetown graduate students as they prepared their first articles for publication, and this spring I expect it to inform how I teach the CERES capstone seminar for research projects," David-Fox says.
New Student (Re)orientation
At this early stage of his tenure as director, David-Fox is especially focused on supporting the two cohorts of graduate students arriving on Georgetown's campus for the first time, as well as the professors and faculty mentors who are easing their entry into the campus community.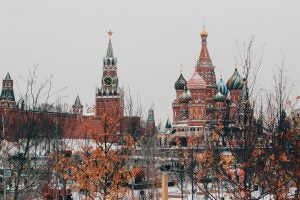 "The crown jewel of CERES is our M.A. program, one of the top programs of its kind in Russian and Eurasian studies," he says. "Along with a handful of other programs, Georgetown plays an outsized role in producing experts on Russia, the countries of the former U.S.S.R. and Eastern Europe."
Students who sought out this expertise and earned a spot in the Class of 2022 MAERES cohort had an unusual first year experience — due to the COVID-19 pandemic, all courses were taught online. However, David-Fox says, the obstacles posed by virtual learning did not stop students from striving to bond with their classmates and professors.
"The students who are now in second year really took the lead even while off campus in creating a cohort, and they have been supported by staff and faculty who really went the extra mile to keep up community-building even online," David-Fox says. He cites CERES trivia nights and book discussions as pandemic-era inventions that have carried over to this fall's in-person activities.
To build on the virtual efforts of the second-year cohort, David-Fox and his colleagues have organized a number of events to "reorient" returning students and faculty alongside the new Class of 2023 cohort. 
"We had 're-orientation' for our second-year M.A. students and have a reunion coming up for current students to meet those graduates who did not get an in-person graduation when the pandemic hit in Spring 2020," he says. "We have a retreat coming up at the end of September that aims to reconnect our more than 20 affiliated faculty members with the Center after 18 months off campus."
"I've Been Handed the Keys to a Luxury Car"
Though David-Fox officially took up the position of CERES director this past July, he's not a total newcomer to the role. When then-director Professor Angela Stent was on leave during the 2015-2016 academic year, David-Fox stepped in as interim director. "I know what I am getting into!" he says.
Now, as he succeeds Stent on a longer-term basis, David-Fox is grateful for this previous experience and for the work of prior generations of CERES faculty and staff.
"I have inherited many advantages from my predecessors, particularly in terms of our reputation in this region and far beyond, the enviable quality of our students and faculty and our embeddedness in the vibrant Russian/Eurasian studies community of experts in Washington," he says. "It's kind of like I've been handed the keys to a luxury car: in some ways the goal is simply not to scratch it up, not to mention dent or crash it."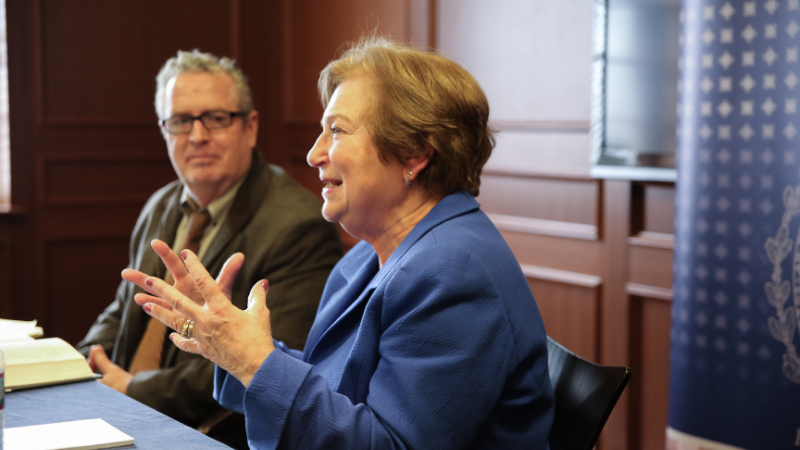 However, his entry into the role also offers a fresh perspective on how to enhance the center's strengths and maintain its position at the top of the East European, Russian and Eurasian studies field. "CERES is a hub for faculty in a range of humanities and social science departments, and as such its director brings together and promotes our field as an indispensable area of strength in both the SFS and the university," David-Fox explains. 
One of his biggest goals as director is to encourage more collaboration and information sharing among CERES faculty members who might approach similar themes through different disciplines. "One of the commonalities among our CERES faculty across the disciplines, including in political science, is that many of us bring consideration of long-term, historical trends to contemporary events. One of my projects, which CERES is particularly well positioned to pursue, is to foster a more intensive dialogue between historians and social scientists in our field," he says.
As CERES and other SFS programs and centers seek to resume hiring in the wake of economic disruption caused by the COVID-19 pandemic, David-Fox is eager to recruit more scholars to mentor future generations of regional experts and embrace the opportunities of a historic moment.
"We need to find the resources and imagination to maintain, cultivate and expand our faculty strengths and intensify our recruitment of the very best students for the years ahead. I guess I enjoy living in interesting times," he says. "What I look forward to is meeting these challenges."