When asked what he has valued most about his time at Georgetown University, Hojoon Kim (SFS'22) doesn't hesitate. "The many friends I have made along the way," he says. "I cannot overstate the importance my friends have had in my undergraduate experience, both inside and outside the classroom."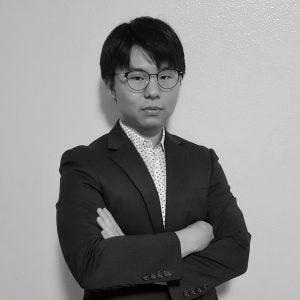 Like many in his graduating class, Kim's Hilltop experience has been anything but ordinary. A keen member of numerous student organizations on campus, Kim had to find other ways to fill his time when the COVID-19 pandemic put many extracurricular activities on hold. Undeterred, the International Economics major capitalized on virtual learning in his hometown of Los Angeles to complete a clerkship with Judge Craig J. Mitchell at the city's Superior Court.
As the graduating senior looks to build upon the experience by pursuing a law degree at Yale University, he knows that his Georgetown education, and his community of friends and mentors, will provide a solid foundation for the next step in his professional journey. 
"I hope to pursue a fulfilling legal career doing as much good as I can with my expertise," he says. "I am confident my SFS curriculum has prepared me to succeed."
Academic Exploration at SFS
After a high school class on the subject sparked his interest, Kim knew that he wanted to study economics as an undergraduate. Fulfilling the International Economics major at the Walsh School of Foreign Service (SFS), he explains, allowed him to balance quantitative methods with the social science and humanities components of the SFS core curriculum.
By sampling what each SFS program and area of study has to offer, Kim has been able to build relationships with a wide array of faculty members. "I truly appreciate the diverse range of professors and departments under whom I have taken classes. I can comfortably reach out to members of a number of departments at Georgetown — some of which are not at all directly related to my major," he says.
Among his favorite classes are those that challenged him to explore thorny problems in new ways. Adjunct Professor Keith Hrebenak's seminar on Military Institutions and National Power, for example, prompted him to delve deep into military and strategic thinking. "While the class was challenging for sure, it helped me understand how leaders make strategic, operational and tactical decisions, whether that be during war or elsewhere, such as in business or even in the courtroom."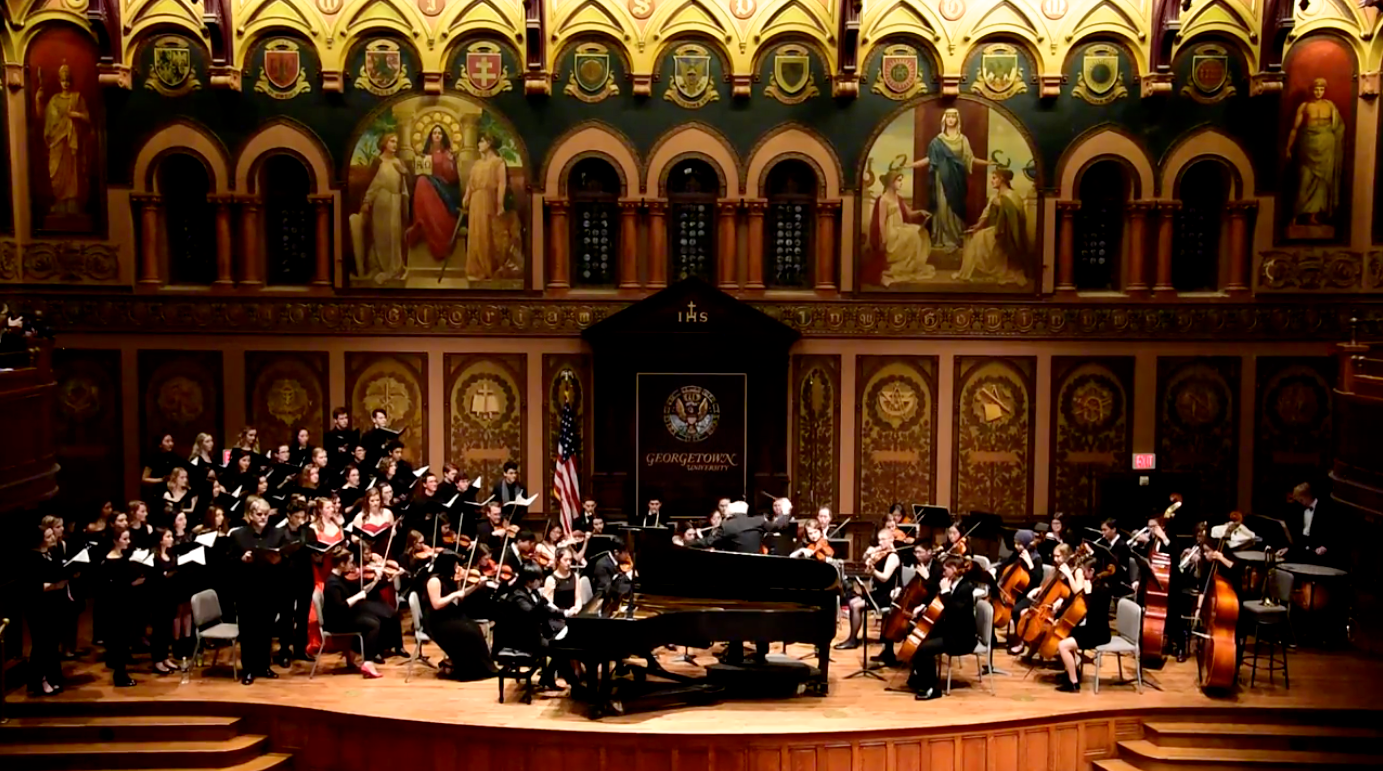 Kim also cites Assistant Professor Stephen Wilson's course on the religious concept of Hell as an especially impactful class. To fulfill their undergraduate requirements, every SFS student must take two theology courses, which Kim says creates the opportunity for unexpected interests and connections.
"Believe it or not, the class was called 'Hell,'" Kim recalls. "While I didn't have a particular fascination with Hell going in, I enjoyed the thorough and thought-provoking survey and left with a newfound appreciation for religious scholarship." 
What's more, the class enabled him to learn more about the perspectives and beliefs of his classmates. He says, "As an areligious student at a Jesuit university, the class encouraged me to meet other students from diverse religious backgrounds to discuss a rather tough subject within many religious traditions."
Opportunities like these, which focus on different frameworks for understanding the world, are what Kim says he will remember long after the details of specific classes have faded. "The instructors who taught me how to think and argue will forever be assets to my academic and professional development," he adds.
Building Club Communities
In addition to these inspiring professors, Kim says that his SFS experience has been meaningfully shaped by the peers he encountered in some of Georgetown's many student clubs. His involvement in the student-run Zeeba Investment Group, as well in the Georgetown International Relations Association and Model United Nations team, introduced him to a dynamic network of friends and professional connections.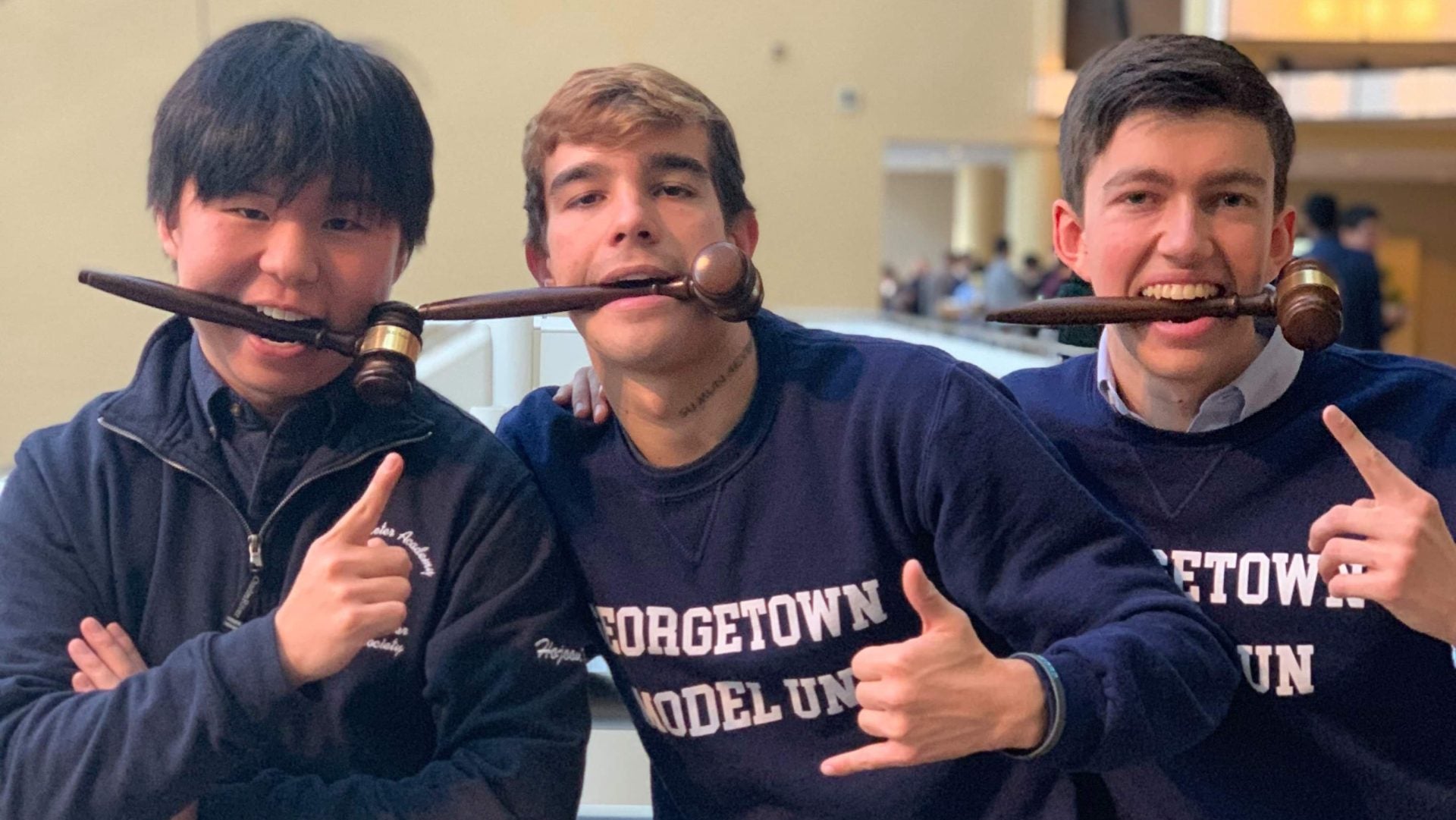 During his first and sophomore year, Kim traveled extensively with the Model UN team. These experiences, he says, gave him the chance to bond with students with similar interests and diverse perspectives. "Taking time to interact with as many people as possible, especially those from different backgrounds and interests than ourselves, is paramount to a cheerful and rewarding experience here," Kim explains.
The lively debates and discussions that unfold at Model UN — whether in the conferences themselves or the many hours of preparation they require — imparted valuable skills for Kim's future academic and professional endeavors.
Kim says that learning to engage with "the nuances of our world" and work through divergent opinions is one of the most important lessons he will take away from his time at SFS. "In my opinion, the ability to think and communicate one's thoughts is a necessary but learned skill that the SFS successfully endeavors to instill in its students," he says.
By taking on club leadership roles, Kim was able to share these same skills with new generations of Georgetown students. His favorite Hilltop memories, he shares, were "the several opportunities my peers and I had to welcome new members to our Zeeba team at the end of every semester."
"Trust The Journey"
In the spring of 2020, the onset of the COVID-19 pandemic upended many of the routines and plans SFS students had banked upon. 
With the pivot to online learning, Kim returned home to Los Angeles, California, where he adapted to taking East Coast classes on a West Coast schedule and took advantage of his newfound proximity to new career pathways. "The pandemic sent me home, but in many ways it allowed me to secure opportunities otherwise impossible during a normal college experience," he says.
"During the entirety of my junior year, I scheduled my coursework around an in-person clerkship at the Los Angeles Superior Court downtown," Kim explains. There, he clerked for Judge Mitchell covering felony cases and received a crash course in the legal world in which he will immerse himself next year as a first year at Yale Law School.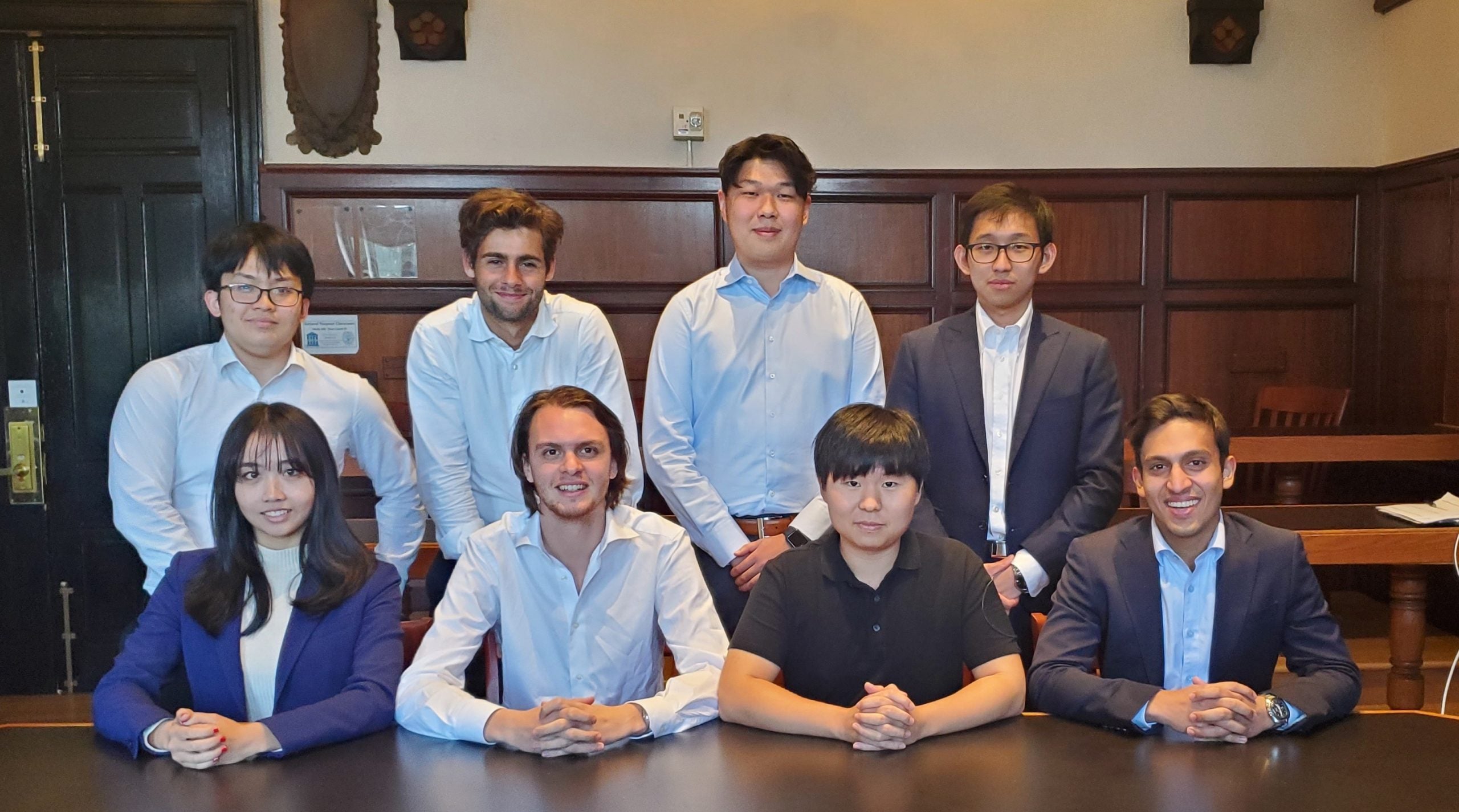 Kim also used his time away from campus to explore opportunities for graduate school. His impressive academic work and extracurricular successes caught the attention of the selection committee for the Rhodes Scholarship, which named him a finalist for the prestigious award. Kim was also selected as an alternate for the Marshall Scholarship for the Los Angeles district.
While virtual learning and distance from his friends undoubtedly presented challenges, Kim set out to make the most of the cards he had been dealt. "Looking back, while I was perhaps unable to fully reconcile with online learning, having a positive attitude helped me fulfill my desire to add tangible value to my community while learning more about a potential future legal career," he says.
Treating challenges as opportunities to learn, Kim adds, is an essential part of the growth mindset he encourages other SFS students to practice.
"Trust the journey. The college experience is a formative process, and challenges and disappointments along the way are best understood as lessons for the future than anything else."