This past August, the Walsh School of Foreign Service's (SFS) Future Global Leaders Fellowship successfully wrapped up its second year, with students from high schools in the DC area gathering to celebrate their completion of a week-long international relations program. Launched in 2021 by the Office of Diversity, Equity and Inclusion (DEI), the fellowship provides local high school students with a full scholarship to attend one of two programs: the International Relations Academy or Washington & the World Academy.
Led by Professor Anthony Clark Arend and managed by the School of Continuing Studies, each academy delivers a crash course in global affairs through a combination of lectures, small group discussions and activities. While the International Relations Academy focuses on the structure of the international system and key issue areas in the field, Washington & the World emphasizes how the nation's capital is engaging with the changing dynamics of foreign policy and diplomacy.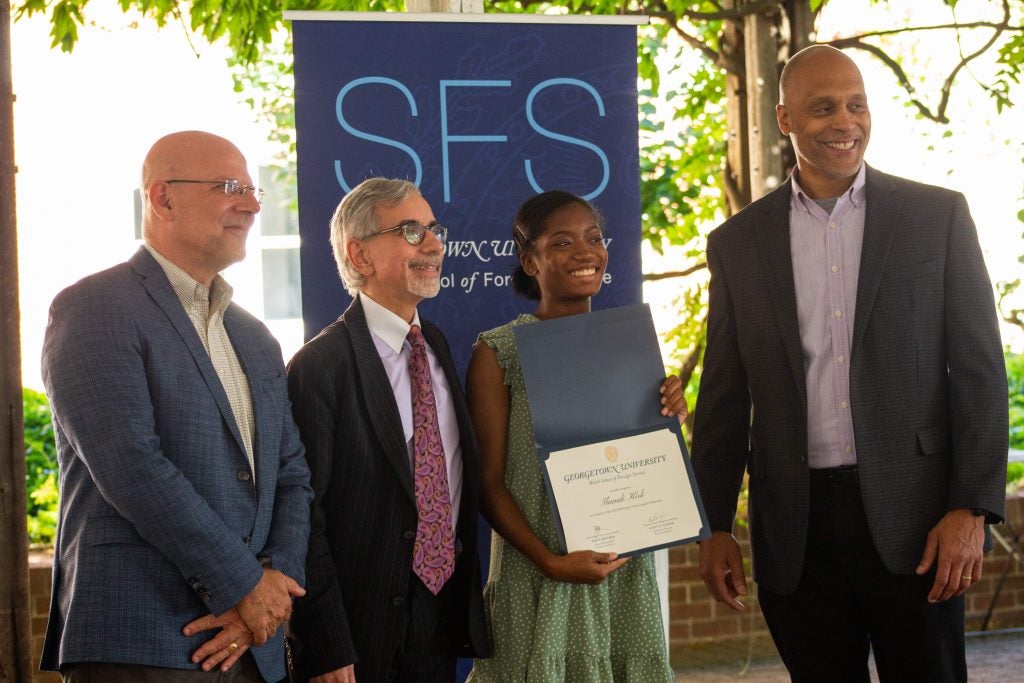 "When I was a high school student, I really didn't really know what the study and the practice of international relations meant," Arend shares. "One of the purposes of this program is to provide high school students a better understanding of the scope of international affairs — both what the substance of the field involves and what a practitioner does."
The Future Global Leaders Fellowship connects high schoolers from underrepresented communities to these opportunities, giving students a look into what it means to study international relations and pursue a career in global service. Engaging local youth also goes both ways — as students learn from SFS professors, they themselves contribute important perspectives to a historically Western-centric and white-dominated discipline.
"We know that the field of international affairs is enriched by greater diversity within the profession. We want the Future Global Leaders Fellowship program to excite people about international affairs as a field of study and as a potential career path," explains interim vice dean for Diversity, Equity and Inclusion, Carla Koppell.
Building Globally-Minded Citizens
Programming leverages Georgetown's position in Washington DC, including site visits to foreign embassies located just steps from campus and excursions to DC-based political institutions throughout the city.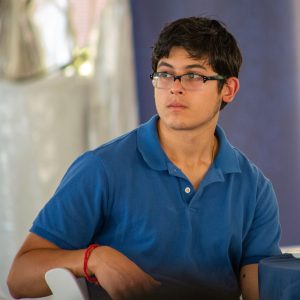 Rohan Bansal, a rising junior at the School Without Walls, says a trip to the U.S. District Court House was one of his most interesting experiences in the Washington & the World Academy. During the trip, students heard from the Honorable Zia Faruqui (COL'01, L'04), a U.S. Magistrate Judge with over twelve years of experience prosecuting cases that span everything from terrorists use of cryptocurrency to North Korean weapons proliferation.
"I had never been in a courthouse," says Bandal. "It was interesting to see a new perspective from a judge from a different background than one you usually see."
Just as important as what the program offers students, however, is what students offer to each other: community and cross-cultural connections. Participants come from all over the United States and the world, bringing unique backgrounds to new friendships.
"My favorite thing about this program definitely had to be the people," remarks Joshua Kiprono, a rising junior at Jackson-Reed High School. The Future Global Leaders Fellow himself speaks three languages (English, Spanish and French), and says meeting and conversing with other students about their cultures and experiences helped expand his worldview.
Hearing from Practitioners in the Field
Another programming highlight includes the opportunity to hear from guest speakers with special expertise in different issue areas. Ambassador Mark P. Lagon, for example, visited both Academies to discuss the ways global health policy plays a crucial role in civil society, advocacy and foreign policy.
In a session focusing on how social media is challenging the international system, students also got to hear from a unique professional and alumni perspective. A former International Relations Academy student coordinator and teaching assistant himself, Anupam Chakravarty (SFS'10, MA'14) discussed how communications work intersects with everything from public policy to security to psychology.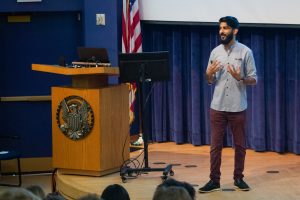 "I'm a practitioner," Chakravarty conveyed. "I'm very much in the weeds, working with code, working with people who have problems with technology and trying to tell really vibrant stories in a difficult time."
A double Hoya, Chakravarty also shared his love for Georgetown. "I was a student here, I work here, I met my wife here…I go to every basketball game even when we're terrible," he confessed, smiling. "I am out there because I love Georgetown so much, and so I am really glad we get to have you all here this summer."
Firsthand exposure to diplomats, practitioners and SFS professors "cannot be matched," describes a Future Global Leaders parent, Rajeev Bansal. "When we both attended his online introduction session to the academy, I was like, 'Rohan, I want to be in that classroom listening to Professor Arend," Bansal laughs.
Bansal adds, "[This will] catapult him into thinking about what he wants to do in his undergraduate experience. Whether it's here at Georgetown or at another institution, I'm excited about that."
Looking to the Future
As the 2022 cohort looks to the future, this summer's experiences shapes their academic and career goals. With a glimpse into life at SFS and on the Hilltop, fellows have gained a better idea of what lies ahead. Maya McLaughlin, a rising sophomore at Jackson-Reed High School, says participating in the International Relations Academy "gave me a look into what college life can be and also what I might want to do in college."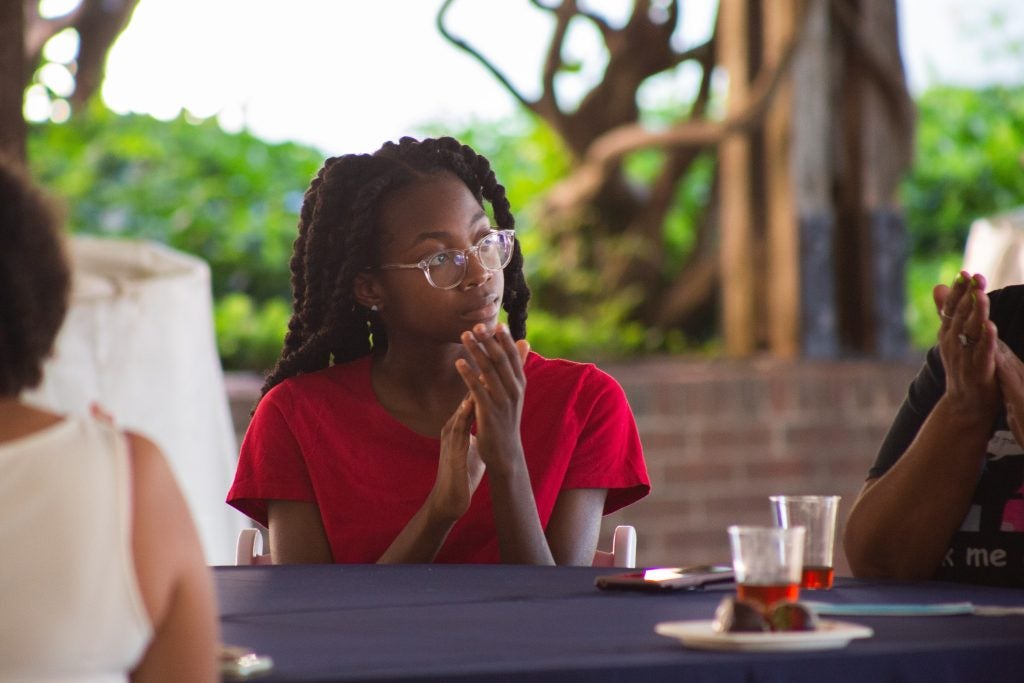 Program leadership also remains attentive to the changing nature of international relations itself, amplifying the imperative of harnessing diverse perspectives to effectively confront new and evolving challenges. "The High School Program for International Relations was first offered in 1987 — in the midst of the Cold War. So much has happened since then — there have been tectonic shifts in the global order," acknowledges Arend.
"Over the years, the International Relations Program has morphed so many times to account for new global actors, new technologies, new structures, and new issues," Arend continues. "While the Washington and the World Program is newer, it too has had to constantly adapt to new developments in both American politics and global events. Both programs have also continuously sought to incorporate diverse voices and fresh perspectives."
Koppell affirms these views with an eye towards the fellowship's broader trajectory. "We very much hope that the FGL program continues long into the future, introducing ever more young people to work globally. Further, we very much hope some of these young scholars consider SFS for college; our community and the professional field of international affairs are enhanced when there is greater diversity of voices and perspectives," she expresses.