Flynn Coleman (SFS '03) is many things: international human rights lawyer, professor, public speaker, activist, and entrepreneur. On Thursday, October 3, she returned to Georgetown as a published author and spoke in McGhee Library about her new book, A Human Algorithm: How Artificial Technology is Redefining Who We Are.
A Human Algorithm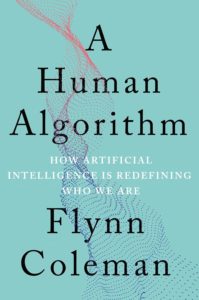 In an event co-hosted by Justice and Peace Studies and the Center for Social Justice, Coleman described the ways that artificial intelligence (AI) challenges conventional ideas about human rights and autonomy. 
She advocated for ethically-designed AI, citing potential dangers of facial recognition technology, algorithmic search engines, and autonomous weaponry. "There's an urgent need to instill our future and our technology with our highest values."
Coleman also explained how AI could be leveraged to further humanitarian efforts. "I can envision a future where we might be able to use technology for creative and beneficial ways, to protect lives, and to protect rights," she said.
Because AI is redefining so many sectors—auto, aviation, climate, and agriculture among others—interdisciplinary collaboration is imperative to ensuring its responsible development. Coleman warned against letting any single industry or company make all the decisions. "Anyone that says they have all the answers is your first red flag."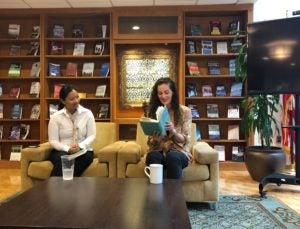 Above all, she emphasized the need for a more human-centered approach to AI. "A lot of this has to do with technology, but it really has to do with what it means to be human."
From Hoya to Human Rights Attorney
Coleman was excited to return to Georgetown, where she majored in Culture and Politics and earned a certificate in Justice and Peace Studies. "This incredibly special for me," she said. "It really is a homecoming."
After graduation, Coleman earned her J.D. from UC Berkeley School of Law and LL.M. from the London School of Economics. She has also studied at universities around the world, including La Sorbonne, the University of Cambridge, and La Universidad de Chile.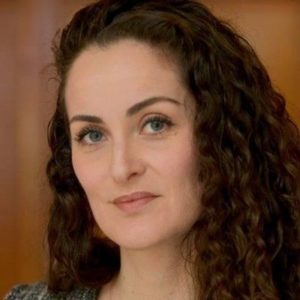 "I have long been interested in the intersection of technology and human rights," said Coleman. This interest has involved her with the United Nations, U.S. government and a range of international corporations, universities, and human rights organizations.
She credits her freshman Problem of God class for her varied interests and passion for investigating moral issues. "That is an essential interdisciplinary course, and it was incredibly radical at the time," Coleman said. "It has really been groundbreaking."
Coleman encouraged students in the audience to seek out answers to questions they posed in the discussion. "We need more people in the room thinking about this."
A Human Algorithm: How Artificial Technology is Redefining Who We Are is available now through Counterpoint Press.