Eosin Chelius (SFS'22) found his way into the International History major almost by chance. "As far as I can remember, I did not actually know international history was a major until the summer before my sophomore year," he admits.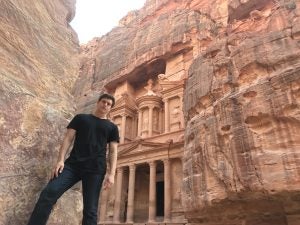 Chelius was in high school when he first discovered the academic passions that would lead him to SFS. "I became interested in Middle Eastern politics. I have also always liked history," Chelius explains. "Despite that, when I began classes at Georgetown, I thought I was going to be an international politics major like everyone else."
International History may be one of the smaller SFS majors, but Chelius believes its courses are some of the best SFS has to offer. "The classes I took to fulfill my major and minor degree requirements were the most intellectually rewarding at Georgetown," he affirms. "Georgetown has an amazing history department, and I would retake all of my major classes again if I could."
Chelius graduated early in December 2021, and was recently commissioned as a Second Lieutenant in the United State Marine Corps. Yet, despite embarking on this exciting new chapter in his career, Chelius can't help but feel a little nostalgia for his time on the Hilltop. "I already miss the classes I was taking," he says.
An Immersive Experience
Chelius arrived at Georgetown from his home state of Hawaiʻi in August 2018, and immediately enrolled in Professor Jonathan Brown's Proseminar, Islam and the West. A hallmark of the SFS experience, Proseminars are small interdisciplinary classes designed to introduce students to the study of international affairs in a collaborative setting.
Chelius didn't know it then, but the class would be an excellent foundation for work he would later conduct for his concentration in Middle Eastern history. "I learned a lot from Professor Brown," he says. "Like most Proseminars, Islam and the West involved a lot of reading and analysis, but it was good preparation for my subsequent coursework."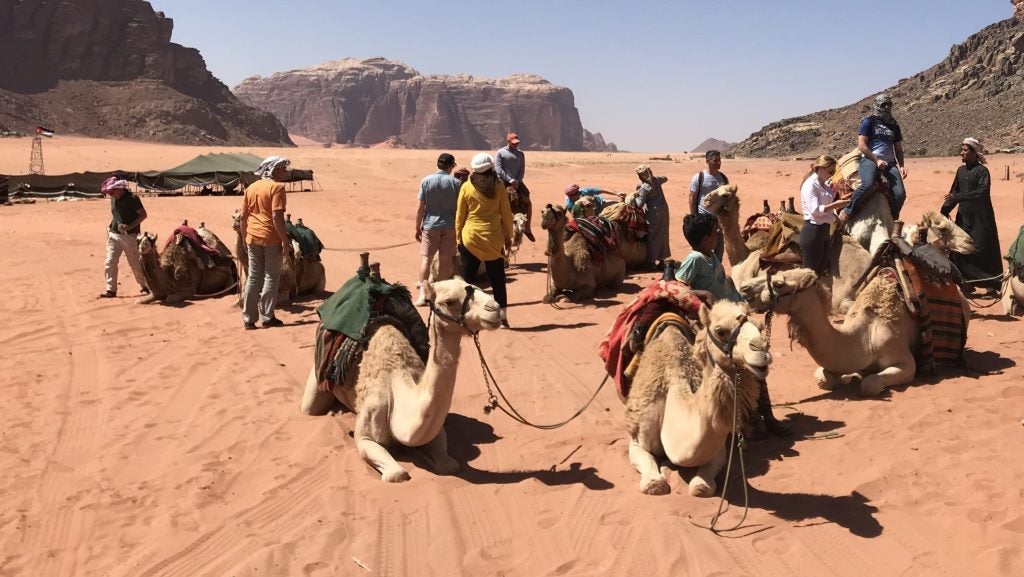 After this first introduction, Chelius was soon taking every opportunity he could to pursue his interest in the history and politics of the Middle East. Working toward an Arabic minor, Chelius spent eight weeks in Jordan in the summer of 2019 as part of an intensive Arabic language program hosted by Georgetown. Not only did he and his classmates earn a semester's worth of language credits during the immersive experience, but they were able to visit major historical and geographical sites around the country, including Petra and the Dead Sea. 
"My most favorite Georgetown memories involved the study abroad opportunity in Jordan, and the time spent with my host family there. This experience was, without a doubt, the best time I had while enrolled at Georgetown," Chelius shares. "I am very fortunate I had that opportunity and I would recommend it to anyone who is willing to put a little work into their Arabic speaking skills."
Research Opportunities
Learning the language through Georgetown's famously rigorous Arabic curriculum was not always easy, but Chelius describes the classes as some of the most gratifying parts of his SFS experience. "Learning Arabic is certainly a commitment, and it is not for everyone, but I had a great time," he says.
His Arabic skills proved rewarding outside of the classroom, too. In the fall of his sophomore year, Chelius was accepted to the Bachelors in Foreign Service (BSFS) Scholars Program, a competitive SFS undergraduate research initiative that pairs undergraduate students with faculty mentors to work on collaborative research projects. He worked as a research assistant in SFS's Center for Contemporary Arab Studies (CCAS), under the supervision of then CCAS Director Dr. Rochelle Davis.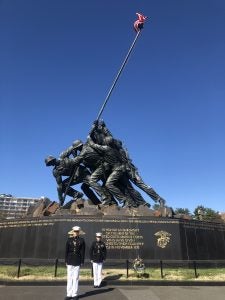 To support Davis's research into Western perceptions and attitudes towards the Middle East, Chelius read and took notes on dozens of books, including war memoirs, biographies and public policy surveys. He also worked with Davis to help develop a grant-funded website of educational resources on Islamic Spain. 
The support of faculty mentors such as Davis had a profound impact on Chelius. "I cannot understate the importance of having connections and knowing people who feel invested in your success," Chelius stresses. 
Davis assigned Chelius research projects which helped him hone his interests, while International History Curricular Dean Anthony Pirrotti was a significant source of support when Chelius sought out advice on how to navigate his career after graduation. 
"I feel grateful to have had access to the many excellent faculty and staff members at Georgetown," says Chelius. "They hold a wealth of resources that are helpful for many different aspects of career guidance, and it is very important to take full advantage of those opportunities."
A Future in Service
Since graduating in December, Chelius has had ample opportunity to reflect on that career guidance. After attending Marine Officer Candidates School in the summer of 2021 — which he jokingly refers to as "a really long job interview" — he joined the force in March. 
He will serve in the Marines for at least the next four years. "I do not yet have a plan for what I will do after I leave the Marine Corps. That point is so far in the future that I know my ideas about my career aspirations will certainly change, likely many times," says Chelius. 
What he does know is that his SFS education — and the new ideas, experiences and people he encountered at Georgetown — will stand him in good stead, whenever he is ready to make his next career move. 
"I have fond memories of Georgetown, and I expect my attitude to remain the same in the future," he says. "Attending Georgetown expanded my perceptions of what my (or anyone else's) future career could be."