Category:

Graduate Profiles, News
Title:

Elinor Walker (SFS'20) on Pursuing Her Passions and Finding Opportunity at Georgetown
Date Published:
May 14, 2020
Elinor Walker (SFS'20) grew up at the intersection of various nationalities and cultures. "I was born in Tokyo to a Japanese mother and an English father but was raised in Singapore," she explains. "I lived in Singapore for 15 years and attended United World College of South East Asia (Dover) before coming to Georgetown."
A passion for international affairs led her to the Hilltop and, when it came time to declare her major, Walker had an easy choice. 
"I chose Georgetown for the International Political Economy major, so I had no doubts when it came to declaring IPEC," she says. "I believe that social sciences are best approached through a combination of multiple complementary disciplines, including politics, economics and international relations."
Her confidence that an IPEC major would provide her with a multitude of opportunities has been rewarded. During her time at Georgetown, Walker has taught in Japan, interned in New York City and studied abroad at the University of Oxford in the UK. 
The international student had secured a job with Morgan Stanley's Commodities Desk. Changes to immigration and travel rules in the wake of COVID-19, however, have thrown unexpected obstacles in the path of her post-graduation plans. 
While she is facing an anxious few months as she awaits a resolution to these issues, Walker is finding comfort in the prospect of one day returning to the Hilltop as a proud member of the Georgetown alumni community.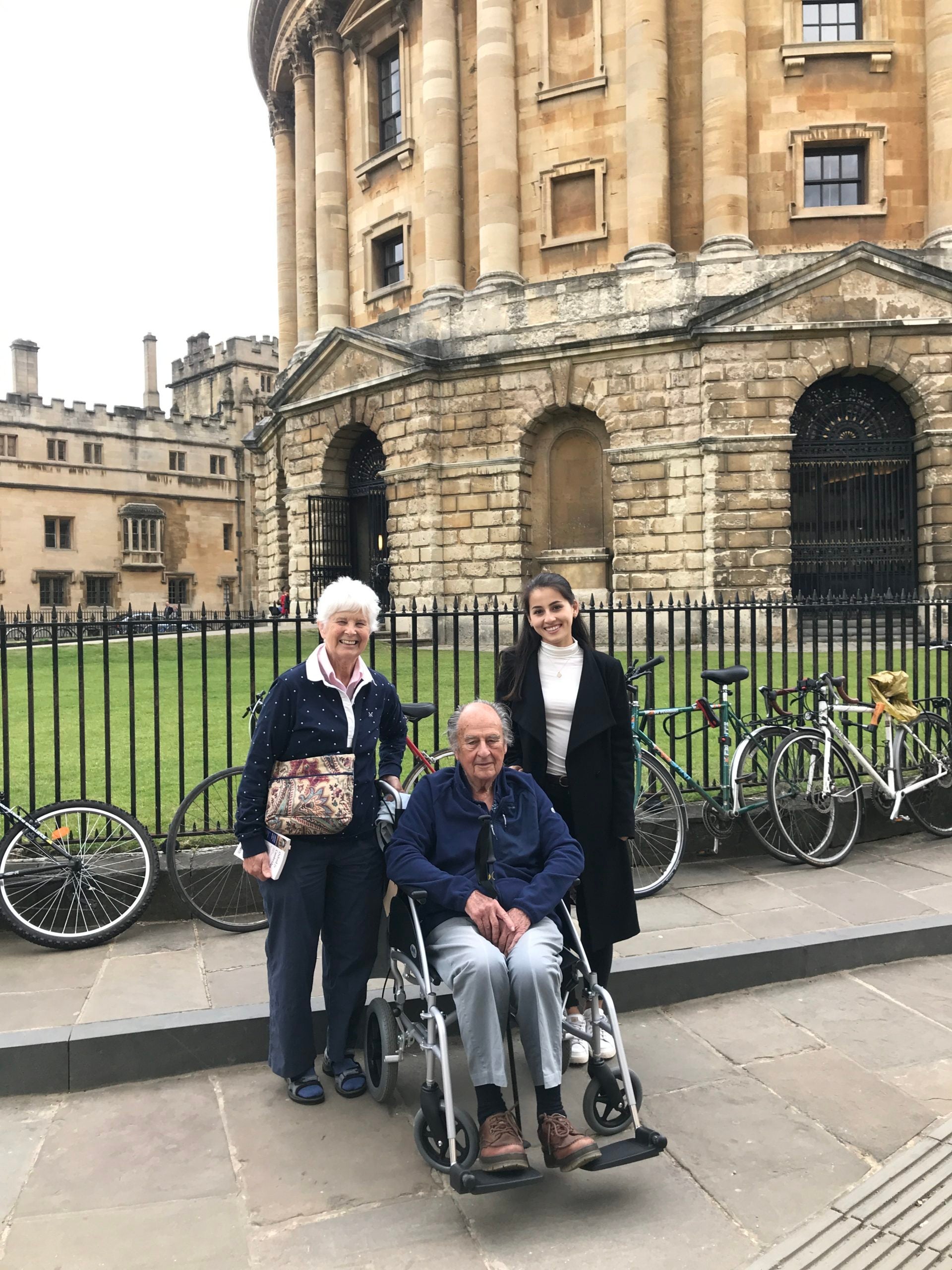 At A Glance
Hometown: Born in Tokyo, raised in Singapore
Major: International Political Economy
Proseminar: War with Professor Daniel Byman
Abroad Experiences: Visiting student at St. Catherine's College, Oxford University (Philosophy, Politics and Economics program)
Language: Japanese
On-Campus Activities: Carroll Round Committee; President, Georgetown Fintech; Editorial Cartoonist for The Hoya; Teaching Assistant for Forest Ecology; Research Intern under Professor Edward Barrows; Georgetown Renewable Energy and Environmental Network Club (GREEN); Georgetown Collegiate Investors (GCI); Arrupe Residence Hall Office (RHO)
Non-GU Activities: Worked as a bartender and waitress in UK; taught English, math, and physics in Japan; conducted research as part of Oxford Alpha Fund in the UK; Intern, Morgan Stanley's Fixed Income Division in New York City
A Georgetown Support Network
One person has had a particular impact on Walker's Georgetown career: Mitch Kaneda, Director of the SFS Undergraduate Program and Curricular Dean for IPEC majors.
"I could not wait to declare International Political Economy and have Dean Kaneda as my Dean!" she says.
Walker first spoke with Kaneda over the phone, before she even arrived on campus. "A few days after receiving my offer letter from Georgetown, Dean Kaneda reached out to call and congratulate me," she explains. 
"From the day I arrived on the Hilltop, he has gone above and beyond to make my classmates and I feel comfortable and supported in our new community," she continues.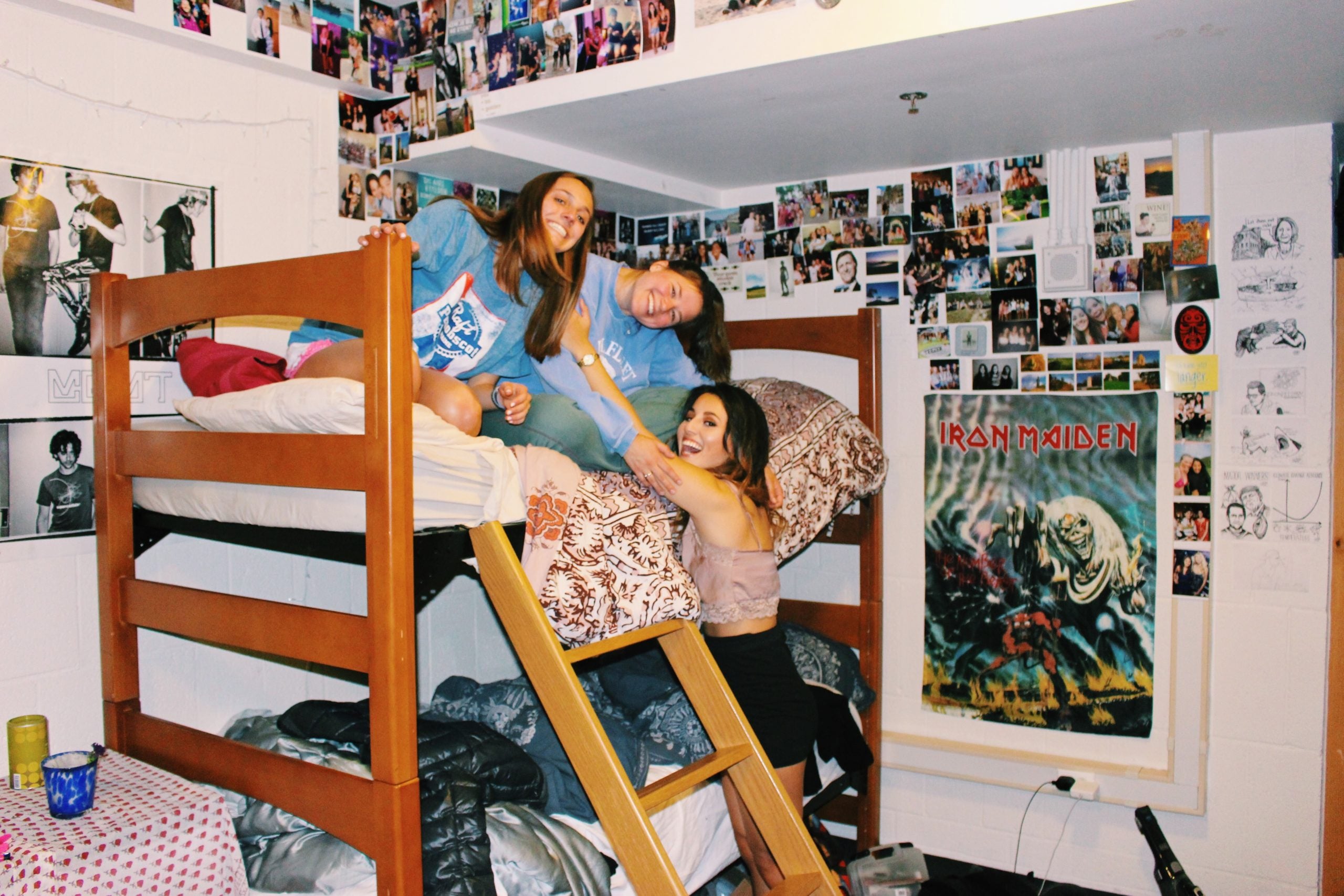 When Walker got sick during her sophomore year, Kaneda became a steady source of support. "He regularly checked in on me and even offered to take me to the ER himself," she says. "I believe it is faculty members like Dean Kaneda who encapsulate the caring and giving 'cura personalis' spirit of Georgetown."
Walker says that she encountered helpful and supportive faculty and staff across campus. "I was surprised by how friendly and inviting faculty members were," she says. "Even outside office hours, professors and teaching assistants went out of their way to meet with me." 
"During my four years here, I have probably spoken with as many professors with whom I have not taken a class as those with whom I have!" she adds.
Exploring Her Passions
In addition to the guidance and mentorship Walker received on campus, she was also able to tap into a network of leading practitioners based in Washington, D.C.
In the spring of her freshman year, Walker signed up for Trump's Foreign Policy, a one-credit class led by Dean Daniel Byman which was set up directly following the election of Donal Trump. 
"Every session, Dean Byman brought in prominent policymakers from various fields, including immigration, terrorism and foreign policy," Walker says. "This class truly showcased SFS's agility to provide Georgetown students with the most up-to-date learning experiences and ability to leverage its invaluable network made possible by its prime location."
Walker also found opportunities to pursue her interests outside of the classroom. "I have been so fortunate to be part of the Carroll Round Committee since freshman year," she explains.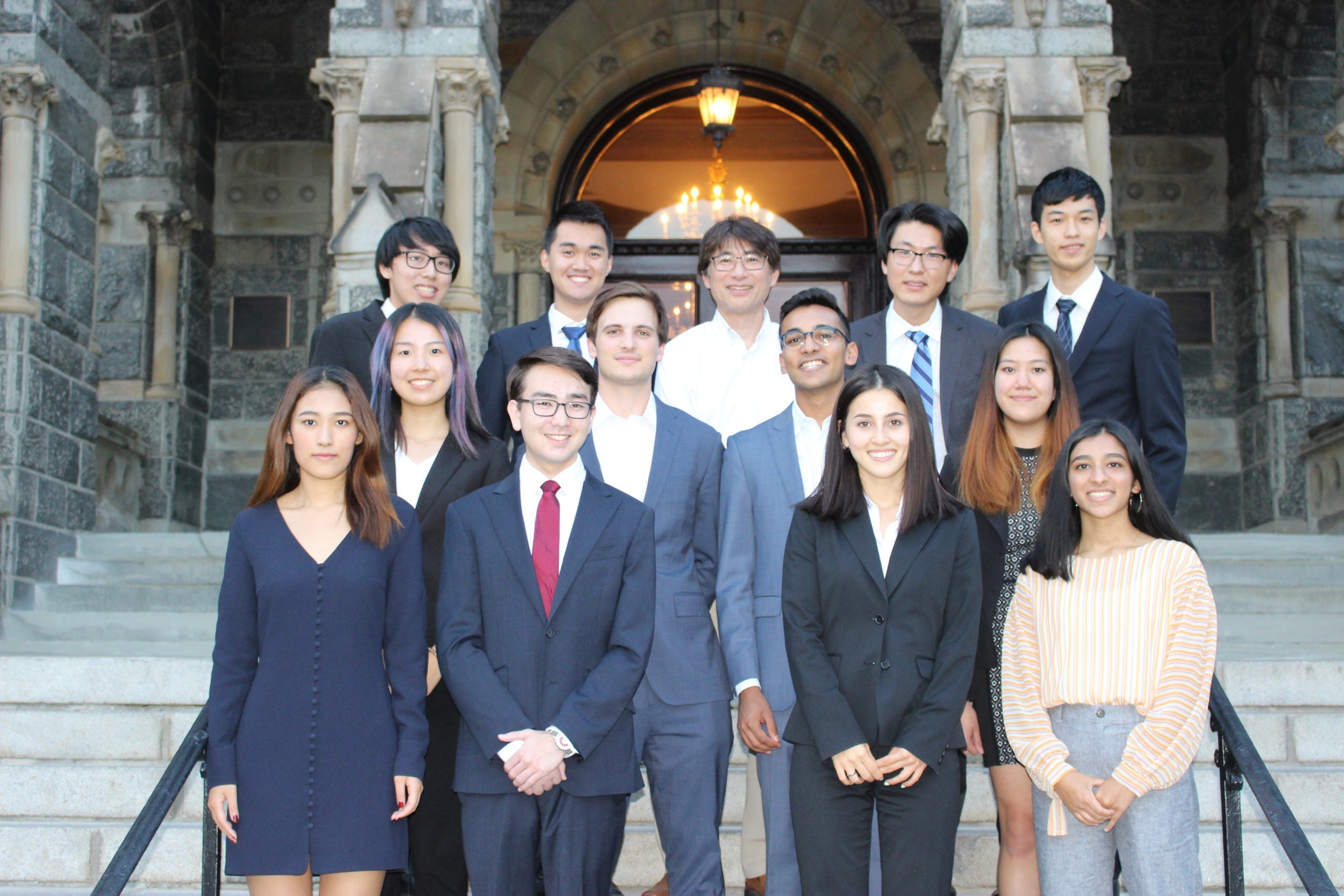 The Carroll Round hosts an annual international economics conference at Georgetown, where top international economics undergraduate students can share their ideas with students, faculty and practitioners from Washington, D.C., and around the world.
"I met some of my closest friends through the Carroll Round," Walker says. "I even flew to D.C. all the way from the UK in my junior year to attend that year's Carroll Conference."
Despite the cancellation of this year's Carroll Round due to COVID-19, Walker says she is certain she will be back to attend the conference in the future. "Whenever possible, I aim to attend all future Carroll Round Conferences, where I can catch up with alumni and faculty and meet the new class of undergraduate economists," she says.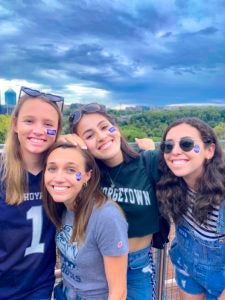 Throughout her time at Georgetown, Walker has valued the experiences she has had to engage with like-minded peers. In her senior year, she became president of Georgetown FinTech, a student group dedicated to fostering an on-campus community passionate about startups, venture capital and organizations leveraging technology to transform the financial services industry.
Walker restructured the club to facilitate rigorous undergraduate research and emphasized the importance of female empowerment in STEM. Alongside three other female students in FinTech, Walker was a panelist at the annual Women in Payments conference in February of this year.
Walker also found time to give back to her local community. "I used to volunteer for Rock Creek Conservancy through the Georgetown Renewable Energy and Environmental Network Club," she says. "On Saturdays, we would drive down to Shepherd Parkway in South East D.C. to clear trash and invasive species out of the woods." 
"Although it was hard work, finding cool junk was always fun. I even found a few abandoned dolls, which gave me a right scare!" she adds.
Looking to the Future Post-COVID-19
Along with the rest of the Georgetown community, this past semester has been a very different experience for Walker. With the closure of campus due to COVID-19 restrictions, she has missed out on some of her favorite Georgetown activities, including getting together with friends at The Tombs or enjoying the beautiful scenery surrounding Washington, D.C.
Working as a teaching assistant in Professor Edward Barrows' Forest Ecology provided Walker with plenty of opportunities to explore the natural world, as the class involved field trips in the outdoors.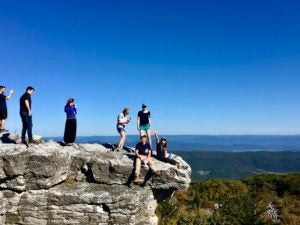 "One of my favorite Georgetown memories is exploring the beautiful national parks of West Virginia as a teaching assistant for Forest Ecology with Professor Barrows," she says.
"I will also miss walking home from the hilltop, feeling satisfied by my day packed with classes and club meetings," she continues. 
After graduation, Walker is planning to join Morgan Stanley's Commodities Desk in New York City. However, this next move has been thrown into uncertainty by the COVID-19 pandemic. 
"I am currently in an extremely unstable position as an international student in the U.S.," she explains. 
Due to issues relating to visa requirements and public health restrictions, the senior is unable to reunite with family abroad or leave the United States. And she is also worried about how the pandemic will affect the work visa she will require to take up her position with Morgan Stanley. 
Walker, therefore, speaks with personal experience when she discusses how the pandemic is impacting international relations and the people and communities who are affected by governments' responses to the public health crisis.
"COVID-19 has brought to light, albeit in an unforgiving way, the extent of global integration," she says. "I hope that world leaders do not take advantage of this moment of need for international cooperation, which will surely aid a more sustainable recovery, as an opportunity to rally domestic support through exclusive nationalism."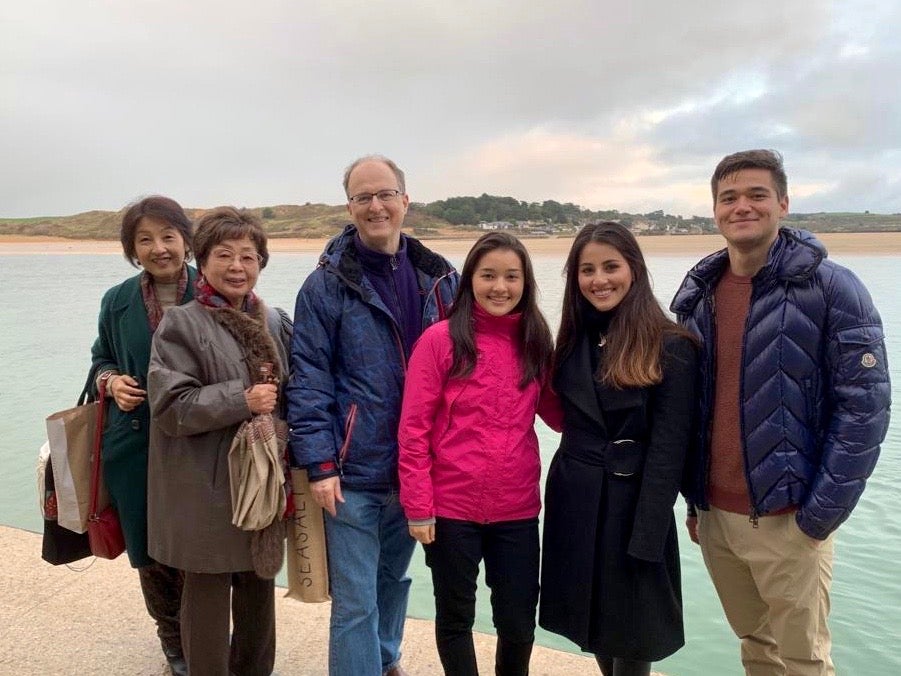 Walker would one day like to contribute to the international cooperation she believes is so vital to successfully overcoming the pandemic. "Eventually," she says, "I would love to work for the World Bank or the IMF, like many of my SFS professors!"
In the meantime, she is taking stock of her Georgetown experience and finding comfort in the values and convictions she developed while at SFS. 
"In times of world crises, such as the COVID-19 pandemic, students graduating from non-U.S. centric, globally focused degree programs, like that of the SFS, give me hope," she affirms.