On Tuesday, June 22, 2021, the Walsh School of Foreign Service (SFS) celebrated a return to in-person events by hosting alumnus and U.S. Senator Jon Ossoff (SFS'09, D-GA) for a conversation about how his Georgetown experience informs his career in public service. 
The event marked the first time SFS had welcomed a guest speaker to campus for an in-person event since the pandemic began. 
The conversation took place in Georgetown's Red Square, and was moderated by SFS Professor and Chair of the Government Department Anthony Clark Arend. SFS Dean Joel Hellman and Youmna Al-Madani (SFS'24), a student hailing from Georgia, gave introductory remarks.
The in-person audience was made up of students in the Class of 2024 who are participating in Georgetown's Summer Hilltop Immersion Program (SHIP). Other students were able to tune in to the event via livestream.
The discussion covered a range of topics, from the implications of Ossoff's historic Senate win in January to the urgency of nuclear disarmament and climate change. 
Arend probed Ossoff about the international issues he works on as a member of Congress. Ossoff discussed the pivotal role he played in mediating a trade dispute between South Korean companies SK and LG that threatened to torpedo a project to build factories in Commerce, GA that would supply batteries for electric vehicles. Not only did the resulting deal save thousands of jobs but, Ossoff says, helped to advance the global clean energy and car electrification agenda. 
As a Georgetown student, Ossoff interned on Capitol Hill and later served as a national security aide in Congress before pursuing a career in investigative journalism. Arend asked him how he has drawn upon his SFS education throughout his career. 
"Training in diplomacy, international relations and government is going to be helpful in any career you might pursue," Ossoff replied. "You really get a well-rounded education in the School of Foreign Service."
Referring to his unconventional path to office, Ossoff urged students to take time during their college and early-career years to explore what inspires them, rather than take positions that are appealing mostly for their potential to advance one's career. 
"My humble advice is to do what you love, what you're passionate about," he said. "That will give you the sense of meaning that we all crave. You will do your best work when you care about what you are doing."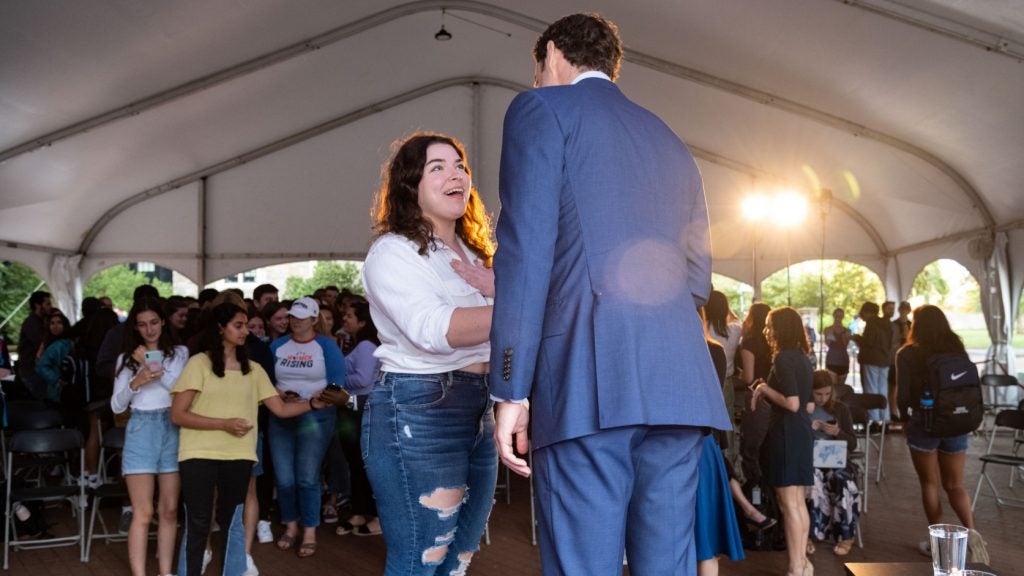 Students followed up the conversation with some of their own questions for Ossoff. Nirvana Khan (SFS'24) asked the senator about the perspectives and experiences he believes her generation can contribute to government service and international affairs.
"There are huge issues of international affairs that are not on the agenda right now that need to be," Ossoff said, listing nuclear proliferation and the critical role of the United Nations as examples. "I would urge our generation to focus on keeping that on the agenda."
Georgia resident River Harper (SFS'24) asked Ossoff how he balances such high-level concerns with his constituents' local priorities. "Oftentimes there's a line in the intersection," Ossoff said, citing climate change and democratic backsliding as examples.
A number of Ossoff's constituents work in the largest solar manufacturing plant in the hemisphere, he said, demonstrating how the "global stakes, national stakes" of climate change and clean energy converge with Georgia's economic future.
After the event, Ossoff stayed on campus to meet and take photographs with students in the audience. Bouncing between guest speaker events with friends and classmates is just one aspect of Ossoff's SFS experience that he remembers fondly, and he encouraged new students to make the most of their time at Georgetown. 
"Savor every moment you have on this campus," he stressed. "Live in the moment, be present, make the most of the fact that you're a student of this incredible university."