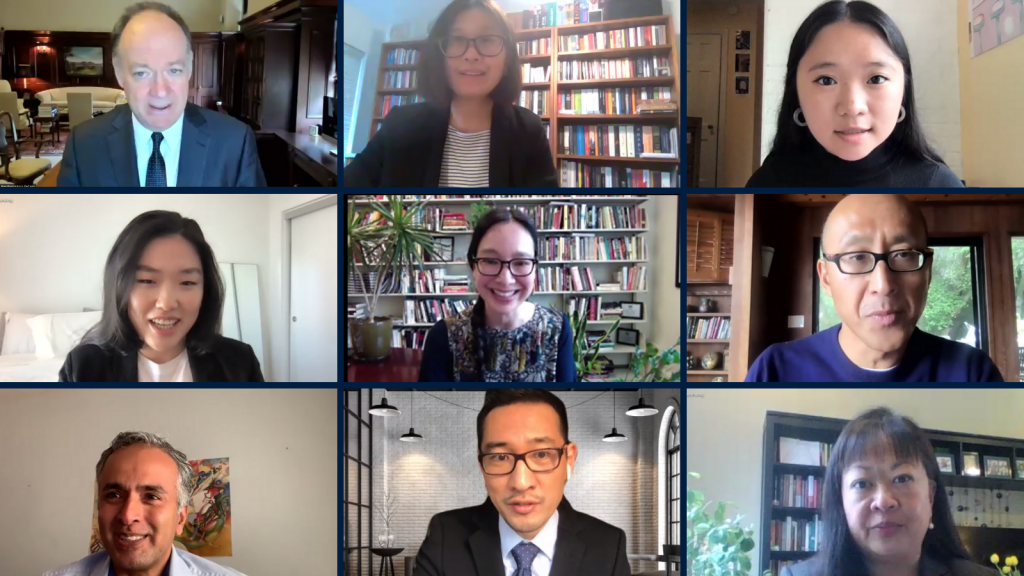 In an April 16 event, Georgetown University's Asian Studies Program (ASP) hosted a virtual panel discussion to address the recent surge in anti-Asian harassment and violence during the COVID-19 pandemic. The panel aimed to raise awareness of Asian American histories and narratives and provide pragmatic steps for addressing anti-Asian racism and harassment and supporting Georgetown's Asian American and Pacific Islander (AAPI) community.
The panel was co-hosted by the School of Foreign Service (SFS), the Office of the Vice President for Global Engagement, the Office of Institutional Diversity, Equity and Affirmative Action and the Georgetown Medical School Office of Diversity, Equity and Inclusion. The discussion was co-moderated by ASP Associate Professor Yuhki Tajima and Associate Professor of Art and Art History Michelle Wang.
Georgetown University President John J. DeGioia offered opening remarks for the discussion, holding a moment of silence for the victims of last month's shooting in Atlanta, most of whom were women of Asian descent. "This gathering today is vital in addressing the pain and harm that comes from these horrible experiences," he said, promising a continued university commitment to building an inclusive and welcoming community.
Wang introduced the event's student panelists, Jenny Xu (COL'21) and Agnes Lee (SFS'17, L'22), to share their experiences as AAPI women at Georgetown. Xu, the inaugural chair of the D.C. College Democrats AAPI Caucus, described how her pride in being Asian American is accompanied by "the simultaneous contradiction of being perceived as a model minority and a threat to the American way of life."
Lee discussed similar experiences of being singled out for her racial identity in academic spaces. She mentioned feeling the glances of non-AAPI classmates when anti-Asian Supreme Court cases, such as People v. Hall or Korematsu v. United States, came up in coursework or class discussions.
Now editor-in-chief of the Georgetown Law Journal, Lee is believed to be the first openly undocumented student elected editor-in-chief of a flagship journal at a top U.S. law school. She thanked the tight-knit community of AAPI classmates and mentors who have supported her in her academic journey, including law professor Eun Hee Han, who was her first professor of Korean descent and the first to ever pronounce her full name correctly. "In law school, there are only a handful of AAPI professors who carry the enormous weight of being the few," Lee said.
The conversation then turned to remarks from the other panelists. Princeton history professor Beth Lew-Williams contextualized the discussion with a historical overview of anti-Asian racism in the U.S. She drew connections between early 20th century naturalization laws and immigration quotas and the recent increase in incidents of anti-Asian discrimination. "The violence we're seeing today is closely linked to Asian Americans being viewed as perpetual outsiders" in American society, Lew-Williams said.
For Karthick Ramakrishnan, professor of public policy and political science at University of California, Riverside, understanding today's violence against Asian Americans and Pacific Islanders requires reliable data. He discussed how important it is to collect and analyze data on hate incidents, especially since existing national data sets tend to minimize the experiences of AAPI communities.
A study Ramakrishnan conducted last month with SurveyMonkey found that one in eight AAPI adults has experienced one or more hate incidents. "If you do the math, that's upwards of 2 million Asian Americans who have experienced this," he said. "We need to do a better job of understanding the issue and knowing how to take corrective action."
University of Pennsylvania Professor David Eng expanded on the importance of representation in higher education in his remarks. While AAPI students can make up as much as 25 percent of the student population at universities like Penn and Georgetown, few professors and counselors have similar identities. Eng emphasized the need for diverse faculty and counseling staff who can connect with AAPI students and support them as they navigate predominantly-white institutions.
Marita Etcubañez shared her work as senior director of strategic initiatives for Asian Americans Advancing Justice, which focuses on federal advocacy and civil rights enforcement. She drew attention to initiatives across the country that are reimagining public safety to better protect communities of color. "It's vital
 that we
 continue to lift up
 accounts of
 what's happening so we
 can bring
 visibility to the issue," Etcubañez said of anti-AAPI racism.
Following the discussion, panelists fielded audience questions about solidarity with Black Lives Matter and how universities can fulfill their responsibilities to care for AAPI students, faculty and staff. SFS Dean Joel Hellman asked panelists how Georgetown can ensure a safe and inclusive environment for AAPI students returning to campus in an environment of heightened racism and discrimination.
Ramakrishnan urged administrators to prepare for continued anti-Asian discrimination even as public health measures lift, and Lew-Williams encouraged a review of orientation materials to ensure there is dedicated anti-racist material for new students. "I would immediately look at those orientation programs and see if this is being addressed," Lew-Williams said. 
To conclude, Tajima thanked panelists, sponsors and the more than 300 people who attended Friday's conversation. "I believe this
 is a testament to
 the strong desire within
 the GU AAPI
 community for
 acknowledgment of our
 experiences with racism," he said of the event's high attendance.