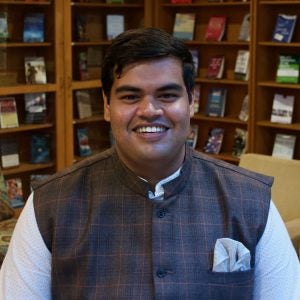 Ammar Nainar (MASIA'21) had big plans for this summer. As a graduate student in the Master of Arts in Asian Studies program at SFS, he had hoped to use funding offered by the program to study in Japan.
"I was thinking of doing some research on U.S.-India-Japan relations at a notable think tank there, and also watch the Indian field hockey team compete at the Summer Olympics in Tokyo," he remembers. "By the time I could act on my plans, though, everything got cancelled due to COVID—19."
Undeterred, Nainar reached out to the Interim Assistant Director of Finance and Administration at Asian Studies, Stephanie Gage, who connected him with Diana Kim, an assistant professor in SFS who specializes in transnational politics and the history of markets in East and Southeast Asia. Kim needed research support with some archival work and was able to offer Nainar a position as her research assistant.
"This is one of the amazing aspects of the Asian Studies Program," Nainar says. "The faculty, staff and students look out for each other and make sure that everyone is gaining the best out of their time at Georgetown."
Finding an Intellectual Home at Georgetown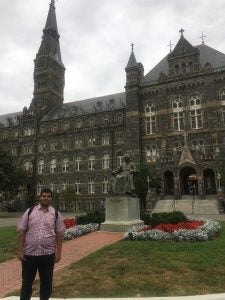 Having studied international affairs as an undergraduate at King's College London, Nainar arrived at Georgetown with a deep understanding of grand strategy, foreign policy and South Asian security. However, he was keen to expand his academic interests.
When asked why he chose Georgetown and SFS to pursue that ambition, Nainar jokes that he could "write an essay on that!" Ultimately, he explains, it came down to three key things: academic exposure, SFS faculty and the university's location in Washington, D.C.
"I wanted to refine my intellectual calculus with more policy-oriented knowledge and skills. Besides, I wanted to go beyond U.S. foreign policy and Indian grand strategy to learn more about East and Southeast Asia," he says.
Learning from Asian Studies faculty members who could share their experience of working as leaders in government and policy in Washington, D.C. was a major draw for Nainar. "The professional and academic opportunities here are unparalleled," he explains. "You meet with so many like-minded people and scholars from whom you can learn a lot."
An Opportunity to Broaden His Academic Horizons
Though Nainar's previous experience related primarily to issues of foreign policy and strategic studies at think tanks, he leapt at the chance to conduct historical research with Prof. Kim.
"Professor Kim is an institution herself on issues of transnational politics, illicit economies and the legacies of empire and colonialism across Southeast and East Asia," Nainar says. "This was an opportunity to expand my aperture on a range of issues and enhance my intellectual curiosity."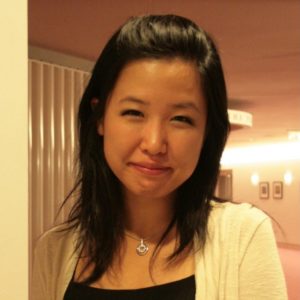 "I did not possess any academic experience in her areas of research and expertise. That Prof. Kim still took a chance on me reflects her kindness and generosity," he adds.
Nainar has spent his summer delving into the digital archives of the Government of India, tracking down sources from the Reports of the Commissioner for Scheduled Castes and Scheduled Tribes.
From his archival research, Nainar identified quantitative and qualitative data and case studies relevant to Prof. Kim's research. He also produced literature reviews on the colonial history of East and Southeast Asia for the professor.
"My responsibilities were really intellectually captivating," Nainar says. "And my archival research skills were really sharpened."
"Safe to say, I have finally gained proficiency in M.S. Excel!" he adds.
Optimism In The Time of COVID—19
Nainar says he has been very fortunate that the COVID—19 pandemic actually provided him with opportunities to expand his intellectual interests.
"Academically, and much to my surprise, this was a very interesting summer," he says. "I welcomed the research assistantship as a way to do something different and widen my horizons."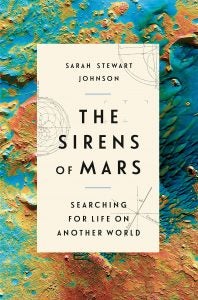 He has used his time at home to read more, cook and indulge his passion for podcasts. The limitations of lockdown have given him time to learn more about current affairs beyond his syllabi readings, including analyses of India-China border tensions and the history of U.S.-India relations. Nainar has also been keeping on top of new SFS faculty books, and is currently reading Prof. Sarah Stewart Johnson's The Sirens of Mars. He has also been connecting with friends and family.
"I've kept in touch with my high school and college mates, and even reconnected with some friends from kindergarten and junior school," he explains. "My family celebrated the 85th birthday of my grandfather over Zoom, which was a great opportunity to check in with my relatives and relive some old memories."
Nainar is now focused on his immediate and more long-term future.
"I'm really looking forward to my remaining time at Georgetown," he says. He is keen to start an internship in late August with a top think tank in D.C. and has already started research for his thesis, which he is "super excited about."
While this year has been one of great turmoil, Nainar is hopeful that he and his classmates will learn from the events of 2020 and build a better future.
"I took Dr. Michael Green's class, Makers of Modern Asia, which taught us about how individual leaders drive geopolitics. One important insight from the class was that a human being's worldview is very much shaped during their 20s," Nainar explains.
"Ten years from now, when I will be 32 years old, I want to look back on this summer, and COVID—19 writ large, as a time when I gained a greater appreciation for expertise, patience, discipline, institutions, humility and empathy," he continues.
He concludes, "I want to see how we can leverage this to usher in a more durable world order which promotes the common good. I admit that I sound really sanguine here. But, I am young enough to be an optimist!"