Content warning: This article discusses sexual violence, trauma and human trafficking.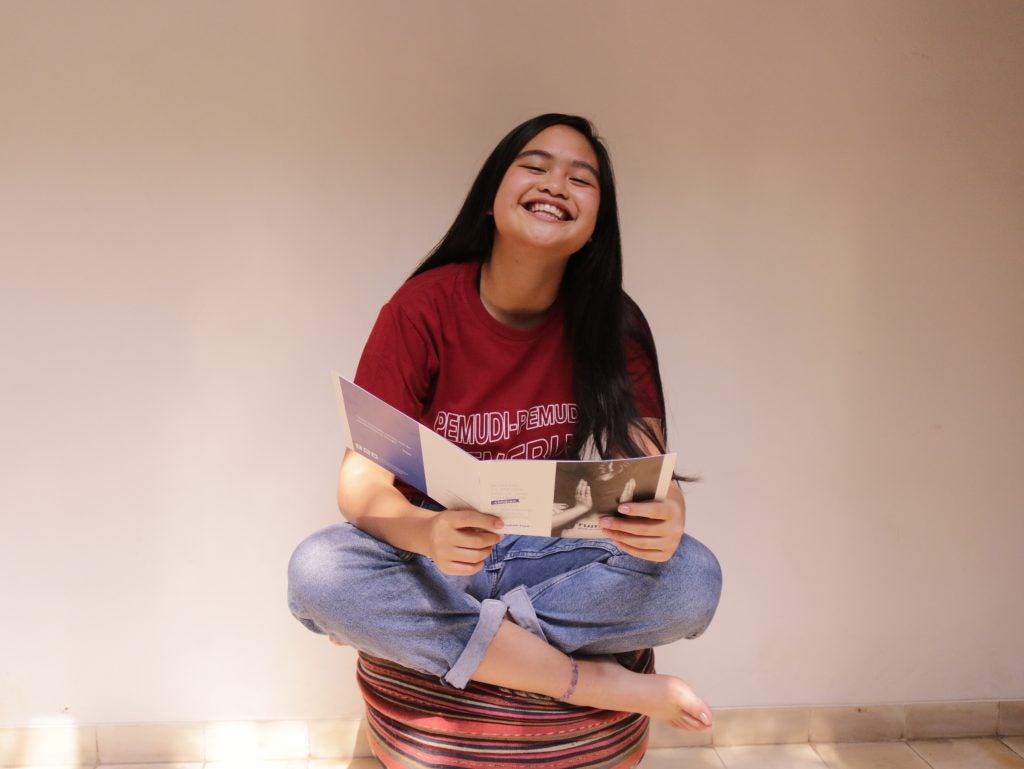 When the Indonesian army announced in August 2021 that it would no longer subject its female recruits to so-called "virginity tests" — invasive and scientifically erroneous vaginal and cervical examinations — Faye Simanjuntak (SFS'24) was overjoyed. The women and children's rights advocate also started planning for the future right away.
"It is essential for us to continue following the progress of this change so that it will be implemented properly and equally throughout the nation," she says. "It is crucial that this is not only seen as a change of orders, but that the soldiers and institution understand why such a change came about."
For Faye, the announcement represented a culmination of years of campaigning to end the invasive and humiliating examinations. It also was just one of the fruits of her work protecting women's and children's rights in Indonesia. When she was 11 years old, Faye founded an organization dedicated to eradicating child trafficking, exploitation and abuse, which won her international recognition before she even started her undergraduate career at the Walsh School of Foreign Service (SFS).
Despite all this, she says, "I have a weird relationship with the term activism, mostly because I've always felt it to be such a heavy word that I haven't earned."
"To Amplify, Not Speak Louder"
Growing up in a military family, Faye says, allowed her to travel through her home country and get involved with local campaigns for human and civil rights. "It provided me the opportunity to bear witness to grassroots issues in such a way that explained my role in making change — to amplify, not speak louder."
When Faye began volunteering and engaging with efforts to end child trafficking and support survivors across Indonesia, she noticed that children themselves were often missing from the conversation about anti-trafficking. Wanting to put their voices front and center, Faye started small-scale discussion groups that eventually became a full-fledged organization.
Established in 2013, Rumah Faye focuses on community-driven work that supports victims of child trafficking in multiple regions of Indonesia. "We aim to drive grassroots change through three programs: prevention, rescue, and recovery," Faye says.
The organization conducts peer-to-peer education and outreach, educating school-aged children on how to keep each other safe and report potential harm and giving classes to teachers, law enforcement officers and parents about children's rights. Faye and her colleagues also work with local law enforcement agencies to identify cases of child trafficking and reach survivors.
To support these individuals in their recovery, Rumah Faye offers access to medical, legal and counseling services so survivors can process their experiences and testify in court, if needed. Five years ago, the nonprofit established a safehouse in the Riau Islands, which Faye says enabled her team to expand their network of support and aid for others. "Since its opening, we have been honored to help over 140 girls and 4 babies in their recovery," she says.
A Step in the Right Direction
When she learned about the Indonesian military's practice of "virginity testing" its female soldiers, Faye applied the same passion to the issue as she does to her advocacy on child trafficking. Her family's military background, she wrote in an op-ed republished in the Jakarta Post, made her mission feel especially personal.
"I am eternally grateful for my family, who have long taught me to think critically and challenge my own knowledge," she says. Despite their proximity to the institution she was challenging, Faye's parents supported her advocacy and protected her from fallout associated with criticizing the legitimacy of the examinations. "I know many of my friends from military backgrounds would have been shut down immediately."
Faye's campaign against the so-called "virginity tests" involved several main components: in addition to highlighting the medical inaccuracy of the exams, she wanted acknowledgement from military leaders that female soldiers' fitness to serve should not be assessed in relation to their sex lives.
"It is a form of structural violence against women," Faye says simply.
In addition to working closely with friends and activists — including Latisha Rosabelle, who created the first petition to end the "tests" — Faye spent time with the Women's Army Corps (Kowad) to learn more about soldiers' experiences with the invasive exams. 
With the support and protection of her parents, Faye also met with wives of prominent military officers who had been privately pushing for an end to the examinations. Efforts to convince them to go public with their advocacy, she says, were met with hesitance.
Though international organizations such as the World Health Organization and United Nations have condemned the practice, Faye and fellow Indonesian activists were waging an uphill battle. The army chief's sudden declaration that there would be "no more vaginal and cervix examinations," Faye wrote in an op-ed, therefore came as a surprise.
While she was moved to tears by the initial announcement, Faye is determined to see the campaign through.
Making amends for such violence should take place across the entire military, she argues. Although the army has announced an end to the examinations, no such promises have been made by Indonesia's navy or air force. In addition, Faye and her fellow activists — as well as those who have undergone "virginity testing" — are still waiting to see if the army follows through on its word.
"So far, we've had acknowledgement and erasure of the test, but we are yet to receive apologies or see implementation," she says. "Our role is to remain alert and aware towards the situation."
Long-Distance Leadership
Even while she takes classes at SFS and settles into life on the Hilltop, Faye is still working on developing new programs for her organization back home. "Rumah Faye has plans to open a free training grounds for individuals who were victims of or vulnerable to trafficking, exploitation or abuse in 2023," she explains.
Becoming a student in SFS has opened new doors for Faye's goals — "I've had the opportunity to connect with a few anti-trafficking organizations here in Washington, D.C.," she says — but organizing from afar also has its own set of challenges. Dealing with time differences and distance from her Rumah Faye colleagues while preparing to launch the new training ground, she explains, has been challenging. 
"I am beyond excited, but working from abroad has made it difficult to go through with the process."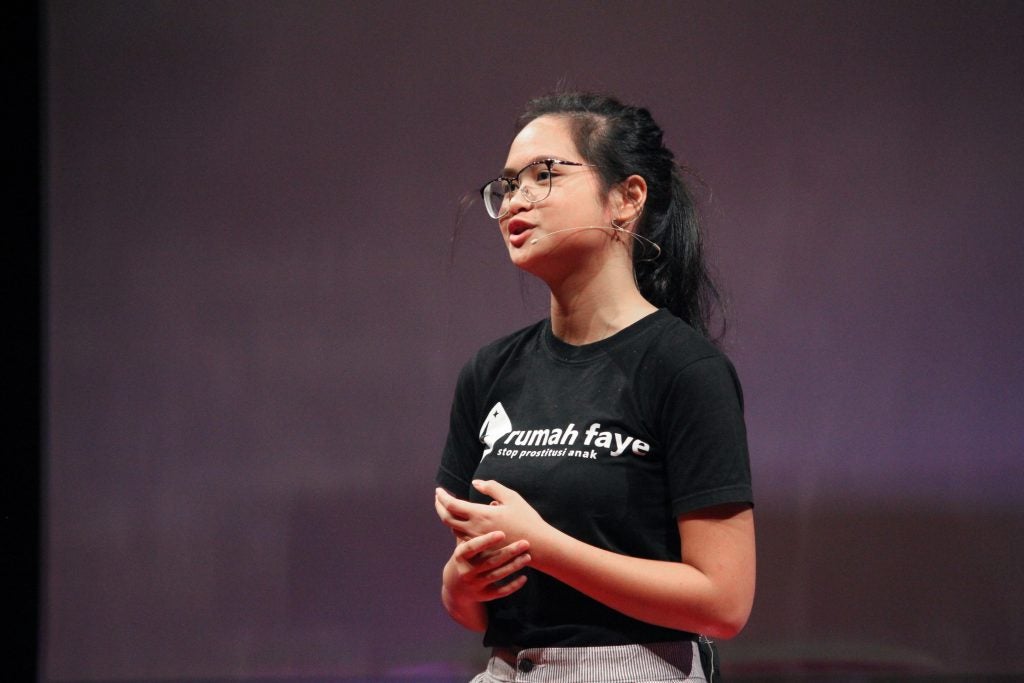 The separation from her work on the ground has also changed how Faye is able to develop new projects and cope with the stresses of her advocacy. "Rumah Faye deals with some of the heaviest cases of child abuse one can imagine, and the emotional toll it takes on myself and my team is hard to put into words," she adds. 
But being in a Georgetown community that values caring for one another has helped her focus on the positive difference Rumah Faye makes in the lives of women and children. "Sometimes we find ourselves thinking our work is useless because our impact is so small," she says. "The [Georgetown value] of cura personalis stood out to me, reminding me that our work extends far beyond numbers and into the whole person. Our work is people who cannot be distilled into a statistic."
Connecting with D.C.-based organizations has given Faye a chance to learn about global and local organizations combating some of the same issues she does. "It's great to learn curricula applied by the U.S. that can perhaps be adjusted and replicated in Indonesia," she says.
And, with many more opportunities still ahead during her time on the Hilltop, Faye already has one eye on the future, wherever that takes her. She says, "I simply hope I can move forward with intention and compassion, using my SFS education to bring forward grassroots-change to my country."