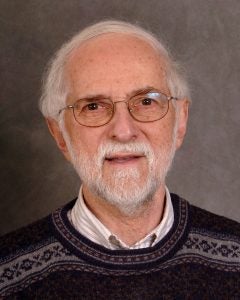 Georgetown University mourns the passing of The Honorable Andrew Steigman, who was a professor and associate dean in the Walsh School of Foreign Service for more than two decades. Before coming to Georgetown in 1985, Steigman served 27 years in the State Department as a career Foreign Service Officer. He was the U.S. Ambassador to Gabon and to Sao Tome and Principe between 1975 and 1977. Other international Foreign Service postings included the Republic of Congo, Libya, France and Nigeria.
When Steigman retired from the Foreign Service in 1985, he invested his time and talents in teaching the students of Georgetown's School of Foreign Service as Professor in the Practice of Diplomacy and as a counselor to those aiming for a career in the Foreign Service. He also joined the staff of the SFS Dean's Office as an associate dean, advising students on their academic programs, connecting them with advice from practitioners in the field and presiding annually over the commencement program.
Steigman had an amazing impact on hundreds of students in the School of Foreign Service. He served as a committed administrator and enthusiastic academic adviser. He will be remembered for guiding countless numbers of students through competition for the Fulbright, Mellon, and Carnegie Fellowships.  As a member of Phi Beta Kappa, he served as a chapter secretary and made sure that SFS graduates were included in this prestigious program. Steigman mentored and provided storied career guidance particularly to those interested in a career in diplomacy. He continued his engagement with students and alumni through the long-standing SFS Friends Program and alumni still mention how much it meant to them when Dean Steigman carefully announced their names as they crossed the stage at the graduation.