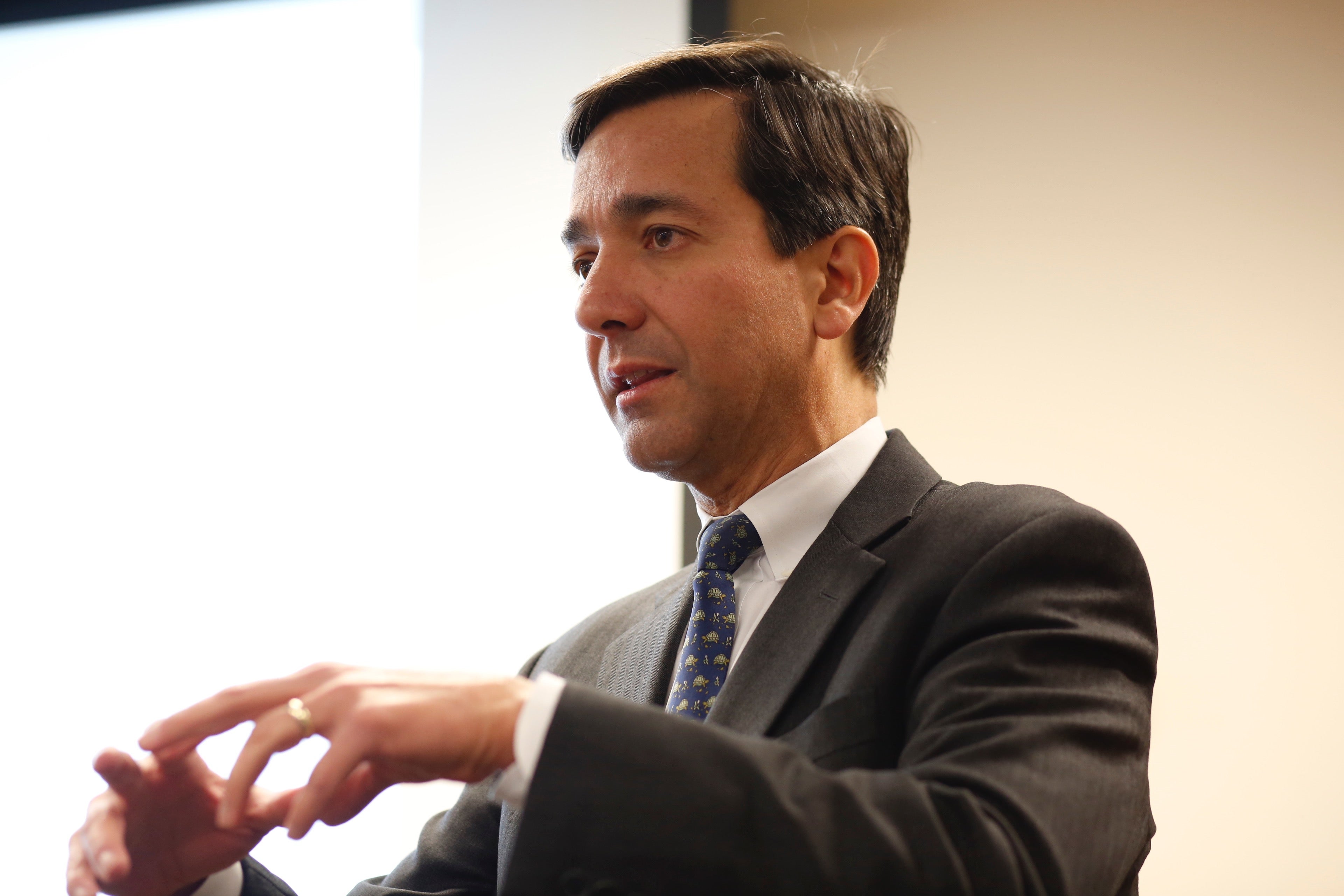 March 23, 2018
by Alfredo Carrillo
Former Governor of Puerto Rico Luis Fortuño (SFS'82), visited Georgetown on March 15, 2018 to give a lecture on the future of Puerto Rico's economy post-Hurricane Maria.
Hosted by the Center for Latin American Studies, Fortuño characterized the aftermath of the hurricane as an "opportunity" for the island to re-think its economic policies and their contribution to development.
[Hurricanes] are events that occur suddenly, and when they do, they can change the course of a community, or in this case, the island. And I see it as an opportunity to do exactly that.
Borrowing information from the Puerto Rican government's economic plan, Fortuño was optimistic about the island's ability to bounce back from the hurricane, despite acknowledging that people outside San Juan are still suffering from the devastating effects of it.
Nevertheless, he proposed six reforms, which he considered essential for the Puerto Rico government to pursue in order to invigorate economic activity and incentivize investment. Among them, those concerning fiscal and tax reform, deregulation, and infrastructure development stood out.
Though he said deficit spending was normal in government, Fortuño disapproved of the sizeable debts that the island has incurred, which, he argued, led to little substantial development and instead diminished Puerto Rico's attractiveness to investors. Comparing government to households and businesses, Fortuño said: "No one in her or his right mind, spends more than comes in, in any home or in any business if you don't want to go bankrupt."
Fortuño also addressed the need for tax reform, both as a tool for government financing but also as an economic incentive. "When working makes no longer any economic sense, you've got a problem," Fortuño said. With the United States updating its own tax system last year, Fortuño added that Puerto Rican tax reform was necessary for the island to remain competitive.
And to further foster competitiveness, he added that deregulation and infrastructure development are key. Describing the lengthy bureaucratic process Puerto Rican entrepreneurs have to go through to open their businesses and the destruction left behind by Hurricane Maria, Fortuño called for legislation that facilitated entrepreneurial efforts and programs that developed modern, resilient infrastructure that supported economic activity.
Fortuño finished his presentation by emphasizing that Puerto Rico had for too long leaned on the United States, but growth had to come from within the island, by mobilizing workers, business owners, and investors and promoting effective and responsible governance.
Puerto Rico is always looking north for solutions. The solutions ought to come from Puerto Rico.