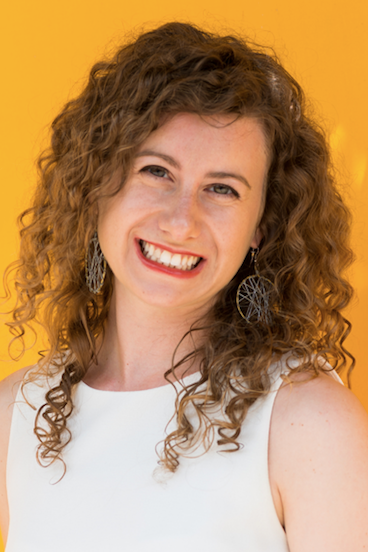 Daniella Montemarano
Master of  Science of Foreign Service, Class of 2018

Certificate in Diplomatic Studies
Brooklyn Heights, New York
Language: Spanish, Italian, Twi, Pidgin English, Setswana, French
Summer 2017: Asian International Justice Initiative in Cambodia
Favorite Class: Ambassador Barbara Bodine's Capstone class on Rebuilding Yemen; Professor Marc Chernick's class on Peace Processes in Latin America
On-Campus Activities: Huffington Graduate Fellow, Institute for the Study of  Diplomacy; Junior Centennial Fellow, SFS; Co-Chair, Georgetown-Baker Negotiation Network; TA to Dr. Arend, International Law and Armed Conflict; Way of Peace Fellow, John Main Center for Mediation and Inter-religious Dialogue
Non-GU Activities:
Intern at the Bureau of Conflict and Stabilization Operations at the U.S. Department of State
May 15, 2018
by Xander Causwell
Daniella Montemarano grew up between her hometown of Brooklyn Heights, New York and the mountains of Northeastern Pennsylvania. Before coming to Georgetown, she had already been developing a career as a professional mediator and expert in transitional justice and post-conflict stabilization spending five years designing and leading community peace-building projects with local governments and civil society organizations in West and Southern Africa. "I loved the intimacy of grassroots social-political change, but I knew that I was destined to make a broader impact with my work," says Montemarano. Graduate school, she says, was the natural next step in her career, and she chose to enroll in Georgetown's Master of  Science of Foreign Service (MSFS) program because of its strong sense of community: "Right from the bagel breakfast on our Admitted Students Day, I felt like I was stepping into a family that would support me and challenge me personally as well as professionally."
During the two years in the program, Montemarano found that her perception of a supportive MSFS community proved accurate. She is grateful for the encouragement and wisdom offered by the program's faculty, especially Professor Rachel Milner Gillers, Professor Nicole Bibbins-Sedaca, Ambassador Mark Lagon, and Professor Anthony Clark Arend. Montemarano says "their collective commitment to prioritizing human dignity in foreign policy…has sustained my faith in effective rights-based solutions to intractable global challenges."
Beyond the relationships she developed at SFS, Montemarano found that the courses befitted her intellectual interests and professional goals. Her favorite courses were the ISD Capstone on Rebuilding Yemen with Ambassador Barbara Bodine, and Peace Processes in Latin America with the late Professor Marc Chernick. According to Montemarano "both Ambassador Bodine and Professor Chernick translated their passion for the ethical and inclusive transformation of post-conflict societies into classes that challenged me to understand the cross-regional lessons and opportunities of transitional justice and post-conflict stabilization interventions. Ambassador Bodine's Yemen Capstone was uniquely rigorous and exceptionally well-designed in developing my analytical and communications skills in the diplomacy field."
Extraordinary Student Engagement
Aside from her courses, Montemarano also tailored her considerable extra-curricular activities to advance her professional goals. As a Huffington Graduate Fellow in the Institute for the Study of Diplomacy, she conducted qualitative research on counter-insurgency Disarmament, Demobilization, and Reintegration (DDR) programs in West Africa, Latin America, and the Horn of Africa, supported by the mentorship of former Assistant Secretary of State for African Affairs Linda Thomas-Greenfield.  While she was a Junior Centennial Fellow working alongside Judge Claudia Escobar, she helped conduct qualitative research evaluating the impact of the Comisión Internacional contra la Impunidad en Guatemala (CICIG) on the Guatemalan justice system. Additionally, Montemarano served as Co-Chair of the Georgetown-Baker Negotiation Network, for which she planned speaker events and workshops to strengthen the negotiation and conflict resolution skills of Georgetown graduate students.
It was through her role as the Way of Peace Fellow at the John Main Center for Meditation and Inter-Religious Dialogue, that Montemarano discovered the spiritual side of the Georgetown community. At the JMC, she participated in bi-weekly interfaith dialogues and led weekly interfaith meditation sessions at the Center. She also co-organized and co-facilitated the Spring 2018 "Many Faces of Meditation" interfaith meditation series with the JMC leadership team and Campus Ministry. This series used weekly meditations led by campus religious teachers to develop experiential interfaith understanding through different meditation traditions. Montemarano says, "I found Georgetown's spiritual community at both Campus Ministry and the John Main Center for Meditation and Inter-Religious Dialogue to be an equally impressive and essential asset to my personal and professional growth. Within Georgetown's diverse spiritual community, I have found the mentorship, solace, and compassion that has made my professional and academic successes possible. The religious services on campus, from Diwali celebrations to weekly mass, have nourished and expanded my spiritual life."
Working To Advance Her Career
Perhaps Montemarano herself does the best job of summarizing how her experience at Georgetown ties in with her future goals.
"Whether acting as a UN Special Envoy for Transitional Justice or leading global projects that facilitate gender inclusion into peace processes, I intend to continue my conflict resolution work through the implementation of rights-based policies and programs that transform violent conflict. My academic experiences at SFS, particularly my studies within the MSFS program, have improved my understanding of key trends and actors in global political and security that either mitigate or exacerbate violent conflict. Classes like Professor Bibbins Sedaca's Human Rights Policy Lab and Professor Chester Crocker's International Mediation: Strategies and Methods helped develop my strategic abilities to employ leverage with multiple stakeholders to resolve violent conflict and advance human security and inclusive justice."
Montemarano says that the spiritual community at the JMC and Campus Ministry challenged her to expand her work as an interfaith yoga teacher, particularly through designing and implementing programs that promote both interpersonal and intergroup reconciliation: "Interfaith dialogue and relationship-building also figure prominently into my future goals…My work at the John Main Center has taught me how to build inter-religious coalitions and mobilize faith communities around common experiences of meditation and prayer to promote greater understanding between religious traditions."
While her academic and professional interests remained unchanged throughout her time at Georgetown, she considers the skills, relationships, and knowledge base she developed through MSFS and her extra-curricular activities crucial for advancing her career in conflict resolution and transitional justice. Georgetown, she says, "reflected back to me the authenticity of my vocational path." Unsurprisingly, her favorite memory of Georgetown is also one which resonates with that vocation. "As a transitional justice professional, my favorite memory of Georgetown was bearing witness to the University's reckoning with its legacy of slavery and racial injustice. The United States has a challenging and complex path toward reconciliation and social justice. By openly engaging with its own historical abuses, Georgetown as an institution and a community is modeling the difficult conversations and transformations in which our country must engage."
Given the extent of her on-campus engagement, it is impressive how much Montemarano has accomplished outside of Georgetown to advance her career goals. During the spring semester of 2017, she interned at the State Department Bureau of Conflict and Stabilization Operations where she analyzed contemporary stabilization and transitional justice mechanisms to support the U.S. government's West Africa counterterrorism efforts. Montemarano was impressed with the "innovative and inclusive approaches" that she saw at the State Department. Working with the Africa Team at CSO helped her "see how essential grassroots perspectives were in the development of effective government policies that transform violent conflict."
She spent the summer of 2017 working at the Asian International Justice Initiative in Cambodia as an International Trial Monitor. "While in Phnom Penh, I monitored Case 002/02 at the Extraordinary Chambers in the Courts of Cambodia (ECCC) and helped conduct a study on the impact of the courts on transitional justice and the Rule of Law in post-genocide Cambodia. My work also included developing human rights legal education curricula and supporting the Center's community outreach programs."
Meaningful Relationships
When it comes to engaging with the wider D.C. area, Montemarano prefers to do so through her relationships with fellow students and State Department colleagues. "Whether I'm going to Happy Hour with my former State colleagues in Foggy Bottom or writing late-night papers with my SFS friends, I allow my connection with this city to be mediated through laughter, debate, commiseration, and celebration."
Those relationships have formed the core of her experiences at Georgetown and in Washington, DC and Montemarano says she will miss them the most from her time at Georgetown. Conversely, however, she will also miss the "spaces for solitude and reflection on campus, particularly in Dahlgren Chapel and Copley Crypt," for these places gave her the "opportunity to find continuity and truth in the midst of constant change and challenge."
Montemarano departs Georgetown leaving this message for incoming SFS graduate students: "Georgetown's SFS Master's programs transform you. They alchemize students' diverse professional backgrounds and life experiences into unparalleled foreign policy expertise and ethical servant-leadership through rigorous academic work, an emphasis on practical application of theory, and extensive mentorship. In the spirit of 'Utraque Unum' or 'out of two, one,' Georgetown has helped me merge the vision of my future career with my lived reality."